Small-town gay guy buys bus and now transports leaps of faith and foolish dreams to British Columbia with his not-insignificant other(s).
Wednesday, July 27, 2005
Spent last weekend including all day Friday up in BC with the bus...lots of progress so I'm stoked. More to come but for now:
Got ALL the propane fixtures connected and everything works so far, including the propane light fixture. I just have to test the water heater whenever I get water to it.
Got the refrigerator to work on propane. Its worked all along on 110v power, but wouldn't get cold when running on gas. All it needed was the orifice cleared on the nozzle. Trouble is, the nozzle (orifice) hole is about as small as small gets; without magnfication its all but invisible. The tiniest copper wire I could find was to BIG; what I finally found to work was a single strand of metal off of some steel wool. After four or five runs at pushing a filiment of steel through a microscopic orifice, I re-assembled the refrigerator--and now it works great! I'm so good!
Started painting a fairy figure on the front of the bus!
Tested the exterior sealant with a bucked of water dumped on the roof. No leaks, but a real rain will be the real proof.
Cleaned out all the misc stuff I figure won't be needed prior to the next big trip.
And a very big thing...built a platform out of scrap lumber for a built-in futon frame. It works either as a single, or you can pull off the top level and fit it a certain way for a double bed. Pretty slick...now to just find a suitable matress.
I also added a couple more electrical outlets, one dedicated to a future microwave, connected with 12 gauge stranded copper, and another one at the back of a shelf that one day will hold a tv/vcr.
Pics later, I hope. <!comment code is pasted below from HaloScan>
Saturday, July 09, 2005
No post for weeks and now new ones back to back. Been working the last two weekends on the mundane job, the one I get paid for. No complaints, I telecommute after all, but would've been a good weekend to work on the bus. I've got about everything done that I wanted in time for the Labor day weekend trip, except for some more painting. The next 'big' thing will hopefully be some connections to the various water tanks, grey water tank, eventually black water and a toilet. Funny I can't get excited about that; maybe a toilet is to symbolic of a permanent place to live.
No better idea now than ever as to what its all for. I do know that wherever I take her I want to have the art out in the open. I was thinking earlier about the rainbow gathering crowd; this year they're back east (N Carolina?) somewhere. If they come out here some year that could be some fun. And I'd still like to run it off veggie fuel if at all possible. There was a guy, Nod, there last weekend that's been living out of his (decorated) conversion van and matching trailer for something like 10 years. He's got a home base in Texas but generally travels. With his cat. Sounds good to me. <!comment code is pasted below from HaloScan>
Thursday, July 07, 2005
July 4 2005
Ashland
Not a bus weekend, but good just the same...
Friday night July 1st left Sumas 10pm, Pat wasn't ready when I got there, but we left Blaine around 11:15. Drove through Seattle, got gas in Vancouver, on past Portland to Grants Pass for more gas. By then it was approx 6am Saturday morning. We knew the rest stop where Paul had died was on the north bound side; we exited south of there and turned around. When we got there, we found pine forest, picnic tables, lots of people. He could have been anywhere. Checked the messages, phoned back Don, and then we waited for the trooper to arrive. Which he did, promptly around 8:45. After a warning about poison oak, he and a partner described the events leading up to Paul parking here the weekend before Memorial Day, buying rope in Corvallis K-Mart, and making some calls on his cell. They figured he actually hung himself on Monday, the holiday, after spending 10 days or so there…doing what I wonder. No evidence of foul play; they pulled the body down on Thursday. Trooper Steve was more than willing to share not only the details of the scene, but his own feelings on the matter. He said that he only knew Paul as a corpse; Pat showed him a photo...but it isn't the same is it. Another hour and we headed to breakfast in Grants Pass and then on the Ashland. Konnie May has over 100 acres she shares with some other hippies and artists, down a long dusty gravel road. When we got there people were already camped, talking, early afternoon. We got my dome tent up fast, and tried to catch some sleep. I think I succeeded in achieving a trance-like state at least; then Hazel and her kid Katie were at my tent with She-Man, an action figure dressed in a pink skirt. What a welcome.
Bruman gave us electronic crickets.
Jane, Ashland's newest artcar artist.
Darreck and Hazel love me.
Joy added mannikin legs to her car.
Konnie May allowed us the run of her property, including a creek, meadows, and a home-built home that James Dean may never finish.
Pat carried on, quiet, circumspect, friendly but distant. A campfire that night had me laughing harder than I can remember; acoustic instruments including a cello and several steel guitars; more food that should be legal; Pat had gone to bed but not before his own giggles and flirtations.
I wasn't looking forward to a 10am deadline the next day to head into town, wash the car (!), drive in a brief caravan around town, and tour a serious of open house/garden parties. But on Sunday I was feeling okay, Pat road into town with me, helping me avoid the ruts, Emily Duffy (www.braball.com) welcomed me at Konnie's wearhouse, and then we had a fun mini tour of town a-la artcar caravan. Pat seemed happy to wave to happy strangers. After the caravan, we headed to the garden and home of Cheryl Garcia, a person with the rare ability to both sculpt beautiful work in welded steel, and produce a breathtaking flower garden and home. Lunch of meatballs and Mexican lollipops.
In the afternoon, another cluttered art house featuring a collection of old TV show stuff, Bates Hotel sign, Bewitched Game, robots, wooden bathroom action figure wall, etc.
Finally on to our hosts...Mary and Chris accommodated us generously, we had the hida-bed, and coffee & toast in the morning. Mary has a lot of blocked creativity; Chris has a lot of self-help books. Both seemed to be tethered to their own internal issues; a bit lost, though delightful. Their other guest Carol was sweet, very much the rastufarian.
Then at 6 another party, this time at a showy back-yard grape vine enclosed porch. Small talk with Philo (man about town), Nanette, Weenie Queen, Josh, Amber, Jack (Philo's mentor), Crow, etc. Walk back to car through the alley, and then on to yet another party Saturday night: soap bottle collection in the basement; JoAnn's hilarious stage anger over Jimmy's (Katie's brother) Xmas card to her; extreme mini-golf; and exit to a club for drumming, chanting, and good basic boogying.
Home at 2am, sleep till 7, shower, shave, and rondezvous at Konnie's wearhouse prior to parade mustering...the car drew as many stares as smiles, so I think its working...afterwards flight to "ground zero" of Ashland's community fireworks display (http://www.opendoor.com/july4/2005/ there's a pic of my car), and another house party across the street. Lovely hosts as usual, lots more chatter and charm, and by now I think Pat has warmed up to the crowd. We both flirted with a cute carpenter boy from B.C.
Tuesday morning Pat told me his idea to mark the tree at the rest stop, so after picking up Kelly for the return trip we stopped at Cheryl's. She has an open house every Tuesday so timing was excellent. She used a plasma cutter and compressed air to form a suitable marker, about a foot across in steel, in about 20 minutes. She did it for free, too. She's got a website at www.greatmetalwork.com. A trip to the hardware store, including an asphalt business with antiques in Grants Pass, then back to the tree to do the deed. Pat nailed it up in about a half hour. Took some pics.
On the way back Pat had some amazing thoughts on what constitutes art, namely that for instance, building a steel memorial at the base of a life giving tree that was used once on Memorial Day to take life away so as to forget the difficulties of Life...I don't think I can disagree. I think Kelly was sorta blown away by the whole thing. I know I was. <!comment code is pasted below from HaloScan>
Monday, May 16, 2005
After a three week break from the bus I returned last weekend. I worked on wiring, both 12 volt and 120v. The 120v ground is attached to the usual third prong on a three prong plug; otherwise there is no 120v ground. As long as the plug-in is grounded, the bus is grounded. The 12v is ground to the bus of course. A 1500W inverter came from Harbor Rreight, at just over $100 its a bargain. Odd thing about that is, when you run 120v off the inverter, there is no ground (I think). The inverter itself is ground to the bus, but no 120v ground. I haven't thought to test out a GFI when running off the inverter. I am amazed at the prices at Harbor Freight, sometimes their tools are cheaper than the used ones at Goodwill!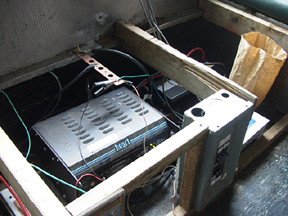 That's the crappy old heavy inverter in the foreground; I keep it cause it can still charge the batteries. Behind out of sight is new cheapo inverter. The silver box to the right is the 120v circuit breaker. Found lots of cheap wire at Pat's in Burlington (50 feet of stranded 3-conductor for $5).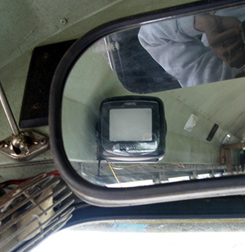 This is the driver's rear view mirror. I installed a used black & white camera ($40 from ebay) and a little portable tv ($15 Value Village) mounted above the driver's seat facing forward. The camera is aimed out the rear window. When you look at the tv through the mirror the image you see is a mirror image, like you're used to in your car.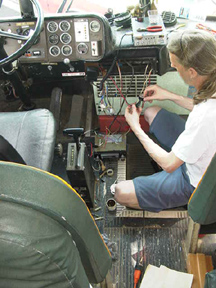 Found a nice CB radio a few weeks ago, ($8 used) it plugged right in to the existing antenna. Works too! See it bolted on top of the dash. On the floor is the used tape deck that I paid to much for ( $60 on ebay again). Oh and the refrigerator is working fine (that was a much more reasonable $40). I thought it was dead but I think the GFI was tripping because I had the hot and neutral reversed. Now its very very cool inside. Hopefully soon I'll be able to test the propane!
I installed some more window tint on the folding doors. That stuff was second-hand too. I really like this stuff as it adds privacy, reduces the solar load, and makes the bus look just a little better from the outside.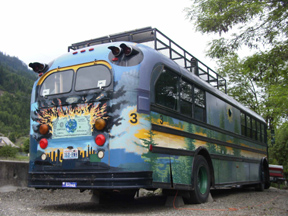 Cheers. <!comment code is pasted below from HaloScan>
Tuesday, May 03, 2005
Sunday, April 24, 2005
A friend's dog died yesterday. I think these days pets take on an added meaning for a lot of people, particularly in the gay community when traditional offspring are the exception. I suppose when gay civil rights finally makes its way into the limelight and the public decides that gay people deserve to take children for granted every bit as much most straight people do, well, pets will still be as integral to our lives as say, birth control is to rich hets. Is that harsh? Maybe, particularly when you consider this is about Wizard, a very gentle, geriatric greyhound. They adopted him from Greyhound Pets International, which I think is about as cool as cool gets. What a lovely dog. I will miss him.
Our own Sadie May lies reposed in her usual "dead dog" position on the warm carpet on this warm day in April. Meanwhile, temps in Boston Bar reached 80F already this past week. Lucky for me it was only in the 60's and 70's as I worked on the bus this weekend. I replaced the bladder that moves the stop sign (that has been repainted, "GROW"). I added some more 110v electrical recepticals. I strung wires for the backup camera and video monitor (it'll reside on a bracket over the driver's left shoulder, so that when you look in the mirror you see a mirror image of the view out the back. The bracket itself came out of the
junk
I'd saved before the back-hoe came through in
2002
. I installed my shiny new inverter to get 110v power out of 12v batteries. How neato is that? I also added a 200 amp fuse to the "house batteries" which I hope never blows. The worst case scenario for this "Catastorphe Fuse" is a dead short between the live wire and the bus frame, possible, though hopefully not likely, as the hot (positive) wire is routed through holes drilled through the (negative) bus frame. Of course I did what I could to wrap the wires in garden hose, so now vibration needs to wear a hole through that, in addition to the regular wire insulation.
No photos this time. What do you expect, a picture of an outlet, or a fuse? Sorry...better maybe to describe anyway. When I'm incredibly famous I'm sure this'll make for an excellent published excerpt. Hardy Harr.
The floor of the bus is plywood, so I didn't bother with the garden hose thang there. Those holes are only a little bigger than the diameter of the cable. I do need to go back and squirt in a little caulk, just for good measure.
When I installed the first outlet of the day, true to my type, I assumed without thinking about it that I'd already measured the length of 3x12 cable needed to reach the circuit breaker. No such luck. I'd shorted myself about 4 feet. Silly me. What I did was install an out let box at the point where the cable ran out, which is right beside the electrican panel/control box. Its good, since the control panel/box is at the rear of the bux, and I didn't have a 110v outlet back there anyway. Well I do now. Next weekend is Ravenna Ravine in Seattle, and right after that is the Rad Fey swim meet, so I won't be able to add on the 12v ciruits until the weekend of the 14th or so. Already can't wait. <!comment code is pasted below from HaloScan>
Friday, April 15, 2005
Still balancing the bus with the rest of my life. Still wondering if I'm compulsive or obsessive, and if not, then obviously I need more time off work.
I took the artcar to Port Moody near Vancouver BC last weekend, good opportunity to catch up with friends and draw on the wall's at the mermaid's mom's (thanks Anthea).
Tomorrow Sat, is Mark's Whatcom Amazing Race gameshow, next weekend (Apr 23) I've a chance to head to the cabin for bus work, after that Seattle, the next weekend (Apr 30) Ravenna Ravine, after that my B-day, after that a swim meet at the Longhouse, after THAT, more bus work I hope.
The thing with the vegggie fuel is its either $3.50 per gallon at the pump or if free, you have to suck 100 gallons out to fill the bus up once. Better if there was a local coop, or buy it at Costco.
Being careful what I wish for. Want to spend time at the bus as usual, but also aware that with all this other distraction I really need to maintain some sanity. Patience, etc. <!comment code is pasted below from HaloScan>