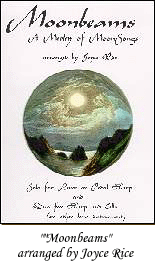 Publications

I am no longer selling my music myself. Instead, Afghan Press is now responsible for it. You can contact them at:

Melody's Traditional Music and Harp Shoppe
1-800-893-4277
email: melody@folkharp.com
website:www.folkharp.com.

Here is what you'll find in various categories in the harp music section of their catalog. There are also recording samples of most of the publications:

SOLO COLLECTIONS

Moonbeams: Medley for lever/pedal harp solo or as a duo with cello or other low instrument: "Clair de Lune", "In The Evening By The Moonlight", "Blue Moon", "Moonlight Sonata", "Moon River".

Petty Larcenies: Simple solos for the beginning harp player, inspired by familiar tunes from the classics and otherwise. Skills: harmonics, dotted rhythm, clef changes, glisses, 2 & 3-note chords, LH melody, etc. Lever/pedal.

Petty Larcenies Two: More amusing creations born from familiar sources. For advanced beginner to intermediate. Appropriate for lever or pedal harps. In C, G, F. Minimal accidentals.

So, How Was Your Day?: Seven fun "lifestyle tunes" for advanced beginner-intermediate players. Includes "Please, Baby, Sleep","Dust Rag", "Internet Handshake", "Theme & Variations","Dirty Dishes Blues",and more. Lever/pedal.

Valley Tunes, 2nd edition: Completely reformatted, larger, easy-to-read! 16 original pieces for lever harp, in varying styles: waltz, tango, jazz, variation, Irish, etc. Advanced beginner to advanced intermediate. Appropriate for both C and Eb tunings. Many tunes also appropriate for pedal harp,

SHEET MUSIC SOLOS

"Blue Bliss": Spare, melodic, soothing piece. Lever/pedal.

"Emerald Dream": The lovely "Irish" melody from Valley Tunes. Lever/pedal.

"Plum Brandy": Another quiet piece. Optional p.2 is good scale etude. Lever/pedal.

"Red Sequins: A jazzy foot-stomper for lever harp. Intermediate.

"The String Sings": Reflective solo with poem that inspired it, "Musician", by Louise Bogan. Lever/pedal.

HARP ENSEMBLES

Two Harps Plus: Ensembles in 2-5 parts, including beginner part and complete score. Parts 1 and 2 make a complete duo, the rest add harmonic and rhythmic interest. Lever/pedal.
Vol. 1: "Silent Night", "What Child Is This"

Vol. 2: "Danny Boy", "The Harp That Once Thro' Tara's Halls"

Vol. 3: "Bring A Torch, Jeannette Isabella", "Angels We Have Heard on High" As above, but for 2-4 harps. Int. level.

Scottish Medley For Teacher and Me: For lever or pedal harps, mimimal accidentals. "Wi' A Hundred Pipers", "Annie Laurie", "Hail to the Chief", "John Anderson", "My Jo", "The Campbells Are Comin'", "Loch Lomond". For teacher and student, or just two friends. Me part is beginner level.

Spirituals Medley for Teacher and Me: For lever or pedal harps. "Deep River", "Joshua Fit the Battle of Jericho", "Swing Low, Sweet Chariot". PDLT, glisses, simple arpeggios in Me part. For teacher and students or just friends.

ALSO:

Teaching the Lever Harp: A compilation of ideas, suggestions, and helpful hints from some of our most experienced harp teachers. 16 chapters: The First Lesson, Group Lessons, Sightreading, Improvising, Ensemble Playing, Confident Performing, The Business of Teaching...and much more, with a complete index."This wonderful book is intended for people wishing to teach the folk harp, but it also contains a wealth of information which will be of interest to virtually any harp player"-Sylvia Woods

"Three Blind Mice": Fun encore duo for Pedal Harp and Flute or other melody instrument.

Kaleidoscope: Cassette tape of Valley Tunes,, Two Harps Plus Vol. 1 and 2, Petty Larcenies One, Moonbeams, Blue Bliss, Plum Brandy, Red Sequins. Listening to the music before you study it can help speed up the learning process. Or just enjoy!




Back to top of page





---
Bio | Compositions | Publications | Harp Spectrum | Links | Contact | Home