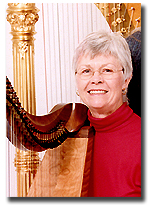 Hello and welcome!

Let me introduce myself. My name is Joyce Rice and I am a retired harpist, having had a long career of free-lancing and teaching more than 100 students of all ages.
I was also a composer/arranger/publisher and am the author of text called "Teaching the Lever Harp".

I am currently co-founder and chair of a non-profit organization called Harp Spectrum. We have been on-line since June, 2000, and provide information about all types of harps and harp music, as well numerous links to harp builders, retailers, conferences, camps and more.
You can find us at www.harpspectrum.org

Meanwhile, enjoy the rest of this site!

-Joyce







---
Bio | Compositions | Publications | Harp Spectrum | Links | Contact | Home