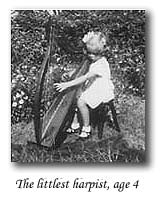 Biography

I am a lifelong harpist. As you see by the adjacent photo, I got an early start! Now, after playing for 60+ years, I am happily mostly retired and playing with grandchildren.

Where I played:

When I was ten, I joined our local community orchestra that had been founded by my mother in Hingham, Massachusetts. After that I played with orchestras wherever my husband, kids and I lived: Ohio, Indiana, Massachusetts, New York, Los Angeles, Seattle, and even Australia!

Other settings:

I also played with choirs, in early and new music groups, in musical theater and with brass/woodwind quintets. One of my most rewarding associations was with fellow Wellesley College alum, flutist Anne Weaver. Together we formed "The Galen Duo" and developed a varied repertoire. Our favorites were works of the 20th century.

Some unusual occurrences:

Some of my "funnier" performance experiences were playing in a bank vault, in a gazebo with kittens and ducks, in 45-degree weather, and, as a college student, with a Boston Symphony violist who forgot to count and came in early. I've also played in my bare feet (I was twelve and got tangled up in high heels!)

Even more funny:

I "sailed" across a snowy campus with the wind at the harp's and my back; played in a downpour, holding a tent flap around me and the harp to prevent a total soaking; and was hit in the head by a (cardboard!) sword after it was flung by the Nutcracker's Mouse King and landed in the orchestra pit.

About my harp:

I played a Wurlitzer Starke model Orchestral Grand harp as well as many small lever and folk harps. My concert harp traveled to many places in many vehicles: my Taurus wagons, trailers, trucks, on top of bus seats, and once crammed into our Volkswagen Rabbit!

Who says it hasn't been fun?
---
Bio | Compositions | Publications | Harp Spectrum |&nbsp Links | Contact | Home