---
The War Zone is the brainchild of Peter Winthorp, a businessman with a nose for profit. Cashing in on the autoduelling craze, Winthorp bought an abandoned parking garage and converted it into an duelling facility. The place has become a popular hangout for the local yuppie crowd. It's a place to see, and be seen with, the region's social elite. The duelling is only secondary, which has angered some contestants in the past.
---
Arena Notes:

The outer walls are 30 feet high and 60 DP. The two interior obstacles are 10 feet high and 45 DP. The second level platform can only be accessed from four ramps, whose angles are too low for jumping. The lower level can be accessed from the four downward corner ramps (these too cannot be used for jumping either). The lower level is 15 feet below ground. The second level is 15 feet above ground. All arena gates take one second to open or close and have 10 DP.
---
Arena Map: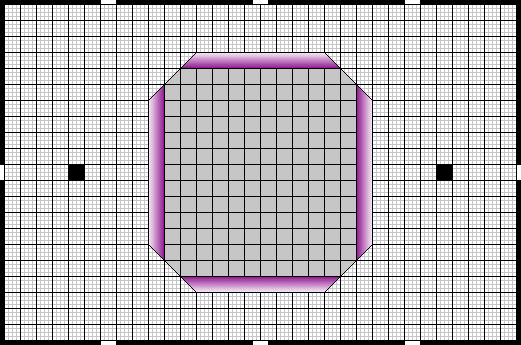 The lower level section, below, lies in the center of the above map, under the upper level.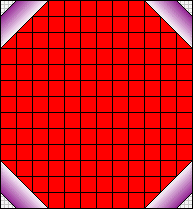 ---
Arena Schedule:
| | |
| --- | --- |
| Monday | Team Events |
| Tuesday | Practice / Private Lessons |
| Wednesday | Challenge Night |
| Thursday | AADA Divisionals |
| Friday | Amateur Night |
| Saturday | Corporate Cup |
| Sunday | Special Events |
---
Arena Special Events:

Two-fers: This events has two duels running at once. One duel is on the second level; the other is on the lower level. When there is only one survivor on each level, they will then fight on the first level.