---
Once a modest dirt track, the Aztec has developed into an ultra-modern monster. High tech engineering and millions of corporate dollars have transformed the former facility into a "must be" place for dozens of top level racers. Due to its banked curves and long straightaways, high speeds are commonplace, which results in some of most spectacular crashes ever caught on film.
---
Arena Notes:

The arena walls are 15 feet tall and 90 DP. The walls are located only around the spectator stands. All other parts of the track are surrounded by open fields.
---
Arena Map: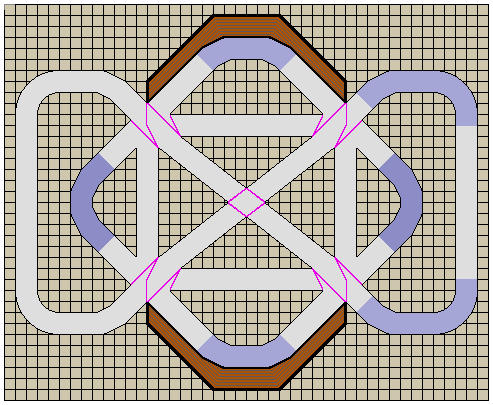 ---
Arena Schedule:
| | |
| --- | --- |
| Monday | Closed |
| Tuesday | Time Trials |
| Wednesday | Amateur Night |
| Thursday | AADA Divisionals |
| Friday | Cycle Night |
| Saturday | "Street Legal" Night |
| Sunday | Tournaments / Private Reservations |
---
Arena Special Events:

"Double 8": This event has two races happening at once. One set of racers uses the north-south figure eight track while the other set uses the east-west figure eight track. In tight situations, the center intersection becomes cluttered with debris and wrecks.