---
The Worlds of Duelling Arena (WODA) is part of the Worlds of Duelling Amusement Park. Located on the former site of the Worlds of Fun Amusement Park, the WODA offer a wide variety of combat spectacles to please the most pickiest of tastes. Plans are being made to expand and upgrade the facility, which will include an ob-racing arena and a full-service Uncle Albert's store.
---
Arena Notes:

The outside walls are 60' tall and have 100 DP. The inner walls are 20' high, 30' think, have enclosed tunnels, and have 200 DP. The four corners are banked. The four connecting ramps have 50 DP while the two, 35 degree jumps have 60 DP.
---
Arena Map: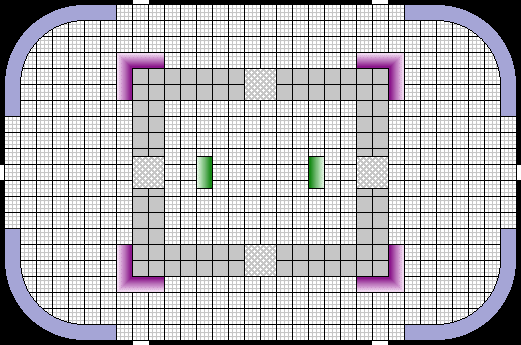 ---
Arena Schedule:
| | |
| --- | --- |
| Monday | Special Events |
| Tuesday | Amateur Night |
| Wednesday | Closed |
| Thursday | Team Events |
| Friday | AADA Divisionals |
| Saturday | Challenge Night |
| Sunday | Races and Demolition Derbies |
---
Arena Special Events:

Over, Under and Around: In this event, racers must go through all four tunnels, complete a lap on the second level, then do a jump on the first level (in that order). The first one to do this twice is the winner. Dropped weapons are not allowed.