---
Dedicated to one of the town's twentieth-century heroes, the George Brett Memorial is a large standard oval with a challenging backstretch loop thrown in. The loop makes racing dangerous, as it changes the track into a hazardous crossover intersection.
---
Arena Notes:

The arena walls are 15' high and have 100 DP. The pits and the garages can be entered through an access road on the south side. Most races go in a counter-clockwise direction.
---
Arena Map: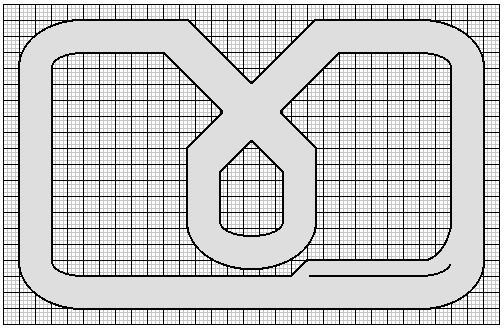 ---
Arena Schedule:
| | |
| --- | --- |
| Monday | Speed Trials / Practice |
| Tuesday | Amateur Night |
| Wednesday | Team Events |
| Thursday | AADA Divisionals |
| Friday | Challenge Night |
| Saturday | Open Racing |
| Sunday | Closed |
---
Arena Special Events:

Racing events are held from early spring to late fall. Specialty events such as Indy, Stock or Can-Am are held at least twice a year. 500cc motorbike events are being scheduled for the near future.

One event to be wary of is the "winner take all" challenges. These are one-on-one races where the winner gets to keep the loser's car. Unless you have the bucks to afford such an event, don't try it. The local competition is very good.