---

The Holiday Park was originally built for holding vehicular events such as the Derby and Wyoming Auto Rodeos, but has since become profitable enough to stay open year-round. Challenge matches are very popular as local citizens vent out their frustrations in non-lethal matches (unlike the past, where locals slugged it out in bloody neighborhood confrontations). Vehicular rodeos and stunt shows are held regularly throughout the year.
---
Arena Notes:

The outer walls and protruding barriers are 40' tall and have 30 DP. The gates have 10 DP and take four phases to open or close.

In most arenas, debris, dropped weapons, and wrecks are cleared out after every event, but this is not done at the Holiday. The arena will not be cleaned up until all of the nightly events are done. This tends to make the last few duels rather cluttered and hazardous. Any duellist with salvage rights will have to wait.
---
Arena Map: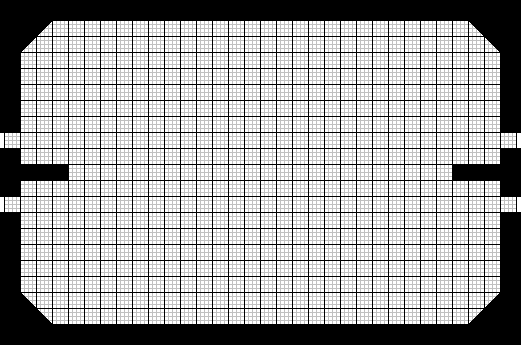 ---
Arena Schedule:
| | |
| --- | --- |
| Monday | Amateur Night |
| Tuesday | Closed |
| Wednesday | Challenge Night |
| Thursday | Rodeo Events |
| Friday | AADA Divisionals |
| Saturday | Challenge Night |
| Sunday | Cycle Night |
---
Arena Events:

Holiday Events: Name the holiday and the arena has a special event for it. A few examples:

Thanksgiving: Captured gang members are put in turkey suits, then instructed to escape via the nearest arena exit. Meanwhile, duellists dressed as pilgrims will attempt to lasso and drag as many turkeys as possible into their respective pickups before a 60 second time limit expires.

Halloween: All arena lights are turned off. Any device that helps to see in the dark is not allowed. The only light source allowed is a strobe light that activates at the end of every turn. Watch out for the rolling pumpkins; they're booby-trapped!

April Fools: Every vehicle has at least one non-lethal defect in it, courtesy of the track management. Add a few more pranks during the duel, and you've got a real mess on your hands. Another event has unsuspecting duellists switch their respective vehicles for a competitor's (either before or during a duel)!