---
The International Drag Strip (IDS) rounds out the KC-1 duelling scene. It's one of the few professional drag strips in the Midwest. Open from spring to late summer, it hosts several national and international drag racing tournaments.
---
Arena Notes:

The IDS consists of a two-lane, quarter-mile drag strip. The side walls are 15' high and have 100 DP. Most races go south-north, but the track can handle north-south races as well. On the north side is an emergency slow down zone. Vehicles in the zone receive an additional 10 mph deceleration bonus. The deceleration zone is one mile long (360"). Since there is no middle retaining wall, handling mishaps can become extremely messy.
---
Arena Map: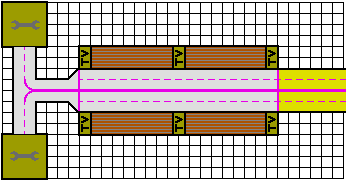 1 square = 5".
---
Arena Schedule:
| | |
| --- | --- |
| Monday | Closed |
| Tuesday | Closed |
| Wednesday | Closed |
| Thursday | Amateur Night |
| Friday | Time Trials |
| Saturday | AADA Divisionals |
| Sunday | Special Events / Challenge Night |
---
Arena Special Events:

A majority of IDS events are standard drag races. Playing Chicken and jousting events are offered late in the season. Special events include rocket/jet-powered vehicle demonstrations and Classic Car challenges. Average speeds in some events can reach 400 mph or higher!