---
The Colorado State Arena is a popular facility, with fast action, bloody statistics, and one-on-one challenges. This rough reputation has attracted a high percentage of corporate professionals and top-rank independents. The competition is quite good, but the payoffs are worth the risk.

The Centennial Cup, a day long round-robin tournament, is open to any AADA duellist who lives in Colorado. The tournament is held at the end of the AADA season, in conjunction with the state fair. The Centennial Cup is becoming so popular, it soon might replace the Colorado Cup as the most prestigious AADA event in the state.
---
Arena Notes:

The arena walls are 30' high and have 40 DP. The central jumps are 15' high angled at 20 degrees, and are indestructible. At each of the arena's corners is a RGM launcher with ten reloads. These are meant to keep the rules violators in line and discourage unwelcome visitors.
---
Arena Map: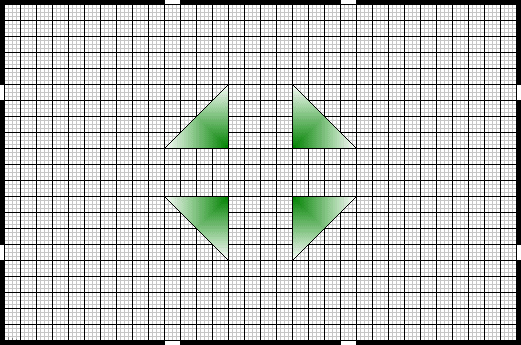 ---
Arena Schedule:
| | |
| --- | --- |
| Monday | Amateur Night |
| Tuesday | Amateur Night |
| Wednesday | Closed |
| Thursday | Team Events |
| Friday | AADA Divisionals |
| Saturday | Special Events |
| Sunday | Challenge Night |
---
Arena Special Events:

Jumpathlon: After completing three compulsory jumps (which must be done at a speed of no less than 50 mph), contestants can score points for kills (3 points) and jumps (1 point). Jumps are defined as starting out on the arena floor, going from one ramp to another, and returning on the arena floor. The first duellist to acquire twelve points is the winner. Dropped weapons are not allowed on the ramps.

Lights Out: All of the arena lights are turned off except for the ones outlining the jumps. Nighttime modifiers are in effect. Landing in the dark is an additional D1 hazard.