The Old Snohomish Bike Show web has moved to: www.snohomishbikeshow.org
[

Back to 1998 Bike Show]
Show Bikes
1998 Old Snohomish
Antique & Classic Motorcycle Show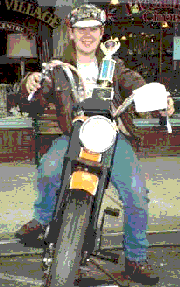 "Hey, Johnnie! Whatcha' rebelling against?"
The Bike Show is People's Choice. Anyone can vote for a favorite bike in several categories, including Best of Show. About 80 bikes were entered into the show, and the choices were often difficult to make.
Congratulations to the winners!
Thanks to Cowhide & Chrome for the trophies.


Click on a picture to see the full-size photo.
Some photos may take a long time to download.
Photos this page by Electra-Eyed Photography.

| | |
| --- | --- |
| Japanese | European |
| | Vintage |
| Trike | |
| Rat | Chopper |
| Dresser | Classic |
| 250 CC & under | These photos are only a portion of the winners. A few bikes left before pictures were taken. |
Show Categories
Furthest Ridden In Entry

Street Hot Competition
Antique (pre-1926)

Woman Rider
Vintage (1927-1946)

European
Classic (1947-1967)

Japanese
250cc and under

Stock
Chopper

Trike
Dresser

Rat

Photo Gallery
Each topic has several photos. Some images are slow to download.

Photo Credits:

all photos copyrighted 1998
by Darrin Speed, Wiley "Electra-Eyed" Photography, and PinkGirl

Webmaster: PinkGirl Productions
http://www.premier1.net/~beno3/pinkgirl/showbikes.htm-- Revised: 2 SEPT 1998