Sponsor Information
1998 Old Snohomish
Antique & Classic Motorcycle Show
Sky Valley Chapter, ABATE of Washington, would like to thank each of the show's sponsors. We appreciate the time and financial donations that made the 1998 show a success.

If you visit any of these businesses, say "hello" from the Bike Show Committee.


Thanks!
Sponsors from T-shirt back: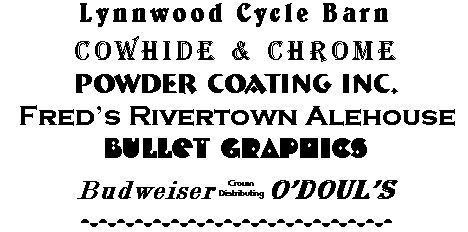 1998 Bike Show Sponsors
Lynnwood Cycle Barn
Lynnwood, WA

Cowhide & Chrome
Monroe, WA

Powder Coating Inc.
Mukilteo, WA

Fred's Rivertown Alehouse
Snohomish, WA

Bullet Graphics
Snohomish, WA

Budweiser & O'Doul's
(Crown Distributing, Everett, WA)

Eastside Harley-Davidson
Bellevue, WA

Rasmussen Trucking
Monroe, WA

Chub's Pub
Snohomish, WA

RJ's Real Texas Bar-B-Q
Snohomish, WA

Sachi Fine Jewelry
Snohomish, WA
Eddie Masgittie Band - live - Seattle Cossacks
T-shirt Design by PinkGirl Productions
Snohomish, WA
T-shirts printed by Tia's Tees
Snohomish, WA
Members of the Bike Show Committee
Members of Sky Valley Chapter ABATE of Washington
Click here for sponsorship information.

Photo Gallery
Each topic has several photos. Some images are slow to download.

Introduction

Show Bikes

Entertainment

Downtown I

Downtown II

Downtown III

Downtown IV

Downtown V





Photo Credits: all photos copyrighted 1998
by Darrin Speed, Wiley "Electra-Eyed" Photography, and PinkGirl

Webmaster: PinkGirl Productions
http://www.premier1.net/~beno3/pinkgirl/bikeshow/sponsors.htm-- Revised: 18 APR 1999

[Client Samples] [1998 Bike Show] [1999 Bike Show]