A Naturalist's Guide to the White Rim Trail
David B. Williams and Damian Fagan
Published by Wingate Ink
ISBN: 0964417316
$9.95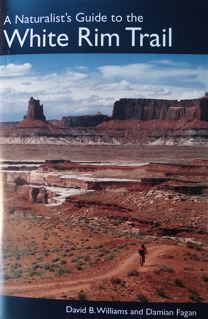 A 62-page introductory guide to the natural and culture history of the White Rim Trail, or as the park service calls it, the White Rim Road. Includes species lists, discussion of geology, flora, and fauna, and maps with mile-by-mile description of the road.

Our goal in writing this guide was to give people information that encourages them to not just "do" the White Rim, but to take the time to observe their surroundings in this magnificient landscape.


" If I ever ride the White Rim, I imagine that I would carry this guide book."
E. Merckx

" Golly ned. I wish we had had such a nifty bit of writing when we visited the area. It certainly would have made for a much more swell experience."
J.W. Powell

" I might not have lost a single heifer if I had this handy book."
Sog Shafer


From the Book:

The top number in this log is for people going east to west, and the bottom number is for people going west to east. Both mileage numbers start at the Visitor Center.


17.4-
82.4
Lathrop Canyon Trail - Foot traffic only. Five miles to the Island in the Sky road, with an elevation gain of 1,600 feet.
17.5-
82.3
Entrance to Lathrop Canyon - Four miles down to the river. Named for sheepman Howard Lathrop, who worked in this area in the 1940s. Vehicle camping is not allowed in the canyon.
18.3-
81.5
Airport Tower Campsites A and B - Please note that you must camp within the boundaries marked by the four posts at all of the campsites on the White Rim Trail.
18.5-
81.3
Airport Tower Campsites C and D - Abajo Mountains to the south, locally called the 'Blues'
20.5-
79.3
Main fork of Buck Canyon - Lathrop may have wintered his "bucks" in this canyon.
26.6-
73.2
Blackbrush community - The dominant small shrub surrounding the road is blackbrush (Coleogyne ramosissima), a member of the rose family. It is a significant forage plant for deer and bighorn sheep. The plants grow in shallow soils (less than 2.5 feet) and have small, solitary yellow flowers, which bloom May to July. They form extensive stands on many parts of the trail.