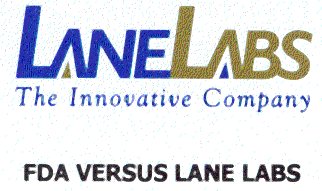 Dear Friend:
Lane Labs has made great strides since the enactment of the Dietary Supplement Health and Education Act (DSHEA), passed by Congress in 1994, to provide you with meaningful medical research on our natural products. Your right to that research and access to these breakthrough natural products are now being challenged by the Food & Drug Administration (FDA) and the Federal Trade Commission (FTC) working together. The implications of this case extend to all dietary supplements sold today.
On Friday, December 10, 1999, the FDA filed suit in federal court, seeking to ban all future sales of BeneFin shark cartilage, MGN-3 immune supplement, and SkinAnswer@ cream, and charging Lane Labs and me personally with marketing unapproved drugs. We expect the FTC, which has been working in concert with the FDA in this matter, to file a similar complaint. The basis of both complaints is the published medical research we provide you is illegal, although it is cleady allowed by the DSHEA law. The FDA objective is to greatly limit DSHEA and your access to serious medical research on natural products ... or to ban these products altogether.
The supplement industry is populated by small companies, many of which operate with weaker research and fewer financial resources than Lane Labs. If the FDA beats Lane Labs or pressures us into an unreasonable settlement - soon it may be "open season" by the FDA on the supplement industry, especially on important, cutting-edge supplements.
The FDA and the FTC have targeted Lane Labs, I believe, because of our commitment to publishing serious medical research on natural products. Lane Labs already has conducted numerous FDA- approved Phase II clinical trials with leading hospitals around the country. The National Institutes of Health (NIH) even selected Lane Labs' BeneFin shark cartilage for a government-sponsored Phase III Clinical Trial on 600 late-stage cancer patients. This trial would provide the most comprehensive data ever available on the performance of clinical shark cartilage as an angiogenesis inhibitor. Ironically, if this groundless lawsuit proceeds, that clinical trial on BeneFin will be cancelled. We simply don't have the millions of dollars required to handle both.
The "FDA verses Lane Labs" case will be a landmark one. The FDA is seeking to severely limit your access to published medical literature from supplement companies - including abstracts and peer-reviewed articles - and prohibit you from purchasing safe, beneficial dietary supplements.
As a charter member of the Consumer Education & Research Council (CERC), Lane Labs has already received the support of many individuals and organizations such as the American Academy of Anti-Aging Medicine, representing nearly 3,000 U.S. physicians.
But we need your help, too.
Please post a comment at www.LaneLabs.com which we will forward to key Congressional leaders.
Please call Dr. Robert Temple, Director of Medical Policy, who is handling this case for the FDA, to protest this action. His telephone number is (301)594-5400; and his e-mail address is temple@cder.fda.gov.
Please give us the strength in numbers we need to preserve OUR rights - and YOURS - under DSHEA.

Lane Labs-USA, Inc.
110 Commerce Drive, Allendale, New Jersey 07401, Telephone (201) 236-9090, Fax (201) 236-9091
---
File: lanelabs.html
Back to List of Documents