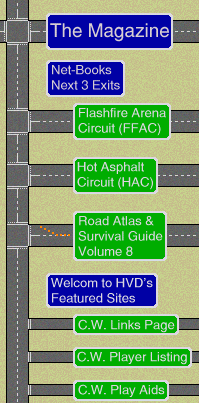 Welcome, duelling fans, to the Hot Asphalt Circuit, the AADA's deadliest combat league! If you've got the courage, come on over and challenge the best competitors and arenas that New Mexico, Arizona, and Nevada have to offer. You don't have to be crazy to duel here, but it sure helps.

FEATURING:

20 action-packed arenas and 5 track layouts.
A current listing of the Top 10 HAC duellists, with their personal statistics and backgrounds.
The Sidewinder Challenge, a racing mini-campaign where the best racers take on a formidable modular track design. No two racetracks are ever the same, but the dangers are just as deadly!
All the racing schedules and track restrictions you need to run a complete campaign. From Amateur Night slugfests, to high-tech corporate duels, the Hot Asphalt Circuit is able to fit the situation.
Have fun!