---
Though the Cornhusker was not the first AADA facility to be built in Lincoln (The Pershing Arena, discussed in ADQ 8/4, was built several years earlier), it was accepted into the Flashfire Arena Circuit due to its high standards of quality and spectator comfort. The Pershing Arena, declined Flashfire membership due to personal conflicts between the arena management and the circuit coordinators.

The Cornhusker hosts a variety of mid-season tournaments, bringing in sponsors and well-known professionals from across the Midwest. The Cornhusker is also home to a high-ranked college autoduelling team of the same name. An event not to miss is the Nebraska/Oklahoma duel. This rivalry can be traced back to the early twentieth century and is a real barn-burner.
---
Arena Notes:

The outer walls are 10' high and have 60 DP. The inner "spikes", bunkers and interior walls are 15' high and have 50 GP. Evenly spaced throughout the arena are seven escape hatches which take one phase to open or close.

Each bunker has a door on every side (north, south, east and west) which take 2 phases to open or close. Inside each bunker is a two-space weapons port which houses the arena defenses (VMGs or RRs). The weapons are sealed off from inside and are operated by remote control. Each port has a 180-degree field of fire. Next to each bunker is a series of pressure-sensitive spikes. Anything over 500 pounds will activate them. The damage is the same as a dropped spike plate.

The mystery zones are covered with a 5 DP fireproof covering. The only way to tell what's underneath one is to run over a specific 1" x 1" zone, or blast a 1/2" hole through it. Within the zone can be anything from cash prizes to nasty traps. To claim a prize you must run over a specific 1" x 1" zone, but be careful, the adjoining mystery squares could hold traps!

The bunkers and escape hatches are designated safety zones. Anyone intentionally shooting or ramming these areas will be disqualified . . . or worse.
---
Arena Map: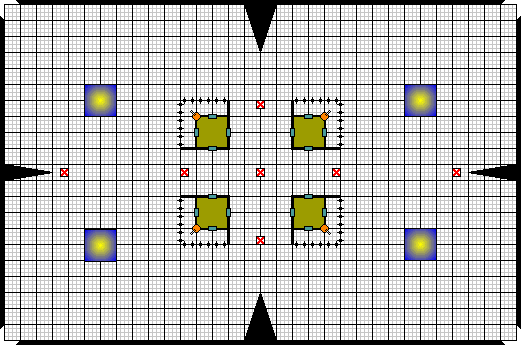 ---
Arena Schedule:
| | |
| --- | --- |
| Monday | Amateur Night |
| Tuesday | Division of the Day (5-100) |
| Wednesday | Vehicle Type of the Day |
| Thursday | Challenge Night |
| Friday | AADA Divisionals |
| Saturday | College Duelling (if in season) or Team Events |
| Sunday | Closed |