SWAT HQ Salvage Yard
Deathtrack Driver's Survival Guide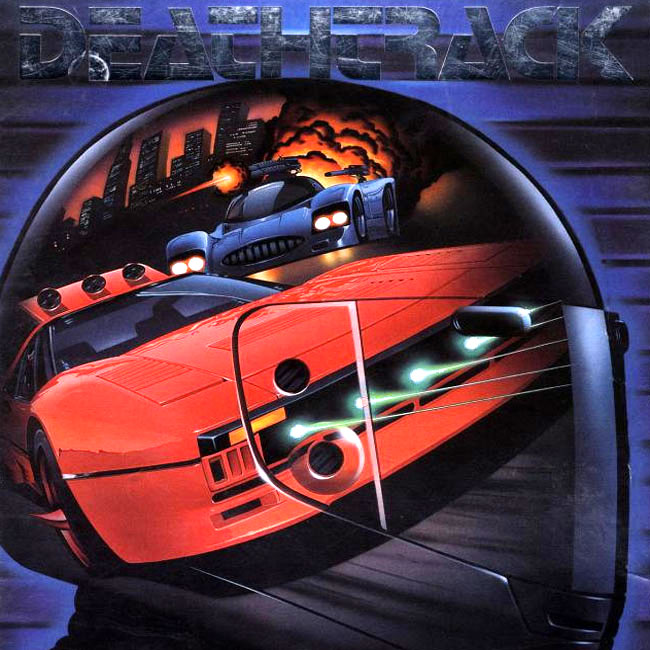 ---

Deathtrack, a computer car combat game published in 1989 by Activision and Dynamix, had many ideas that would be useful for Car Wars, Axles & Alloys, Outrider and other tabletop car combat games. The Deathtrack Driver's Survival Guide combines content from Deathtrack and its manual that would be helpful for arena circuits and roleplaying campaigns.

This information has been published without the permission of Activision. No copyright infringement is intended.

The image of the back cover of the Deathtrack box is courtesy of MobyGames.

Please address questions about the content on the Deathtrack Driver's Survival Guide to Michael P. Owen, the SWAT HQ Webmaster.


Posted December 31, 2004
Updated January 10, 2015


---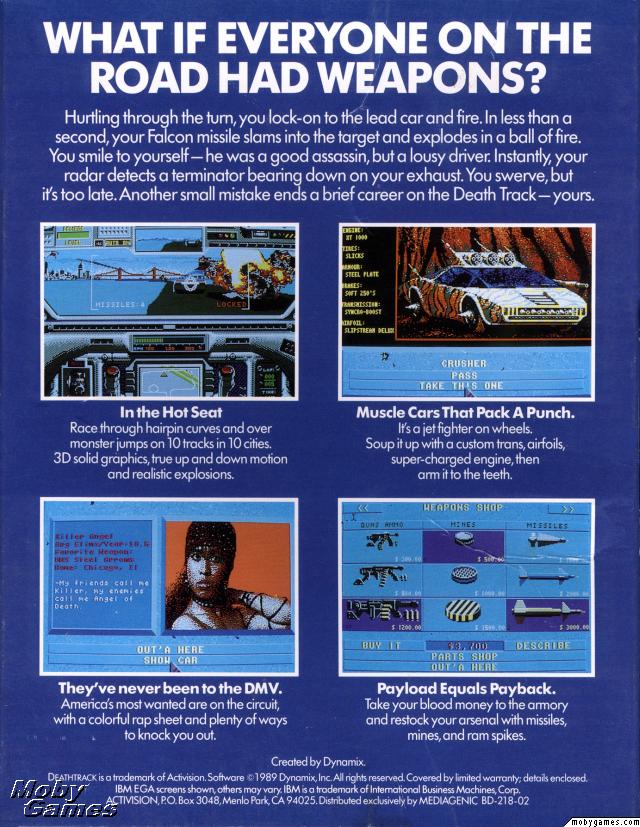 "WHAT IF EVERYONE ON THE ROAD HAD WEAPONS?




Hurtling through the turn, you lock-on to the lead car and fire. In less than a second, your Falcon missile slams into the target and explodes in a ball of fire. You smile to yourself he was a good assassin, but a lousy driver. Instantly, your radar detects a terminator bearing down on your exhaust. You swerve, but it's too late. Another small mistake ends a brief career on the Death Track . . . yours.


In the Hot Seat.

Race through hairpin curves and over monster jumps on 10 tracks in 10 cities. 3D solid graphics, true up and down motion and realistic explosions.


Muscle Cars that Pack a Punch.

It's a jetfighter on wheels. Soup it up with a custom trans, airfoils, super-charged engine, then arm it to the teeth.


They've Never Been to the DMV.

America's most wanted are on the circuit, with a colorful rap sheet and plenty of ways to knock you out.


Payload Equals Payback.

Take your blood money to the armory and restock your arsenal with missiles, mines, and ram spikes.



---
From the Pit: DeathTrack for Beginners


Greetings, Sports Fans!

Hey, how about that dustup in Orlando last month? Was that DeathTrack at its best or what? I thought I was going to die and go to heaven when Angel slammed that Terminator up Wrecker's tailpipe and blew his carcass right into the press box! Just another night on the circuit, and the stars were out (some more than others)! I know there are lots of runny-nosed young shavers come in new to the sport of DeathTrack, beguiled by bright lights and big guns. So as a public service to all you virgins out there, I'll explain how 'Tracking works.

You cruise your ground pounder at maximum speed and eliminate the competition by ramming them, slicing tires, dropping mines beneath their underbellies, and of course, blasting them with a charming variety of particle beams, lasers, missiles, and good old-fashioned machine guns.

Road signs point out which the way the road is going to turn, so keep an eye on them and try to stay on the track. Running off the road slows you down a lot, and it's hard to get traction when you're off the blacktop. If your car gets damaged, its performance will drop. Pull over into the pits to repair or get more weapons. Outrace 'em or outgun 'em or both. The object is to cross the finish line first. Kills are worth points to your final score, but they don't earn you bucks, so drive hard. The more you win, the more bucks you snatch to repair or soup up your car between races. The more you soup up your car, the more you win. Got it? Good. Sound easy? Well, lots of other buzzard bait and highway pizza thought so too . . .


Choosing a Car

So, you want to be a DeathTrack racer, hmm? Worse beginners have strapped themselves into a ton and a half of death machine. Let's see how you do.

Your first big decision will be choosing a car. The frames and dashboards of the cars are all different, but the main differences and their weapons and auto parts. You see, DeathTrack cars are pretty modular. You can replace all the basic parts and weapons. If you really wanted to, you could take your Pitbull to the part shops and chop it into a Crusher. Or vice versa. Or transform it into something even better. The differences between the cars are only really important in the first few races. After that, your car will be better than any starting car. If you're still alive.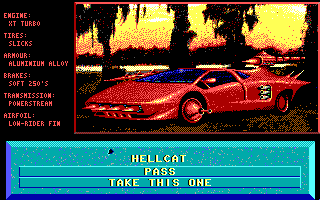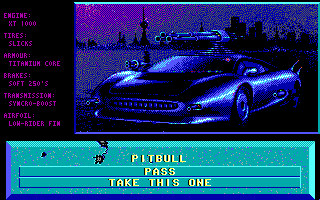 The Hellcat is a fast car, with a good engine and transmission: an XT Turbo and PowerStream Deluxe. The weapons are standard, except from some Ajax B260 Wheel Spikes and an Auto Pike SR60 Ram Spike. It's good for people who like to win by outrunning the competition. The engine and spikes make it a car designed for passing. And causing lots of damage as you go by.

The Crusher has a decent airfoil and armor, and a good laser. The airfoil is a SlipStream Deluxe, the armor is Steel Plate, and the laser is a Poly-Tech Sunburst by SDI. It's a good all-around, middle-of-the-road car.

The Pitbull knows how to take and give out punishment. It comes with outstanding Titanium Core armor, and a Delta Max 1. Everything else on it isn't the greatest, but it'll get you around the track. SuperSlip Brakes. Stuff like that. Good for people who want to bully their way through the race.

Once you pick your car, cruise on over to the Parts Shop and modify your new Beast. Select The Shops and see how quickly you can spend the $10,000 you start with.



Parts and Weapons

Hellcat

Crusher

Pitbull

Engines

Medium
XT Turbo

Low
XT 1000

Low
XT 1000

Brakes

Low
Soft 250s

Low
Soft 250s

Low
Soft 250s

Transmissions

Medium
PowerStream

Low
Synchro-Boost

Low
Synchro-Boost

Tires

Low
Slicks

Low
Slicks

Low
Slicks

Airfoils

Low
Low-Rider Fin

Medium
SlipStream

Low
Low-Rider Fin

Armor

Low
Aluminium Alloy

Medium
Steel Plate

High
Titanium Core

Guns and Ammo

Low
Light 50 Model 93
Ammo: 300

Low
Light 50 Model 93
Ammo: 100

Medium
Delta Max 1
Ammo: 100

Mines

Low
Piro MX-35
Quantity: 0

Low
Assassin C2-70
Quantity: 3

Low
Assassin C2-95B
Quantity: 3

Missiles

Low
Steel Arrow
Quantity: 0

Low
Steel Arrow
Quantity: 3

Low
Steel Arrow
Quantity: 1

Beams

Low
Arc Slicer 10

Low
Arc Slicer 10

Low
Arc Slicer 10

Ram Spikes

Medium
Auto Pike SR-60

Low
Auto Pike SR-A10

Low
Auto Pike SR-A10

Terminators

Low
RoadRunner
Quantity: 0

Low
RoadRunner
Quantity: 0

Low
RoadRunner
Quantity: 3

Wheel Spikes

Medium
Ajax B260

Low
Ajax A

Low
Ajax A

Caltrops

Low
MetalStorm 25s
Quantity: 0

Low
MetalStorm 25s
Quantity: 0

Low
MetalStorm 25s
Quantity: 0

Lasers

Low
Blazer Model 250

Medium
Poly-Tech Sunburst

Low
Blazer Model 250


Buying Parts and Weapons

All you have to do is equip your death machine is select things from a simple menu. Select the part you want and it'll be requisitioned from storage, billed to your account, and fitted to your car.

Want to upgrade some gear? No problem. The Parts Shop will even buy your old weapons back from you, and credit the value of it to your new purchase! What more could you ask for?

Offer only good for used weapons. Used auto parts cannot be exchanged.


Shop or Die: Buying Auto Parts

The Parts Shop stocks three grades of each component, ranging from mediocre to excellent to outstanding. The highest grades of each component are all designed to satisfy your most outrageous cravings for power! Make a monster, monster, monster car!

Beef up that mauler as much as you can afford. You can only buy higher grades of auto parts between races, so choose your start parts carefully. You battles could be won or lost in the Shops before the race begins.


Which Auto Parts Should You Buy?

Read the on-screen descriptions for all parts for a good understanding of their relative strengths and weaknesses. As a general rule, the more expensive parts will perform substantially better than the less expensive ones. Many of the higher-priced parts have additional armor enhancements which reduce the amount of damage done to that part, regardless of your car's armor racing.


Engines

The better the engine the higher your top speed.


Brakes

Good brakes can keep you out of trouble. You don't need to try and outrun everything thrown at you.


Transmissions

Transmissions handle three of the most aspects of DeathTrack racing: Acceleration, acceleration, and acceleration!


Tires

Poor tires slip all over the road. And off the road as well. But good tires grip the road reliably and improve acceleration.


Airfoils

Airfoils work with your tires to increase, and improve your road handling. Good tires without good airfoils are a waste of money. The most powerful engines and transmissions are inefficient and sloppy without a good airfoil.


Armor

Higher-grade armor weighs less and protects better. Any armor can be torn apart with enough hits. Face it. There are only two places you can be. On the road or scattered all over it.


Deadly Toys: A Visit to the Weapons Shop

When you're buying weapons, unlike auto parts, there are more selections than will fit on one screen, and you can have more than one of most weapons.


Paging Through Weapons

Select the upper right or left arrows on the screen to see more weapon choices. There are nine kinds of weapons and three grades apiece.


Buying Multiple Items

Some DeathTrack weapons can be bought only once, but most can be bought several times. Each time you select Buy It or press B, you buy another of the same item. All weapons have an upper limit that will fit in your car. Your current inventory of any weapon is indicated by a number in the lower left-hand corner of the weapon icon.

So go on. Soup up your hot rod with some powerful artillery.




Weapon Limits

| | | | |
| --- | --- | --- | --- |
| Weapon | Low Grade | Medium Grade | High Grade |
| Guns and Ammo | 1,000 | 700 | 400 |
| Mines | 30 | 15 | 7 |
| Missiles | 20 | 10 | 5 |
| Beams | 1 | 1 | 1 |
| Ram Spikes | 1 | 1 | 1 |
| Terminators | 15 | 10 | 5 |
| Wheel Spikes | 1 | 1 | 1 |
| Caltrops | 30 | 20 | 10 |
| Lasers | 1 | 1 | 1 |




The Lowdown on High-Powered Weapons




Guns and Ammo

Free DeathTrack Machine Gun! Well, sir, when it comes to weapons, newfangled gizmos come and go all the time. But for good old-fashioned mayhem, nothing beats the Machine Gun. Nothing.

Get a Model 95, a Delta Max 1 or even a top-of-the-line AutoCannon CX750 free with the purchase of ammunition for it. All you ever have to buy is the ammo. Keep the gun as long as you like. The shop will be glad to keep selling you fresh ammo for it.


Mines

Having a problem with tailgaters? Other cars tearing around the track twice before you complete it once? Want to get rid of that pesky cruiser before he can pass you? Don't get mad. Get even. With Assassin Mines from Rear Defense.

Mines are small packets if explosives that your car drops directly behind it. Your little present comes to life when the offending car passes over it, tearing up his undercarriage.

If you can't outrace 'em, outthink 'em. With Assassins. Go ahead and drop 'em all. There are more where these came from.


Missiles

Stop messing around with inferior weapon systems. Stop trying to save money by buying cheapo weapons. There's only one real way to win. Missiles. They cost a little more. But then, so does everything that's worthwhile.

DarkWing Weapon Systems, Ltd. For when your tastes grow up.


Beams

Picture yourself strapped behind 555,000 megawatts of particulate vengeance!

Particle beam weapons are the newest trend in DeathTrack racing! Unlike guns, there's no more ammo to buy. Unlike lasers, they won't give out on you during the race. And you don't have to keep buying them over and over again, like missiles. Of course, there is a slight pause between shots while the weapon recharges, but that's hardly worth mentioning. Besides, a short pause between shots is a lot better than having your laser's battery die during a race!

The ArrowHead Particle Accelerator. It's the only weapon you'll ever need.


Ram Spikes

Face it. In an aggressive sport like DeathTrack, you're gonna get knocked around a lot. You need all the protection you can get. But you also want to be able to dish it out.

You need Trojan Spikes. Strapped to the front of your car, these ramming systems can puncture engines and fuel tanks as well as armor!


Terminators

Picture a high-explosive warhead strapped to a skateboard. Now slap on a rocket pack and launch it from your machine, and you have a terminator. As Melissa says, "Are you willing to take a chance that your opponent doesn't have one?"

Terminators from Terminal. Melissa's got them. Shouldn't you?


Wheel Spikes

Why pass a car when you can trash a car? Get Ajax or Achilles Wheel Spikes from Trojan War Systems.

Trojan Wheel Spikes. They're not for everybody. But they could be for you. Available by invitation only. To see if you qualify, send roadkills resume to: Trojan War Systems, Reno, Nevada. Or use your Automatic Purchasing System to buy them.


Caltrops

In the great Roman chariot races, unscrupulous charioteers threw sharp, twisted shards of metal in the path of enemy horses. The horses' hooves would be slashed to ribbons, toppling their driver and leaving him easy prey for the cheating contestant.

DeathTrack brings back a modern, high-tech version of the caltrop, which sends a shower of spikes into the underbelly of the opponent's car, damaging the tires, brakes, transmission, and even the engine. Drop a few into the path of a car behind you, and watch the sparks fly!


Lasers

Lasers! The word says it all. You want firepower? Buy a laser! You want want to be able to effortlessly slice up your opponents? Buy a laser! You want a weapon that recharges itself fully after each race? Then buy a laser!

Truth in advertising laws force us to reveal that laser batteries are good for a limited number of shots per race, and can't be recharged at the pit stop. But who cares? And who reads the small print anyway?




The Auto Parts Shop





Auto Part

Low Grade

Medium Grade

High Grade

Engines

XT 1000
$6,000

XT Turbo
$8,000

SX 2000
$11,000

Brakes

Soft 250s
$500

Inter-Lock
$1,500

Tri-Pad Deluxe
$2,500

Transmissions

Synchro-Boost
$1,000

PowerStream
$2,100

Magnum TC360
$3,300

Tires

Slicks
$500

Grippers
$1,300

Bear Claws
$2,000

Airfoils

Low-Rider Fin
$500

SlipStream
$1,000

Wind Torque 5000
$1,500

Armor

Aluminium Alloy
$3,000

Steel Plate
$5,000

Titanium Core
$6,300
Engines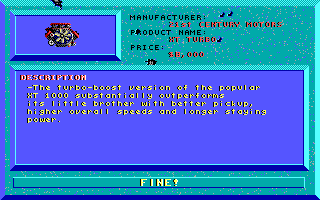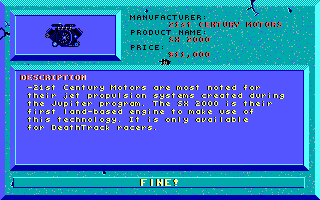 Manufacturer: 21st Century Motors
Product Name: XT 1000
Price: $6,000

Based on a passenger car engine 21st Century Motors sells to the public, this little powerhouse gets excellent mileage.


Manufacturer: 21st Century Motors
Product Name: XT Turbo
Price: $8,000

The turbo-boost version of the popular XT 1000 substantially outperforms its little brother with better pickup, higher overall speeds and longer stopping power.


Manufacturer: 21st Century Motors
Product Name: SX 2000
Price: $11,000

21st Century Motors are most noted for their jet propulsion systems created during the Jupiter program. The SX 2000 is their first land-based engine to make use of this technology. It is only available for DeathTrack racers.


Brakes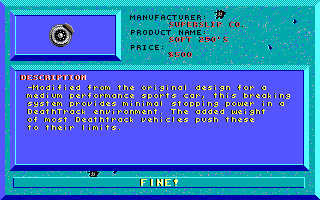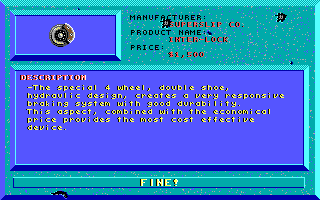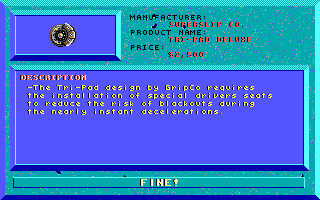 Manufacturer: SuperSlip Co.
Product Name: Soft 250s
Price: $500

Modified from the original design for a medium performance sports car, this braking system provides minimal stopping power in a DeathTrack environment. The added weight of most DeathTrack vehicles push these to their limits.


Manufacturer: SuperSlip Co.
Product Name: Inter-Lock
Price: $1,500

The special 4-wheel, double shoe, hydraulic design creates a very responsive braking system with good durability. This aspect, combined with the economical price provides the most cost effective price.


Manufacturer: GripCo
Product Name: Tri-Pad Deluxe
Price: $2,500

The Tri-Pad design by GripCo requires the installation of special driver's seats to reduce the risk of blackouts during the nearly instant decelerations.


Transmissions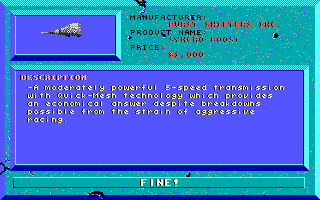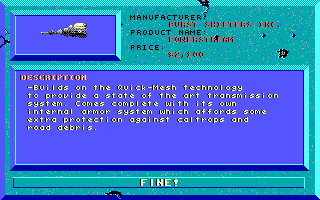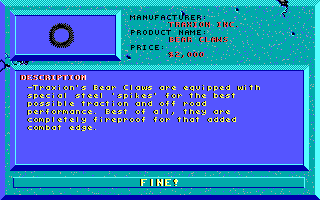 Manufacturer: Burst Shifters, Inc.
Product Name: Syncro-Boost
Price: $1,000

A moderately powerful 5-speed transmission with Quick-Mesh technology which provides an economical answer despite breakdowns possible from the strain of aggressive racing.


Manufacturer: Burst Shifters, Inc.
Product Name: PowerStream
Price: $2,100

Builds on the Quick-Mesh technology to provide a state of the art transmission system. Comes complete with its own internal armor system which affords some extra protection against caltrops and road debris.


Manufacturer: Traxion, Inc.
Product Name: Bear Claws
Price: $2,000

Traxion's Bear Claws are equipped with special steel 'spikes' for the best possible traction and off road performance. Best of all, they are completely fireproof for that added combat edge.


Airfoils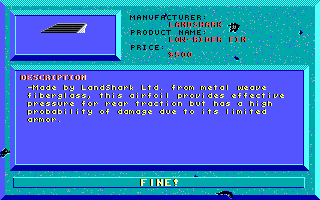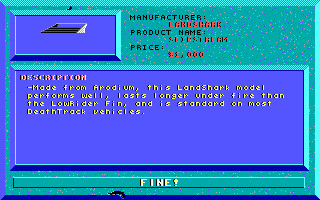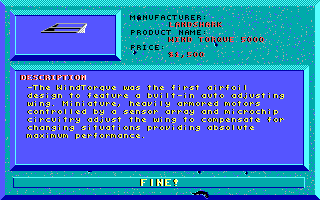 Manufacturer: LandShark
Product Name: Low-Rider Fin
Price: $500

Made by LandShark Ltd. from metal weave fiberglass, this airfoil provides effective pressure for rear traction but has a high probability of damage due to its limited armor.


Manufacturer: LandShark
Product Name: SlipStream
Price: $1,000

Made from Arodium, this LandShark model performs well, lasts longer than the Low-Rider Fin, and is standard on most DeathTrack vehicles.


Manufacturer: LandShark
Product Name: WindTorque 5000
Price: $1,500

The WindTorque was the first airfoil designed to feature a built-in auto adjusting wing. Miniature, heavily armored motors controlled by a sensor array and microchip circuitry adjust the wing to compensate for changing situations providing absolute maximum performance.


Armor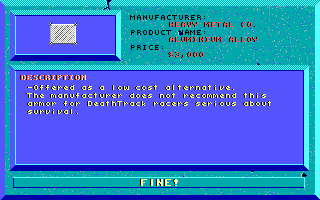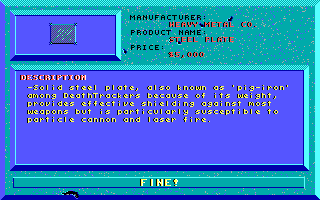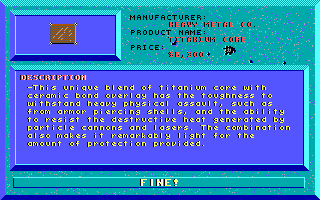 Manufacturer: Heavy Metal Co.
Product Name: Aluminium Alloy
Price: $3,000

Offered as a low cost alternative. The manufacturer does not recommend this armor for DeathTrack racers serious about survival.


Manufacturer: Heavy Metal Co.
Product Name: Steel Plate
Price: $5,000

Solid steel plate, also known as 'pig-iron' among DeathTrackers because of its weight, provides effective shielding against most weapons but its particularly susceptible to particle cannon and laser fire.


Manufacturer: Heavy Metal Co.
Product Name: Titanium Core
Price: $6,300

This unique blend of titanium core with ceramic bond overlay has the toughness to withstand heavy physical assault, such as from armor piercing shells, and the ability to resist the destructive heat generated by particle cannons and lasers. The combination also makes it remarkably light for the amount of protection provided.




The Weapons Shop

Weapon

Low Grade

Medium Grade

High Grade

Guns and Ammo

Light 50 Model 93
$300

Delta Max-1
$800

Auto-Cannon CX750
$1,200

Mines

Piro MX-35
$500

Assassin C2-70
$1,000

Assassin C2-95B
$1,500

Missiles

Steel Arrow
$1,000

Falcon MX
$2,000

NightHawk
$3,000

Beams

Arc Slicer 10
$2,200

Arc Slicer 20
$3,700

SAR 821
$5,200

Ram Spikes

Auto Pike SR-A10
$1,000

Auto Pike SR-60
$1,600

Auto Pike SX
$2,400

Terminators

RoadRunner
$1,100

Scorpion
$2,200

Dragon
$3,100

Wheel Spikes

Ajax A
$500

Ajax B260
$800

Achilles
$1,100

Caltrops
MetalStorm 25s
$75
MetalStorm 50s
$250
MetalStorm 100s
$525
Lasers
Blazer Model 250
$3,000
Poly-Tech Sunburst
$5,100
Heavy Assault SR-48
$7,600
Guns and Ammo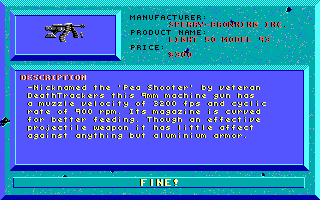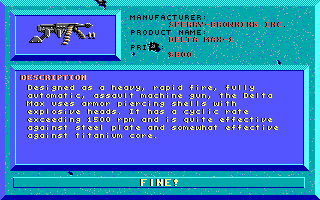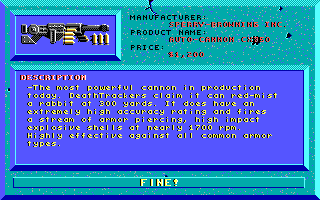 Manufacturer: Sperry-Browning, Inc.
Product Name: Light 50 Model 93
Price: $300

Nicknamed the 'Pea Shooter' by veteran DeathTrackers this 9mm machine gun has a muzzle velocity of 3,200 fps and cyclic rate of 900 rpm. Its magazine is curved for better loading. Though an effective projectile weapon it has little effect against anything but Aluminium Armor.


Manufacturer: Sperry-Browning, Inc.
Product Name: Delta Max 1
Price: $800

Designed as a heavy, rapid fire, fully automatic, assault machine gun, the Delta Max uses armor piercing shells with explosive heads. It has a cyclic rate exceeding 1,500 rpm and is quite effective against Steel Plate and somewhat effective against Titanium Core.


Manufacturer: Sperry-Browning, Inc.
Product Name: Auto-Cannon CX750
Price: $1,200

The most powerful cannon in production today. DeathTrackers claim it can red-mist a rabbit at 300 yards. It does have an extremely high accuracy rating and fires a stream of armor piercing, high impact explosive shells at nearly 1,700 rpm. Highly effective against all common armor types.


Mines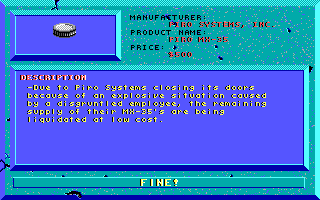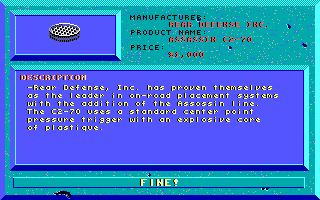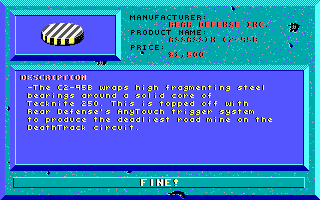 Manufacturer: Piro-Systems, Inc.
Product Name: Piro MX-35
Price: $500

Due to Piro Systems closing its doors because of an explosive situation caused by a disgruntled employee, the remaining supply of their MX-35s are being liquidated at low cost.


Manufacturer: Rear Defense, Inc.
Product Name: Assassin C2-70
Price: $1,000

Rear Defense, Inc. has proven themselves at the leader in on-road placement systems with the addition of the Assassin line. The C2-70 uses a standard center point pressure trigger with an explosive core of plastique.


Manufacturer: Rear Defense, Inc.
Product Name: Assassin C2-95B
Price: $1,500

The C2-95B wraps high fragmenting steel bearings around a solid core of Tecknite 250. This is topped off with Rear Defense's AnyTouch trigger system to produce the deadliest road mine on the DeathTrack circuit.


Missiles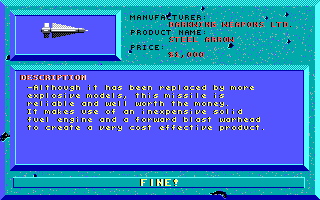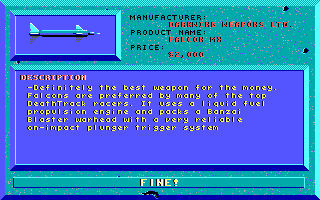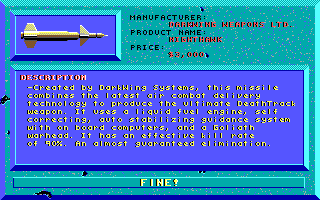 Manufacturer: DarkWing Weapons, Ltd.
Product Name: Steel Arrow
Price: $1,000

Although it has been replaced by more explosive models, this missile is reliable and well worth the money. It makes use of an expensive solid fuel engine and a forward blast warhead to create a very cost effective product.


Manufacturer: DarkWing Weapons, Ltd.
Product Name: Falcon MX
Price: $2,000

Definitely the best weapon for the money. Falcons are preferred by many of the top DeathTrack racers. It uses a liquid fuel propulsion engine and packs a Banzai Blaster warhead with a very reliable on-impact plunger trigger system.


Manufacturer: DarkWing Weapons, Ltd.
Product Name: Nighthawk
Price: $3,000

Created by DarkWing Systems, this missile combines the latest air combat delivery technology to produce the ultimate DeathTrack weapon. It uses a liquid fuel engine, self-correcting, auto-stabilizing guidance system with on-board computers, and a Goliath warhead. It has an effective kill rate of 90%. An almost guaranteed elimination.


Beams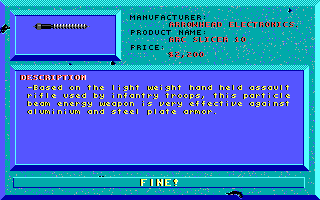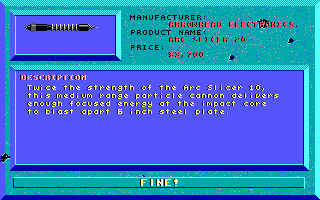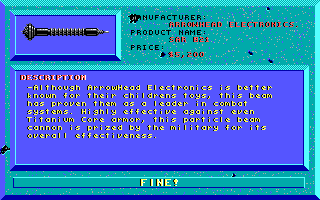 Manufacturer: ArrowHead Electronics
Product Name: Arc Slicer 10
Price: $2,200

Based on the light weight hand-held assault rifle used by infantry troops, this particle beam energy weapon is very effective against Aluminium and Steel Plate armor.


Manufacturer: ArrowHead Electronics
Product Name: Arc Slicer 20
Price: $3,700

Twice the strength of the Arc Slicer 10, this medium range particle cannon delivers enough focused energy at the impact core to blast apart 6 inch Steel Plate.


Manufacturer: ArrowHead Electronics
Product Name: SAR 821
Price: $5,200

Although ArrowHead Electronics is better known for their children's toys, this beam has proven them as a leader in combat systems. High effective against even Titanium Core armor, this particle beam cannon is prized by the military for its overall effectiveness.


Ram Spikes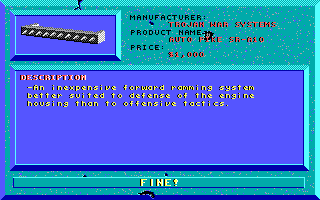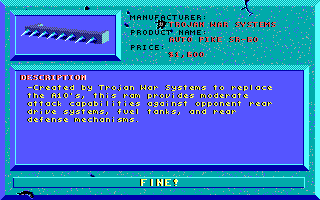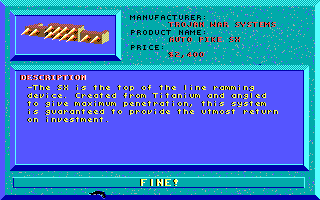 Manufacturer: Trojan War Systems
Product Name: Auto Pike SR-A10
Price: $1,000

An inexpensive forward ramming system better suited to defense of the engine housing than to offensive tactics.


Manufacturer: Trojan War Systems
Product Name: Auto Pike SR-60
Price: $1,600

Created by Trojan War Systems to replace the A10s, this ram provides moderate attack capabilities against opponent rear drive systems, fuel tanks, and rear defense mechanisms.


Manufacturer: Trojan War Systems
Product Name: Auto Pike SX
Price: $2,400

The SX is the top of the line ramming device. Created from titanium and angled to give maximum penetration, this system is guaranteed to provide the utmost return on investment.


Terminators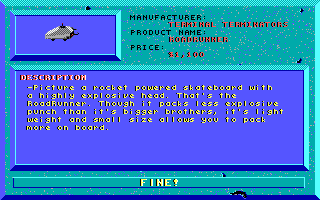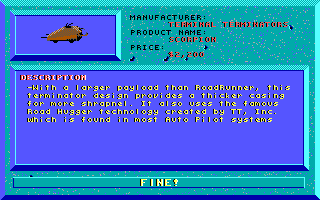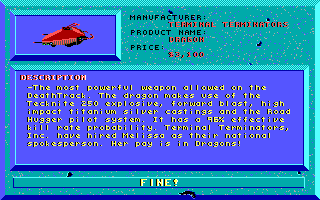 Manufacturer: Terminal Terminators, Inc.
Product Name: RoadRunner
Price: $1,100

Picture a rocket-powered skateboard with a highly explosive head. That's the RoadRunner. Though it has less explosive punch than its bigger brothers, its light weight and small size allows you to pack more on board.


Manufacturer: Terminal Terminators, Inc.
Product Name: Scorpion
Price: $2,200

With a larger payload than the RoadRunner, this terminator design provides a thicker casing for more shrapnel. It also uses the famous Road Hugger technology created by TT, Inc. which is found in most AutoPilot systems.


Manufacturer: Terminal Terminators, Inc.
Product Name: Dragon
Price: $3,100

The most powerful weapon allowed on the DeathTrack. The Dragon makes use of the Tecknite 250 explosive, forward blast, high impact titanium silver castings and the Road Hugger AutoPilot system. It has a 96% effective kill rate probability. Terminal Terminators Inc. have hired Melissa as their national spokesperson. Her pay is in Dragons!


Wheel Spikes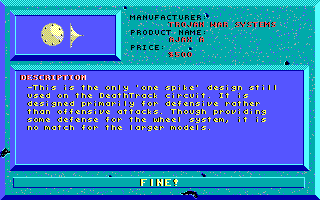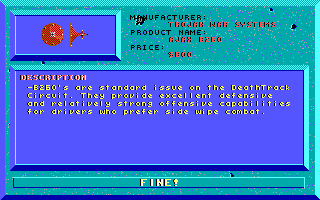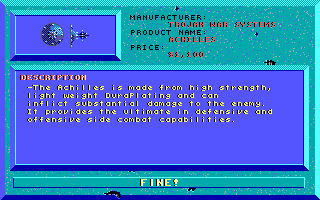 Manufacturer: Trojan War Systems
Product Name: Ajax A
Price: $500

This is the only 'one spike' design still used on the DeathTrack circuit. It is designed primarily for defensive rather than offensive attacks. Though providing some defense for the wheel system, it is no match for the larger models.


Manufacturer: Trojan War Systems
Product Name: Ajax B260
Price: $800

B260s are standard issue on the DeathTrack circuit. They provide excellent defensive and relatively strong offensive capabilities for drivers who prefer sideswipe combat.


Manufacturer: Trojan War Systems
Product Name: Achilles
Price: $1,100

The Achilles is made from high strength, light weight Dura Plating and can inflict substantial damage to the enemy. It provides the ultimate in defensive and offensive side combat capabilities.


Caltrops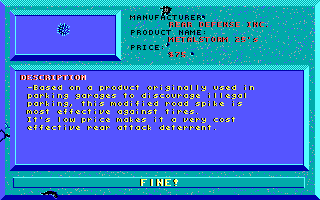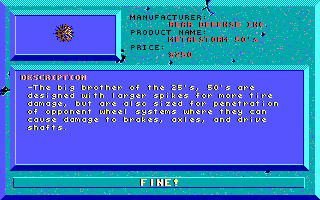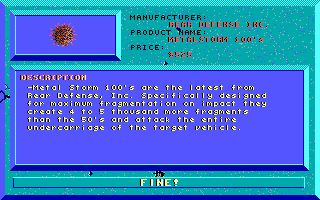 Manufacturer: Rear Defense, Inc.
Product Name: MetalStorm 25s
Price: $75

Based on a product originally used in parking garages to discourage illegal parking, this modified road spike is most effective against tires. Its low price makes it a very cost effective rear attack deterrent.


Manufacturer: Rear Defense, Inc.
Product Name: MetalStorm 50s
Price: $250

The big brother of the 25s, 50s are designed with larger spikes for more tire damage, but are also sized for penetration of opponent wheel systems where they can cause damage to brakes, axles and drive shafts.


Manufacturer: Rear Defense, Inc.
Product Name: MetalStorm 100s
Price: $525

MetalStorm 100s are the latest from Rear Defense, Inc. Specifically designed for maximum fragmentation on impact they create 4 to 5 thousand more fragments than the 50s and attack the entire undercarriage of the target vehicle.


Lasers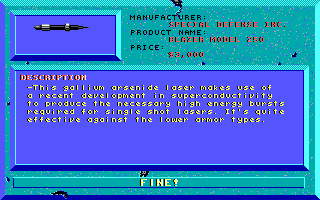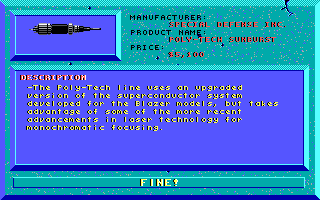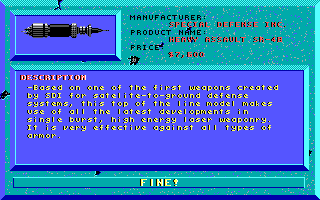 Manufacturer: Special Defense, Inc.
Product Name: Blazer Model 250
Price: $3,000

This gallium arsenide laser makes use of a recent development in superconductivity to produce the necessary high energy bursts for single-shot lasers. Its quite effective against the lower armor types.


Manufacturer: Special Defense, Inc.
Product Name: Poly-Tech Sunburst
Price: $5,100

The Poly-Tech line uses an upgraded version of the superconductor system developed for the Blazer models, but takes advantage of some of the more recent advancements in laser technology for monochromatic focusing.


Manufacturer: Special Defense, Inc.
Product Name: Heavy Assault SR-48
Price: $7,600

Based on one of the first weapons created by SDI for satellite-to-ground defense systems, this top of the line model makes use of all the latest developments in single burst, high energy laser weaponry. It is very effective against all types of armor.


Keep Your Eyes Off the Road


A Diabolical Display of Instruments Designed to Put the Wreck Back in Reckless Driving

Readouts are the lifeblood of a DeathTrack driver. Without this sophisticated array of computer-controlled driving and targeting indicators, you may as well as be driving and shooting blind.

There are three sets of readouts in your car's cockpit: The Upper Dashboard, the Windshield, and the Lower Dashboard.


Upper Dashboard Readouts


Damage Level Display (DLD)

Location: Upper-Left Corner

The DLD shows damage to your armor. If your armor's trashed, chances are a lot of other parts are banged up, too. Got it? Anyone who can't figure that out is in a lot of trouble already. When you take a hit, the border of the screen flashes, and the DLD shows you the new damage. The DLD warns you when your car is in trouble, giving you time to pull over into the pits and get repairs. Pay attention to it or fry.


AutoPilot On/Off

Location: Upper-Left Center

This shows whether your AutoPilot is on or off. Use the A Key to switch it on and off. AutoPilot will drive your car for you, leaving you free to target weapons, catch your breath, pick your toes or whatever. It doesn't drive fast and it doesn't drive well. Real 'Trackers do their own driving. Got it?


Fuel Gauge

Location: Top Center

After your intensive study of the DeathTrack sport, you can guess what this does by yourself. Sitting stalled on the track is not just publicly humiliating, but you make such an inviting target for the rest of the pack.


Rearview Mirror

Location: Upper Center

What do you want, a physics lesson? This is just a rearview mirror. It shows the track directly behind you, and it good for lining up mines and caltrops on that speedhead trying to ram you from behind. Also helpful when you want to block faster opponents to keep them from passing.


Weapons Countdown Indicator (WCI)

Location: Upper-Right Center

All DeathTrack cars have this override system that keeps weapons systems inactive until the cars have driven about ten seconds. When the bars reach the right of the graph, your weapons can fire. Your HUD flashes onto your windshield, and you can start blasting away. In the early days of DeathTrack, before they added the WCI, races used to be real short.


Race Countdown Indicator (RCI)

Location: Upper-Right Center

These three lights under the WCI count down the start of the race. When the third one lights, do what comes naturally.


Pit Stop Indicator Light (PIL)

Location: Upper-Right Corner

The PIL flashes as you come up on the pit area. Overshoot the pit area and you have to go around the track again before pitting. Every time you complete a lap, you'll have an opportunity to pull off to repair, rearm, and refuel (see Entering the Pit for more information). Look for the pit area and pull over and stop. You'll automatically be placed in the pit menu. When playing the screen detail adjusted to the minimum, you'll need to use the PIL to know when to get over into the pits.


Windshield Readouts

Heads-Up Display (HUD)

Location: Center

Love that HUD. It's a mondo targeting and tracking system that's projected onto your windshield. It gives you state-of-the-art computerized target acquisition, weapon specific aiming cursor, and automatic weapons display. It's a special gift to good little DeathTrack drivers. If you're really crazy, you can turn off the HUD off by pressing the H key.


Radar Early Warning Display (EWD)

Location: Upper-Left Corner of the HUD

Most of the time there won't be anything in that upper-left corner. But when there is, you better pay close and careful attention to it. It doesn't give you a lot of advance notice, but if you're good, a little warning is all you'll need. If someone locks a missile on you car, it'll follow you no matter how hard you swerve. Fortunately, missiles can be fooled into zooming harmlessly overhead and detonating in the road if you brake rapidly. If you have a truly monstrous engine, you can try to outrun them.


Auto-Target Aiming Cursor (A-TAC)

Location: Center of the HUD

The A-TAC is the weapons crosshair that shows up at the center of the HUD. Use it to line up your shots. The shape of the A-TAC depends on your selected weapon, and it changes as you change weapons. The gun, laser, and beam cursors all stay in the center of the screen, and you line up your opponent in your sights by maneuvering behind him. The Missile cursor moves to follow the target's car.


Weapon Activation Status (WAS)

Location: HUD Lower-Left

The WAS lists your weapon of choice at the bottom-left of the HUD, usually with a message about the weapon. The message tells you the ammo remaining, units of the weapon remaining, or the status of the weapon, depending on the weapon. When you use up the weapon, the WAS will change color to let you know. Pay attention to this. You don't want to launch a terminator you don't have.


Lower Dashboard Readouts

Speedometer (MPH)

Location: Center

This is your speedometer. Your speedometer shows your speed. If you need more information, go to night school.


Opponent Detection Display (ODD)

Location: Lower-Left Corner

Whether the targeted driver is a snob or a slob, his smirking face will pop up on the TV viewer on the lower-left dashboard. Just below his mugshot is his name, and above it is his standing in the race. If the number reaches #01, you know you have the leader of the pack clearly in your sights. And that's such a good feeling. Press Enter to cycle through your available targets on the ODD.


Map Action Display (MAD)

Location: Lower Center

The Map Action Display shows you an overhead map of the current racetrack and the name of the city. See the one little red dot running around the track? That's you. See all the black dots? Those are all your enemies. Kind of sobering, huh? The X points to the pit stop area. The triangle points to the finish line. Try to get there before they kill you.


Lap Counter

Location: Far Right

The upper number in the lap counter shows laps traveled. The lower number shows laps remaining.


Race Position Indicator (RPI)

Location: Lower-Right Corner

This shows your current position in the race. If it consistently says #10, you better look for a new line of work.


Special Controls

Besides the obvious motion and firing controls, the DeathTrack car comes equipped with special additional keys to trigger the AutoPilot, Drop Mines and Drop Caltrops.

For example, you can use the keyboard shortcuts to drop mines while you're firing your front guns. You don't have to give up firing your big gun just to get rid of a pesky tailgater.

The control keys and their functions are:

A AutoPilot On/Off

The race begins with the AutoPilot off. You can turn it on if you really want to. But we've never found an AutoPilot that can drive like a true DeathTracker.

C Drop Caltrop

Pressing this key drops a caltrop behind you without you first having to select caltrops as your ready weapon. Very useful when you're sandwiched between two grunts.

M Drop Mine

Works like caltrops, only better.


Entering the Pit

As you pass the flag at the end of the lap you'll see the pit on your right. Pull to the right and stop your car to enter the pit. In the pit you can refuel, rearm, or repair in the Weapons or Parts Shops.

Elapsed race time is solely determined by the number of selections (button clicks) you make while in the pit.

Repair

In the Parts Shop, damaged parts are indicated by a big Damaged banner running through the parts icons. The cost to repair the damage is indicated in the lower righthand corner of the icon where the purchase price is normally displayed. Highlight the damaged part and select Buy It to repair.

Rearm

Weapons do not take damage during a race. They do, however, run out of ammunition and inventory. To replenish, simply purchase t he weapon as you did in the Weapons Shop before the race.

Refuel

Refueling is free, however, race time elapses when you're getting tanked. You start each race automatically with a 3/4 fuel gas tank.


Bounties

During a circuit, one of your opponents will occasionally have a bounty on him. This is a special cash bonus available if you take him out during the course of the race. Whether you win or lose, you'll receive the stated amount for eliminating that DeathTracker.


DeathTracks


Orlando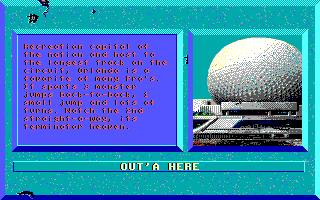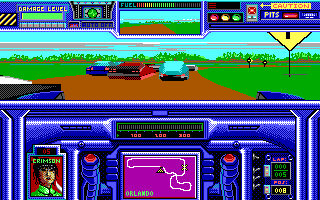 Recreation capital of the nation and host to the largest track on the circuit, Orlando is a favorite of many Pros. It sports 3 monster jumps back-to-back, 1 small jump and lots of turns. Watch the 2nd straightaway, its terminator heaven.


San Francisco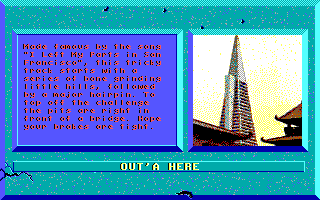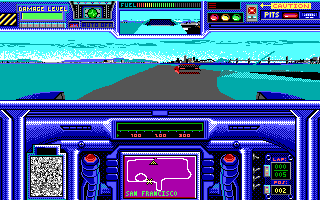 Made famous by the song "I Left My Parts in San Francisco", this tricky track starts with a series of bone grinding little hills, followed by a major hairpin. To top off the challenge the pits are right in front of a bridge. Hope your brakes are tight.


Phoenix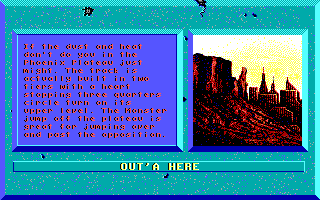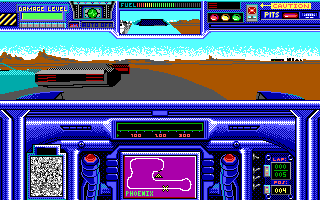 If the dust and heat don't do you in the Phoenix Plateau just might. The track is actually built in two tiers with a heart stopping circle turn on its upper level. The Monster jump off the plateau is great for jumping over and past the opposition.


Manhattan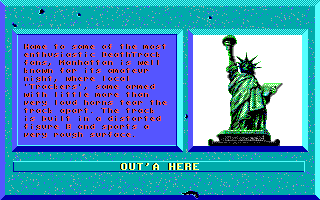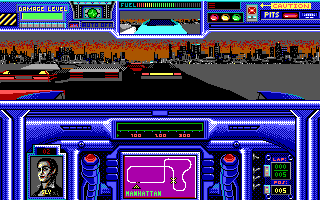 Home to some of the most enthusiastic DeathTrack fans, Manhattan is well known for its amateur night, where local 'Trackers', some armed with little more than very loud horns tear the track apart. The track is built in a distorted figure 8 and sports a very rough surface.


St. Louis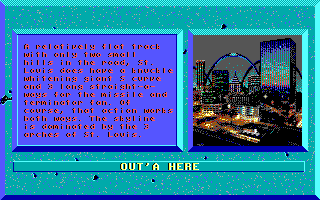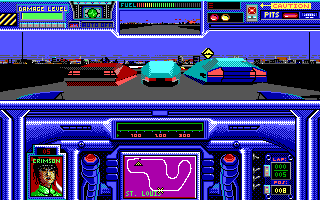 A relatively flat track with only two small hills in the road. St. Louis does have a knuckle whitening giant S curve and 3 long straight-a-ways for the missile and terminator fan. Of course, that action works both ways. The skyline is dominated by the 3 arches of St. Louis.


Los Angeles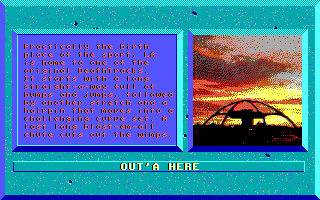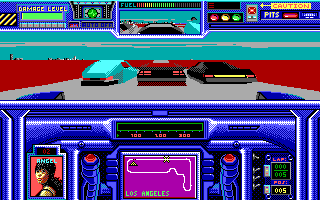 Practically the birth place of the sport, L.A. is home to one of the original DeathTracks. It starts with a long straight-a-way full of bumps and jumps, followed by another stretch and a hairpin that moves into a challenging curve set. A last long blast-'em-all chute cuts out the wimps.


Seattle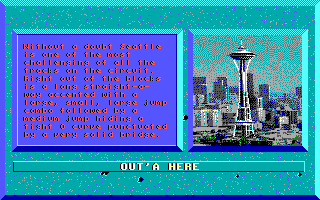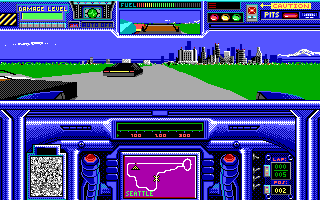 Without a doubt Seattle is one of the most challenging of all the tracks on the circuit. Right out of the blocks is a long straight-a-way accented with a large, small, large jump combo followed by a medium jump hiding a tight O-curve punctuated by a very solid bridge.


Houston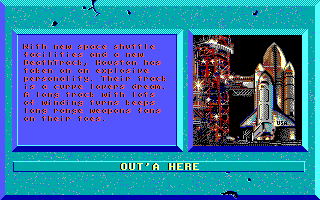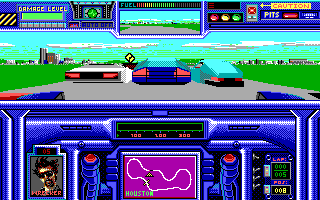 With new space shuttle facilities and a new DeathTrack, Houston has taken on an explosive personality. Their track is a curve lover's dream. A long track with lots of winding turns keeps long-range weapons fans on their toes.


Boston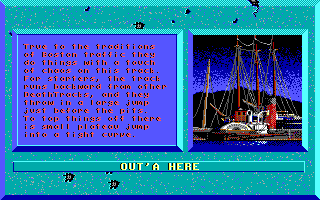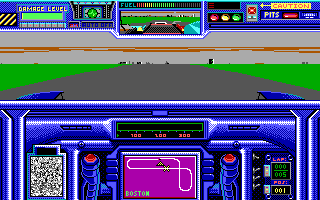 True to the traditions of Boston traffic they do things with a touch of chaos on this track. For starters, the track runs backward from other DeathTracks, and they throw in a large jump just before the pits. To top things off there is a small plateau jump into a tight curve.


Chicago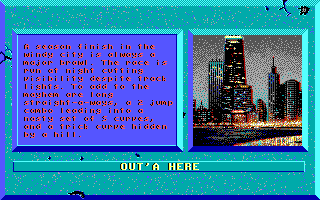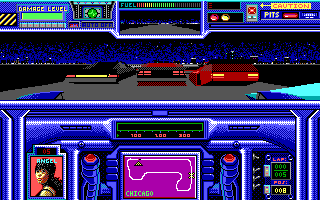 A season finish in the Windy City is always a major brawl. The race is run at night cutting visibility despite track lights. To add to the mayhem are long straight-a-ways, a 2 jump combo leading into a nasty set of S-curves, and a trick curve hidden by a hill.


The Pros


Sly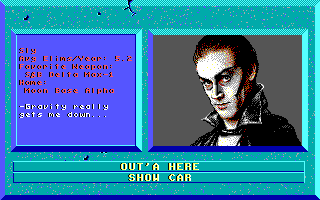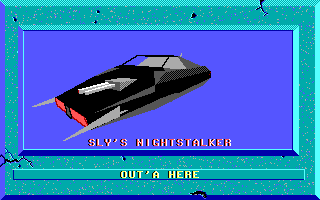 Avg Elims/Year: 5.29
Favorite Weapon: S&B Delta Max 1
Home: Moon Base Alpha
Best Track: Chicago
Car: Night Stalker
Favorite Food: Smokey Links

"Gravity really gets me down . . . "

"I like to build up my car up pretty evenly. When I get a big engine, I also improve the trans, tires, brakes, and airfoils. I find it better to have so-so quality everywhere than awesome parts in some places and cheap parts in others."


Motor Maniac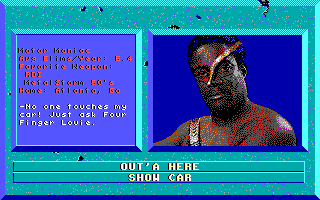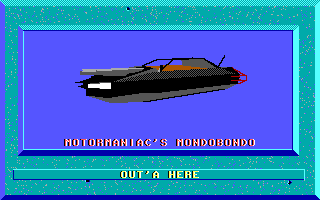 Avg Elims/Year: 6.42
Favorite Weapon: RDI Metal Storm 50's
Home: Atlanta, GA
Best Track: Boston
Car: MondoBondo
Favorite Food: Corn on the cob

"No one touches my car! Just ask Four Finger Louie."

"When you come tearing up on wreckage in the road, make every attempt to miss it. It tears up your underside and scratches the finish. The same goes for staying on the track. Off-road racing is hard on these beasts."


Wrecker (The Polish word for Wrecker) Niszczyciel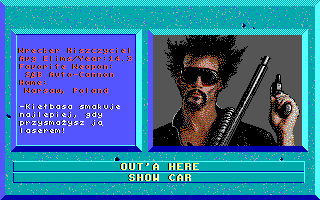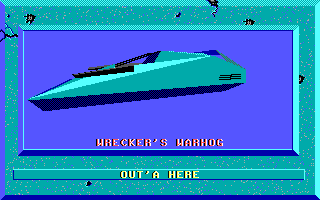 Avg Elims/Year: 14.3
Favorite Weapon: S&B Auto-Cannon
Home: Warsaw, Poland
Best Track: Phoenix
Car: Warhog
Favorite Food: Cottage cheese

"Kietbasa smakuje najlepiej, gdy przysmazysz ja laserem!"

"If you're hopelessly out-gunned and your modifications haven't kept up with the rest of the 'Trackers, try falling behind the pack and letting them pick off each other before getting into the action. Don't fall so far behind you lapped, though."


Melissa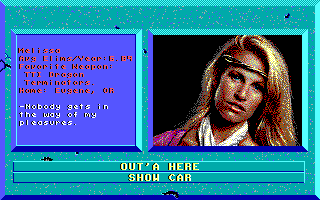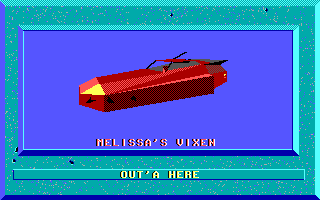 Avg Elims/Year: 6.89
Favorite Weapon: TTI Dragon Terminators
Home: Eugene, OR
Best Track: Manhattan
Car: Vixen
Favorite Food: Oysters

"Nobody gets in the way of my pleasures."

"When you start feeling real degradation in performance, pull into the pit and check damage. Your car will run with most of your parts severely damaged. You can even run around the tracks on your rims if you like."


MegaDeath Mark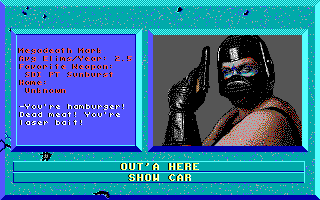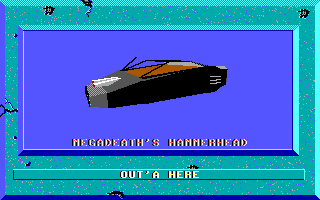 Average Eliminations/Year: 2.54
Favorite Weapon: SDI PT Sunburst
Home: Unknown
Best Track: Los Angeles
Car: Hammerhead
Favorite Food: Vitamin E

"You're hamburger! Dead meat! You're laser bait!"

"When the race starts, I don't waste time getting ready to blow up the guy in front of me. I put the foot down before the WCI kicks in to put some asphalt between me and the pack."


Killer Angel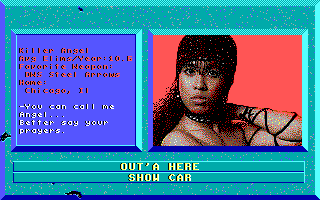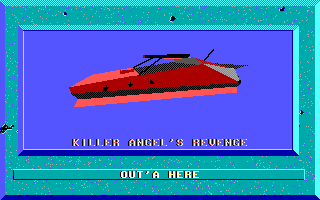 Average Eliminations/Year: 10.6
Favorite Weapon: DMS Steel Arrows
Home: Chicago, IL
Best Track: Seattle
Car: Devil's Revenge
Favorite Food: Tortellini

"You can call me Angel . . . Better say your prayers."

"The best way to dodge a missile is to stomp hard on the brakes. You can't outrun a missile going 400 mph in a car with a top speed of 300 mph. I always get the best brakes at the parts shop to pull this off."


Lurker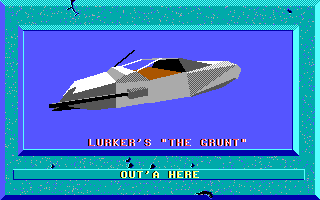 Average Eliminations/Year: 3.61
Favorite Weapon: MX-35 Mines
Home: San Francisco, CA
Best Track: Orlando
Car: The Grunt
Favorite Food: Black-eyed peas

"Drive clear dude or I'll trash your wheels."

"The Pitbull is one of my favorite cars. Its armor keeps you in the hunt longer and more than makes up for its relative lack of speed. The firepower isn't as much, but you can always improve that at the shops."


Preying Menace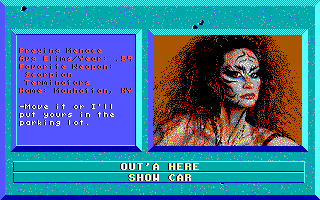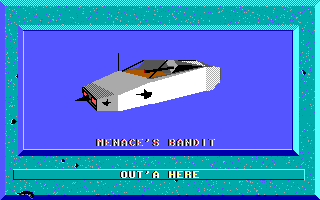 Average Eliminations/Year: .59
Favorite Weapon: Scorpion Terminators
Home: Manhattan, NY
Best Track: St. Louis
Car: The Bandit
Favorite Food: Sardines

"Move it or I'll put yours in the parking lot."

"Once I've got my car maxxed out on parts and weapons, I simply stop in the pits near the end of a race and repair and rearm. Then I just keep on racing through the entire circuit."


Crimson Death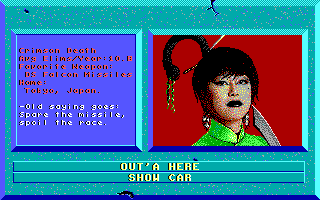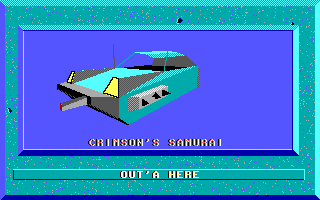 Average Eliminations/Year: 10.8
Favorite Weapon: DWS Falcon Missiles
Home: Tokyo, Japan
Best Track: Houston
Car: Samurai
Favorite Food: Hot Dogs

"Old saying goes: Spare the missile, spoil the race."

"If you time it right, you can come down off the jumps and land right on top of the poor sucker in front of you. It does a great deal of damage to him, even if it isn't so good for your own car."


Now you know everything there is to know about life in the fast lane on the DeathTrack circuit.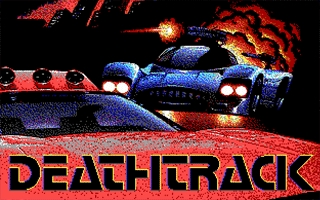 ---