Car Wars Internet Newsletter
Vol. 10, No. 1
July 28, 2057

---

THE GUNNERY CHAIR


Back from Route 666

Greetings autoduelists. After being plagued by a work schedule from the Abyss last year, I have finally had spare time to use on something on other than sleep.

I do not know how often I will publish this year. I am aiming for a bi-monthly or quarterly frequency. A primary factor in determining the schedule is the amount of submissions. If you have ever considered helping with CWIN, this is time to offer your help.


Spring Cleaning

I updated SWAT HQ for the first time in over a year this spring. I intend to make regular revisions to the Web site this year. If you encounter a resource that should be listed on SWAT HQ, whether for Car Wars, another auto-combat game system or anything related to autodueling, drop me a note.

During the recent link verification process, I discovered many Car Wars Web sites have disappeared. Links to these non-existing sites have been removed from SWAT HQ.


Drive offensively,

Michael P. Owen

---
NANS TICKER


Darkwind league turnover

No Mutants Allowed
http://www.nma-fallout.com
News for Monday, July 23, 2007
Posted by Tannhauser - at 2:47

Sam Redfern, of the multiplayer turn-based vehicular game Darkwind, let us know that in-game yearly league has turned over.

Darkwind
http://www.dark-wind.com

Just a quick note that might be of interest to your readers:

The leagues for the year 2041 have been completed in Darkwind, and the 2042 leagues (race, deathrace, combat) have started. This is a good time to get into the action and have a fighting chance of achieving league honours.

Each game year runs for 12 weeks.

If you are interested in learning more about Darkwind, the frontpage of the official website has been updated with a thorough description of the game, and boasts additional screenshots.




Auto Assault closing down service

No Mutants Allowed Forums
http://www.nma-fallout.com/forum/index.php
http://www.nma-fallout.com/forum/viewtopic.php?t=37389
Posted: Tue Jul 03, 2007 22:07

We haven't covered post-apocalyptic bash'm-drive'm Auto Assault in a while. And it looks like we won't anymore:

NOTICE: Today NCsoft is announcing that it will be closing down service for Auto Assault at the end of the summer. The service will close at midnight on August 31, 2007. As of today, any player currently in the service with an active billed account will not be billed again. If players have previously purchased time via multi-month billing or time cards that extends their service past July 31, NCsoft will reconcile these accounts appropriately. There will be more announcements coming soon regarding the shut down of Auto Assault and its impact on current accounts.




Auto Assault cancelled

From: Parapsycho
Dueling Debate Forum
http://forums.delphiforums.com/carwars
Virtual Autoduel Review Section
Posted: July 27, 2007, 4:39 a.m.

I was reading about another MMO, and kept seeing things referencing 'AutoAssault refugees'. I went and looked on MMORPG.com, and it looks like its official. As of August 31st, NCsoft will be closing down the AutoAssault servers for good.

It doesnt look like the game will be re-started, as NCsoft owns the intellectual property, and NetDevil owns the server/client architecture. They were unable to come up with an agreement for a buyout by NetDevil. NetDevi says it's looking for ways to use their technology on other titles, but it is unknown what genre any future games will be.

---
50 YEARS AGO TODAY


Smithsonian removes electric-car exhibit
http://seattlepi.nwsource.com/national/1155AP_Electric_Car_Booted.html

The Associated Press and Seattle Post-Intelligencer
Friday, June 16, 2006 · Last updated 11:14 a.m. PT

Photograph: General Motors Corp. will initially lease, but not sell the EV1, the company's electric car, shown in this undated handout file photo, company officials said Tuesday, Aug. 27, 1996. (AP Photo/HO)

WASHINGTON -- Just weeks before the release of a movie about the death of the electric car from the 1990s, the Smithsonian Institution has removed its EV1 electric sedan from display.

The National Museum of American History removed the rare exhibit yesterday, just as interest in electric and hybrid vehicles is on the rise.

The upcoming film "Who Killed the Electric Car?" questions why General Motors created the battery-powered vehicles and then crushed the program a few years later. The film opens June 30th.

GM happens to be one of the Smithsonian's biggest contributors. But museum and GM officials say that had nothing to do with the removal of the EV1 from display.

A museum spokeswoman says the museum simply needed the space to display another vehicle, a high-tech SUV.

The Smithsonian has no plans to bring the electric car back on view. It will remain in a Suitland storage facility.

---
Information from: The Washington Post, http://www.washingtonpost.com




What do you get when you cross a dirt bike, snowmobile and 4-wheeler?
http://www.cnn.com/2006/TECH/07/14/motorbike/index.html

German designers unveil mutant motorbike

Dawn Stover
Popular Science and CNN.com
Friday, July 14, 2006; Posted: 3:15 p.m. EDT (19:15 GMT)

Photograph: Deep mud, sand and snow are no match for this go-anywhere motorbike.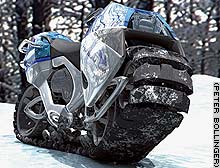 You may not have room in your garage (or budget) for a dirt bike and a snowmobile and a four-wheeler. But what if one vehicle could take the place of all three? That's the idea behind the Hyanide.
The Hyanide is a wild concept vehicle created by German designers Oliver Keller and Tillman Schlootz for the 2006 Michelin Challenge Design. This year's competition showcased vehicles made especially for California's diverse and often rugged topography.
Named for its supposed resemblance to a crouching hyena, the Hyanide is designed to run on a flexible rubber tread that spans the machine's entire underside.
So if any part of the bottom is touching the ground, the Hyanide should be able to move, no matter how deep the quagmire, no matter how rough the terrain. The tank-like tread consists of 77 identical segments -- each made from hard plastic covered with tire rubber -- held together by Kevlar rope.
Each segment flexes independently, making the tread significantly more limber than if its components were rigid. Not only does this setup help with traction, but it would allow it to corner like no other vehicle.
Both the front and rear of the Hyanide rotate into a turn, which would give riders extra control while making sharp turns or climbing hills. To drive the vehicle, you'd steer with your hands as well as your feet, and you'd wear special shoes that snap onto the pedals, like on a racing bicycle.
To turn left, for example, you'd push the right side of the handlebar forward, to point the front of the tread left -- it's the same motion as on a motorcycle. At the same time, however, you'd also push back on the right pedal, angling the rear of the tread into the turn. This action would twist the tread into a crescent shape and whip the Hyanide around a turn.
The Hyanide currently exists only as a one-fifth-scale model, and Schlootz and Keller have no plans to bring a production version to market. Keep your fingers crossed, though -- Hyanide's unique drivetrain impressed a lot of automotive-industry heavy hitters at the Challenge Design.
Maybe one of them has an overcrowded garage.
Fact Box
Hyanide specs:
Purpose: To move riders over any terrain with unprecedented control
Capacity: Two riders
Engine: 60hp 500cc liquid-cooled single-cylinder
Dimensions: 40 (h) x 36 (w) x 90 (l) in.
Weight: 450 - 650 lbs. (est.)
Top speed: 75 - 85 mph (est.)



Can vegetable-oil cars save the world?
http://money.cnn.com/2006/07/21/news/economy/vegetable_cars/index.htm?cnn=yes
Used restaurant cooking oil is free, clean burning and can power your vehicle. So why aren't more people using it?
Steve Hargreaves, CNNMoney.com staff writer
July 24 2006: 1:35 PM EDT
New York City, NY -- Gas is expensive. Old vegetable cooking oil from restaurants is free. A car can actually run on either. So why aren't more people ditching petroleum and running on peanut power?
"[Making the switch] couldn't be simpler," said Patrick Kuhn, who converted one of four trucks at his company, Charlotte Moving Truck Rentals, to run on vegetable oil earlier this year.
Powering cars on used cooking oil may be cheap and clean, but there's just not enough of it to make make a big difference.
He said his customers love it and constantly choose the veggie-powered vehicle over his others. "I never see that truck anymore," he said.
But while Kuhn's truck may be a hit, for many people life with a veggie car might not be so easy. And although this alternative fuel may be cheap and clean, there simply isn't enough of it to make a big dent in our gas consumption.
Kuhn said it cost $3,500 to convert the truck to veggie power, which can be done to any diesel engine. That includes adding a fuel tank in the back (which has a heating element inside it, because the oil needs to be kept hot to burn), fuel lines up to the engine, as well as a filter and a valve set and toggle switches so the driver can choose between running on vegetable oil or on conventional diesel fuel.
For the sake of convenience, he buys used restaurant cooking oil from a dealer about an hour away -- the same guy, actually, who installed Kuhn's veggie fuel system.
Kuhn pays the supplier - who collects, filters and delivers the oil -- about $1.50 a gallon. That compares to the $3 a gallon he said he'd pay for diesel.
"These trucks, they're not Honda Accords, they consume a lot of fuel," he said, "It pays for itself pretty quickly."
Kuhn is part of what Lee Briante, a spokesman for Greasecar, the largest purveyor of veggie fuel conversion kits, says is a growing market segment.
"In the first few years it was, I don't want to say hippies but...now it's folks doing it for the economy of it," said Briante.
Indeed, the economics of veggie oil are even better for a car than they are for a truck. Briante said the car conversion kit, available online and similar to Kuhn's system, costs about $800.
Hold the fries
The mechanically inclined can install the system themselves, or it can be installed at one of two dozen Greasecar-certified mechanics nationwide for another $600.
But Briante said that the government regulations requiring fuel sellers to be licensed would make it hard for most people to keep their veggie-cars fueled - few people would be lucky enough to have a guy nearby who can top off their tank the way Kuhn does.
Instead, many people fuel up by forming a relationship with a local restaurant, which leaves its old cooking oil out back in 5-gallon jugs for the user to collect. (Restaurants usually have to pay to get rid of this oil, so proprietors are often happy to do so.)
Another downside: Users have to strain the oil to clean out the old French fries and such, before they pour it into the tank.
"The infrastructure really isn't in place," said Briante. "My mom's not going to want to do it."
And since there just isn't that much vegetable oil available to power cars, it's unlikely that there will be ever be a push to build this infrastructure.
Briante said there are about 100 million gallons of waste restaurant oil generated annually. That would only replace about 0.07 percent of the 140 billion gallons of gas Americans use each year, and that's assuming everyone switched from gasoline to diesel engines. Using new vegetable oil - not the used stuff from restaurants -- raises similar scarcity questions.
One environmental group, which declined to be identified, didn't have anyone to comment on the prospect of veggie oil reducing oil dependency or clearing up the air, calling it a "non-issue."
But that doesn't mean veggie cars won't get more popular or become easier to operate.
"With $3 diesel, I don't think it will take long before someone realizes 'hey, there's money to be made in this,'" said Kuhn.



Super ethanol is on its way
http://money.cnn.com/2006/06/22/news/economy/cellulose_ethanol/index.htm
The next generation of this biomass fuel could be cheaper, more plentiful and arriving sooner than you think.
Steve Hargreaves, CNNMoney.com staff writer
June 29 2006: 9:00 AM EDT
New York City, NY -- Cellulosic ethanol, the biofuel that differs from corn-based ethanol in that it can be made from pretty much any organic matter, has made an impression among people who matter.
Alan Greenspan, the revered former chairman of the Federal Reserve with a big distaste for irrational exuberance, recently sang its praises before a Congressional hearing on energy security. Greenspan said cellulosic ethanol is the only alternative energy source that could be produced in enough volume to make a dent in gas usage.
"You'll get an awful lot of investments [into this technology] coming in, especially if the numbers make sense, which I think they do," he said.
And last month Goldman Sachs (Charts), the world's largest investment bank, poured $27 million into Iogen, a Canadian-based biotech specializing in ethanol made from cellulose.
It used to be thought that this fuel, which some argue has the potential to replace more than two thirds of all gasoline used in the U.S., was decades away from commercial viability.
But high gas prices, a touch of technical innovation, and a healthy dose of capital may move that date up.
"There are a lot of people who think the technology is there," and could be competitive even if oil prices return to $30 a barrel, said Greg Bohannon, a managing partner at Greenrock Capital, a California-based private equity fund that focuses on renewable energy. "Why would Goldman Sachs invest in a company that's not going to be commercially viable for 10 years?"
Chances are, they didn't.

Beyond corn
Most ethanol currently produced in the U.S. is made from corn kernels.
Its benefits have been well documented in the press, especially since gasoline prices reached a record average of $3.06 a gallon last September, and haven't fallen much since.
Ethanol is clean burning. It's renewable. And it costs about a dollar a gallon to produce. Existing cars can run on 10 percent ethanol with no modifications, and they'd need only about $100 worth of tinkering to be 85 percent ethanol powered. And, perhaps most importantly, it's domestically produced.
But there are a few major problems with corn-based ethanol.
First, it takes a lot of energy to make it. According to the Department of Energy, most studies put the ratio as low as 1:1.4 -- meaning that for every one unit of energy spent, only 1.4 units of ethanol energy are created. Indeed, there are some camps who believe producing corn-based ethanol actually results in a net loss of energy.
Second, an expensive infrastructure would need to be built if people started using mostly ethanol in their vehicles, since ethanol is water soluble and the existing pipelines and filling station equipment for gasoline are not completely water tight.
Third, there's not enough corn available. John Ashworth, a biomass expert at the Department of Energy's National Renewable Energy Laboratory, said corn could only supply about 12 to 18 billion gallons of ethanol a year, or about 10 percent of the nation's 140 billion gallon-a-year gasoline habit.
After that, ethanol would start to run up the price of corn, raising the cost of everything from eggs to Coca Cola. Of course the same problem would emerge with ethanol made with sugarcane or soy or any other food crop.

Wood chips to the rescue
Cellulosic ethanol has all the advantages of corn-based ethanol - there is no difference in the ethanol, only in the way it's produced.
But unlike corn-based ethanol, cellulosic ethanol can be made from a variety of things that might otherwise be considered waste -- sewage sludge, switchgrass, plant stalks, trees, even coal -- virtually anything that contains carbon.
Ashworth said there are an estimated one billion tons of such material available in the U.S. every year, enough for 100 billion gallons of ethanol.
While it's not feasible to actually go out and collect every ounce of that one billion tons, he said it's not unreasonable to expect ethanol to replace 40 billion gallons of gasoline in the near future.
"There's a lot of venture capitol out there that's willing to invest in cellulosic ethanol," he said. "You're likely to see some plants built in the next 12 to 18 months."
Entrepreneurs are in fact pressing ahead with ambitious plans.
"We know the technology is proven," said Jim Stewart, a spokesman for Bioengineering Resources Inc., or BRI, an Arkansas-based biofuel outfit. "It's at the point of commercialization."
Stewart said BRI uses a patented bacterial culture to transform organic matter into ethanol, and can produce a gallon of it at a fourth the retail cost of a gallon of gas.
He said the company plans to have 4 plants operating commercially within the next 16 to 18 months, but some industry-watchers believe it will be at least several years before cellulosic ethanol production will become commerically viable.
Vancouver-based Syntec Biofuel uses a different process to make ethanol. It turns the organic matter into gas and then moves the gas over a metal catalyst, which then turns it into liquid fuel. But the end result is the same.
Syntec hopes to have a full-scale plant up and running in three years, then plans to make most of its money by selling the plant's design to outside producers.
Company spokesman Jeff Eltom touted the efficiency of Syntec's process, saying it plans to get 10 units of energy out of every one unit they put in.
"We're not going to totally replace gasoline," said Eltom. "But we can take a big chunk out of what we import and become more energy efficient."

Temperance
Eltom's comment reflects the conventional wisdom in the alternative energy field: As the shift is made from fossil fuels to other options, it won't be any one single thing that meets the world's energy needs, but rather a mix of sources that will do so.
Still, not everyone believes cellulose ethanol will be part of that mix in the near term.
When the U.S. Energy Information Administration released its long term world energy outlook earlier this week, it projected a surge in U.S. oil consumption over the next 25 years, mostly due to transportation needs.
The agency said it does take new technologies into account when making its predictions, but that it believes cellulose ethanol is still too expensive to compete in the market place with corn ethanol and gasoline.
"It would take a breakthrough in the costs," said Andy Kydes, a forecaster at EIA. "It could happen, and we have hopes for it, but right now it's not on our radar."
Kydes did, however, ask for the names and phone numbers of the companies mentioned in this story, saying the agency would "look into it."




Thief Picks The Wrong Place To Take A Nap
http://www.komotv.com/stories/44590.htm
Kevin Reece
KOMO TV 4 News Seattle
July 25, 2006
Bellevue, WA -- No doubt he gets the award as the stupid criminal of the week -- so far.
He's apparently a sleepy guy who picked the wrong place to take his post-robbery nap.
Police say several cars, including a Bellevue Police car, were broken into late Monday night or early Tuesday morning at the Bellevue Service Center. The facility is where city vehicles are sent for maintenance and refueling.
So here's the stupid part:
Two members of the SWAT team found and arrested the car prowler Tuesday morning because when he was discovered sleeping in the back of their back-up SWAT team van.
He gave up without a fight and made an immediate request for a lawyer, said police spokesman Greg Grannis.
Officers have identified him as a transient who recently moved to Bellevue from Louisiana. He was promptly taken to jail.
Grannis says while the break-ins are regrettable, police weapons were never at risk of being stolen. They are always removed from police vehicles when they are sent to the service center for maintenance.




GTA cited as car-chase motive
http://www.gamespot.com/ps2/action/grandtheftautovicecity/news.html?sid=6147626
New York man gets two charges after car chase with cops; thought he could outrun police because he did it in Grand Theft Auto.
Tim Surette, GameSpot
Posted Apr 13, 2006 2:58 pm PT
From the life-does-not-always-imitate-art department, an Albany, New York, resident was sentenced to jail for second-degree assault and attempted first-degree assault, reports the online branch of Capital 9 News.
Tyrone McMillan was taken into custody last year after leading police on a car chase when officers attempted to pull him over for a parole violation. After slamming into two cars, McMillan told police that he thought he could outrun them because he played games from Rockstar's controversial Grand Theft Auto franchise.
McMillan, in his 30s, apparently thought that his gaming skills translated to the real world. His experience navigating the fictional streets of San Andreas and Vice City with a PlayStation 2 controller led to a 55-minute real-life car chase, part of which had his girlfriend's 11-year-old daughter and her 10-year-old cousin in the backseat. The girls leapt from the moving car while it was turning onto a highway.
But not even hours of Phoenix Wright: Ace Attorney could help him today, as a court judge slapped him with two concurrent seven-year jail terms. After serving time, he will be on parole for 10 years.
This isn't the first time Rockstar's top-selling franchise has been part of a criminal case. Devin Moore stands trial for the slayings of three Alabama police officers, an act which prosecuting attorneys say was influenced by playing Grand Theft Auto III and Grand Theft Auto: Vice City.



World's oil outlook frightening, group says
http://seattletimes.nwsource.com/html/localnews/2003505560_peakoil27m.html
Andrew Garber
Seattle Times staff reporter
Tuesday, January 2, 2007 - Page updated at 12:00 AM
Dave Reid, a member of Seattle Peak Oil Awareness, added solar panels to his Beacon Hill home, which he purchased close to the new light-rail line.
Food shortages, cars abandoned, another depression. It's the stuff of nightmares — and the type of future an eclectic group of engineers, computer experts and others in Seattle believe could await us.
They're not religious zealots predicting Armageddon, nor survivalists digging bomb shelters. They believe the world is about to start running out of gas.
Literally.
Members of Seattle Peak Oil Awareness expect world production of oil and gasoline to peak soon, if it hasn't already, and hard times to follow. Similar groups are popping up around the country from Boston to Portland, despite oil-industry assertions that there's nothing to worry about.
How bad things could get depends on whom you talk to. Some peak-oilers expect car travel to largely disappear and food supplies, which depend heavily on fuel to produce and distribute, to decline.
"We're probably going to end up with some sort of die-off in the world, of people," said Rocky Willson, a Seattle Peak Oil Awareness member with an unsettling outlook.
"You can look at it like a black box," said Willson, a foosball-table seller who has taken up gardening. "The oil goes in and creates people. When the oil gets cut off, the people go away."
Other members of the group talk about a financial shock caused by soaring oil prices, followed by something approaching the Great Depression.
"I think we're looking at recession upon recession upon recession," but not a complete breakdown of civilization, said Dave Reid, an electrical engineer with a touch of a Scottish accent.
"We're not going to Mad Max," he said, referring to the post-apocalyptic movie.
Reid, who is 43, is preparing by investing in gold, installing solar panels and buying a home near the new light-rail line, which he figures would still operate. Other members of the group are making similar preparations for a low-energy future.
Plenty of industry experts say groups like the one in Seattle fret over nothing. Peak oil has been described as a liberals' version of "Left Behind," the series of books and films about what would happen if all of God's followers ascended into heaven.
Cambridge Energy Research Associates, an oil consulting firm based in Cambridge, Mass., projects world oil production won't peak for at least 30 years and that even then it will hit an "undulating plateau" before declining.
"People have been prophesizing the end of the industry for 150 years," said John Felmy, chief economist for the American Petroleum Institute. "The [oil] reserves continue to build up."
Peak-oil groups don't buy it. They're fueled by a pile of books and government reports predicting rough times ahead.
David Goodstein, vice provost at the California Institute of Technology, starts and finishes his book "Out of Gas" saying "civilization as we know it will not survive unless we can find a way to live without fossil fuels." Goodstein says nothing has changed his mind since the book was published in 2004.
U.S. Rep. Roscoe Bartlett, R-Md., is so worried he started a peak-oil caucus in Congress with about a dozen members from both parties. "Every night I go to bed hoping I'm wrong, but I see no reason why I'm wrong. The world is facing a fairly imminent crisis," he said.

Big decline predicted
Peak oil refers to the point when half the world's oil supply has been pumped from the ground.
Groups worried about peak oil predict a dramatic shortfall in petroleum after the peak is reached. That's because they expect oil production to drop at the same time demand from industrialized nations, including the U.S., India and China, is increasing.
What happens next, they say, will at first be similar to the 1973 oil embargo by OPEC nations — high gasoline prices, shortages, long lines at the pump — except it will never end and will only get worse.
Much of the peak-oil debate revolves around when the peak will be reached, and whether we can switch to other forms of energy in time to avoid a prolonged crisis. Both sides cite studies that say we're either in a world of trouble, or there's nothing to worry about.
Seattle Peak Oil Awareness meets at the Phinney Neighborhood Center in North Seattle. About 50 people are involved in the group, either by attending meetings or joining the Web forum.
More than a dozen people showed up at their most recent monthly meeting, arriving by foot, bike, motorcycle and fuel-efficient cars. One guy parked his car at the bottom of a nearby hill because he didn't want to waste the gas driving up.
It's an informal gathering with no clear rules. They start off talking about a resolution they want the Seattle City Council to approve. It states, in part, that peak oil is likely to hit the city with little warning and "intervention at all levels of government will be required to avert social and economic chaos."
Many members say the group should alert the public at large and see the resolution as a way to do that. But Reid says there's an ongoing split.
"There are people who think that if you do enough work and get enough people on board then you can solve the problem," he said. "And then there's people who think we don't have time for that."

"Extremely depressing"
Reid, who moved to the U.S. from Scotland a decade ago, says it's hard to get people to understand the peak-oil issue, much less prompt them to action.
"The trouble with this is that it's an extremely depressing subject," he said. "A lot of people don't even want to know about it because it's so depressing. And when people do take it on, they just get depressed."
Members of Seattle Peak Oil Awareness went through that, he said, but decided it was better to prepare than do nothing.
The group's members are taking incremental steps to adjust their finances and their lifestyles.
They talk about how to grow, cook and store seasonal foods. Their Web site has forums about creating a seed bank, saving rainwater for gardening and building raised planting beds. There's discussion by some members of eventually buying some property that can be planted. They also discuss widening their social networks and establishing strong connections with neighbors, so they'll have people to count on if life gets tough.
Robert Nelson, a 36-year-old computer systems engineer, says he put a wood stove in his house after he learned about peak oil. He also stopped investing in the stock market and decided not to replace his pickup truck when it conked out recently. He and his wife now have one car.
Nelson expects the future will be a lot slower than our current fast-paced lifestyle, given that travel by car and plane will be a rarity. It's a waste of money, he said, to add lanes to interstates 5 and 405. "I look forward to the day when it's actually a nice biking surface," he said.
He also expects a much lower standard of living where work will be hard to come by. That's why many members are trying to get rid of debt by paying off everything except their mortgages.
Many of the lifestyle changes fit with members' environmental beliefs, they say, and they'd probably make them even if they didn't believe the world is running out of oil.
"I think peak oil is inevitable," Nelson said. "It's not escapable and it's going to happen within our lifetimes, so why not try to change our lives so we can live with those changes and be ready."
Andrew Garber: 360-943-9882 or agarber@seattletimes.com
Seattle Peak Oil Awareness: www.seattleoil.com

---
BACKFIRE


Release of Hardcover Satanis RPG
http://www.the600club.com/satanism.f_announcements_16282_0_collapsed_5__1.html

Satanic Community Message Board
Re: Hardcover Satanis
ta2zz
01/28/06 01:25 PM

And then came the day that the D&D players grew up . . . Some kept friendships grown thru the weekly gathering of players . . . Some still being gamers at heart went and bought COMPUTERS . . . These computers were expensive . . . Many formed online friendships . . .

And then there was Team Speak This allowed online gamers the ability to talk in real time as they played their games . . . This created even stronger bonds between a few people online… Some made friends that are more true friends than those they know face to face . . .

During this revolution many paper and pen games died . . . Why spend 30 minutes developing a car for CAR WARS when in a few minutes one could be driving a virtual car in games like Twisted Metal or NFS Underground 2 . . . Goodbye Car Wars, Ogre, Globbo, Toon . . .

Ah the days of my childhood saving $20 for the new D&D Dungeon Masters handbook . . . Never mind that most collections contained many of these books not just one . . . Monster Manual, Players Handbook, etc. . . Let us not mention that most of us spent $5 to $10 dollars or more on their dice collections . . . What true gamer could show up to play without their own pouch of dice, usually with the numbers packed with hand rubbed crayon to truly customize them? I myself was fond of green-yellow Crayola on orange crystal dice or the metallic on white or black dice . . .




Review: Latest 'SpyHunter' not worth ride
http://www.cnn.com/2006/TECH/fun.games/09/15/spyhunter/index.html

By Marc Saltzman
Gannett News Service and CNN.com
3:13 p.m. EDT, September 15, 2006

In the latest thriller starring Dwayne "The Rock" Johnson, he's an undercover secret agent who takes down bad guys with swift force and drives a car with rockets that can fire at enemy helicopters.

But don't look for this over-the-top adventure on the big screen just yet. Rather, it's a video game from Midway called "SpyHunter: Nowhere to Run."

While the game isn't a flop, even the talented wrestler-turned-actor can't save it from sloppy controls, poor artificial intelligence and technical glitches that mar the overall experience.

The latest game in the "SpyHunter" franchise, which dates from the 1980s, is still based on the world's most sophisticated spy vehicle, known as the Interceptor. But it is also the first to let you step out from behind the wheel to engage in fisticuffs and gunfights.

The cool and covert operative Alex Decker (The Rock) must stop enemies by knocking them out or using a variety of weapons, such as a pistol, submachine gun or mines that detonate when they detect motion.

Problem is, the on-foot action lacks tension, the weapons are ho-hum and the enemies are stupid, providing little challenge. For example, while you're beating up one guy, two others will hang around and wait until you're finished before throwing a punch at you.

Further ruining the suspension of disbelief is the fact that bodies disappear into the thin air after they hit the ground.

The story follows Decker as he infiltrates the NOSTRA organization to steal back the Interceptor, which can turn into a boat or a motorcycle and then back into a car.

But driving the Interceptor also has its share of problems. It handles so loosely -- as if you were always racing on a sheet of ice -- it can be difficult to control. And aiming at targets while driving can be tough to pull off. The game makers try to help you handle this multitasking challenge with the "Salvo" mode -- tap the triangle button (on the Sony PlayStation 2 version) to slow down the action, which makes it a little easier to target using the right analog stick.

Sure, it's a blast seeing the Interceptor change from a car to a boat just before it hits the water, or break off pieces to become a motorcycle before squeezing into a tight space, but the control issues seriously detract from the fun.

Another issue is the technical bugs in the game. In the third mission, for example, the Interceptor fell off train tracks that weaved through a mountain, but instead of showing the car falling into the water, the entire screen went baby blue except for the vehicle. The game had to be reset to keep playing.

Don't bother climbing behind the wheel of "SpyHunter: Nowhere to Run." Unless you're a huge fan of the video game series or The Rock, you won't get much out of this disappointing title.

---
THE BLACK MARKET


Post-Apocalyptic Dispatch (#7): Rolling Thunder
http://rpgobjects.rpgnow.com
http://rpgobjects.rpgnow.com/product_info.php?products_id=7719

RPGObjects
SYSTEM: d20 Modern / Darwin's World
AUTHOR: Dominic Covey
PAGES: 7
ZIP SIZE: 0.25 MB
DOWNLOAD PRICE: $1.75

Rules For Modifying Vehicles In Darwin's World.

Certain gangs, road-oriented communities (e.g. "nomads"), and even individuals commonly modify their vehicles to maximize their performance not only on the road, but in battle. Merchant clans, motorcycle gangs, and indeed individual members of the Road Warrior and Raider advanced classes all have reason to invest as much in their vehicle as in themselves.

Rolling Thunder is a short supplement for Darwin's World 2nd Edition that starts with a brief venture into modifying vehicles (in the fashion of many classic post-apocalyptic movies), offering just a few of the possible modifications characters can make to their vehicles to improve them for vehicle-borne encounters and adventures. Rolling Thunder also introduces a few new vehicle-themed weapons, and a number of sample vehicles commonly seen on the Twisted Earth, but adaptable to any post-apocalyptic campaign setting.




Asmodee Editions, LLC: Formula Dé
http://www.asmodee-us.com/games/formula-de/formula-de.php
March 09, 2007

Sorry, Sold Out! But there are some left in your favorite stores.

$ 44.90 U.S.

Formula De's being reprinted for the very last time ever!

Enjoy great races on famous international tracks!

Recreate the atmosphere of Formula 1 grand prix on the most prestigious circuits. Will you be able to drive your car to victory? Tryouts, tune-ups, races, pit stops, gear shifts, all the passion of F1 can be found in Formula Dé, thanks to simple rules of unequaled realism.

Each player finds themselves in the driver's seat of an F1, racing on faithful renditions of the world's most famous F1 racing circuits from around the world. The basic set offers the Monaco (with a few legendary spots such as the St.Devote stretch, the Loews hairpin or the tunnel) and the Zandvoort circuits (a Netherlands track which was very popular in the 70s but which hasn't aged a day).

To master your car, you will have to deal with many factors (tires, fuel consumption, engine condition), and, more importantly, learn to speed through curves without leaving the track.

So how does it work?

A difficulty is assigned to each curve, representing the number of stops a car will have to make in order to pass through. The player will have to select a gear, which will allow him to pass the curve in a number of turns equal to the number of stops required.

The selected ratio will also determine the type of dice used by the player to push his car to victory. A balance must be struck between taking risks to overtake the cars of the opposing players and careful driving to maintain one's position.

With a few simple and easy to learn rules, Formula Dé is able to recreate the atmosphere of F1 races, and, as the cars near the finish line, tension and excitement quickly increase!

Take the opportunity reprint to discover or rediscover the pleasure of this now legendary game.

Be warned, this offer is limited as this is our final reprint!

• Relive epic Formula One races !

Contents:

• 1 game board with the Monaco and Zandvoort (Netherlands) tracks;
• 7 special dice;
• 10 race cars;
• 10 gear shift charts.

Average duration: 90 minutes

Age: 12 and up

Number of players: 2 to 10

---
WEB WATCH: NEW TARGETS


CarWars Extreme Motorsports
http://www.carwars.org


Darkwind: War on Wheels MMORPG

Darkwind Official Web Site
http://www.dark-wind.com

GarageGames Development Snapshot of the Day: Darkwind
http://www.garagegames.com/mg/snapshot/view.php?qid=1270


Mark Goldstein's Chassis and Crossbow Web Site
http://members.cox.net/bosco.bina1/carwars


Operation Flashpoint 2 Files: Car Wars 2.5 Mod
http://operationflashpoint.filefront.com/file/CarWars;65433


RoadBlasters: Power that Rules the Road
http://doctorkent.tripod.com/roadblasters


RPGnet Forum Archives: Car Wars
http://forum.rpg.net/archive/index.php/t-30953.html


Scale Auto Magazine Community: After World War III
http://www.scaleautomag.com/sca/community/forum/topic.asp?page=2&TOPIC_ID=36360


Wikipedia: BattleCars
http://en.wikipedia.org/wiki/Battlecars


Wikipedia: Car Wars
http://en.wikipedia.org/wiki/Car_Wars


Wikipedia: Dark Future
http://en.wikipedia.org/wiki/Dark_Future


Wikipedia: Mad Max
http://en.wikipedia.org/wiki/Mad_Max


Wikipedia: RoadWar 2000
http://en.wikipedia.org/wiki/Roadwar_2000


Wikipedia: Spy Hunter
http://en.wikipedia.org/wiki/Spy_Hunter

---
WEB WATCH: TARGET UPDATES


Gear Jammer Motor Works
http://www.talesofadventure.net/carwars/mainpage/index.php

* Latest Rides


Hot Asphalt Short Tempers Unholy Rites (HASTUR)
http://www.io.com/~sjohn/hastur.htm

* HASTUR Car Wars Emergency Kit


Jeffro's Car Wars Blog
http://jeffro.mindsay.com
http://jeffro.wordpress.com

* New Web Address <http://jeffro.wordpress.com>
* Car Wars Computer Game Development Screenshots


Mid-South Autoduelists and Handgunners Team (MADHAT)
http://cwhnj.com/madhat

* MADHAT Car Wars Podcast: Episode 6
* MADHAT Car Wars Podcast: Episode 7


New Omaha Vehicular Association (NOVA)
http://novacw.com/nova.htm

* Arena Watch: Knoxville Speedway, Wheel Arena; Picard Racing Complex, Quark Arena
* Scrapbook: From the Sandbox (Photographs from former NOVA member Michael Garrity performing military service in Iraq)


St. Paul Area Road Knights (SPARK)
http://www.autoduel.org

* BLUD Bowl 2056 Results

---