Car Wars Internet Newsletter
Vol. 3, No. 5
May 10, 2050
---
Web Posted August 05, 2000
Updated September 04, 2001
---
THE GUNNERY CHAIR

Greetings and salutations addicts of auto-combat. This issue was ready for release on May Day, but my work of creating a real-world Grain Blight has been reducing the time I have had for Car Wars. Although this issue is ten days late, its release is at a good time because the AAIE sent three duel reports this morning, news you would not have read until June if I published on schedule.

This month's newsletter has some of the most exciting content seen in a long time. First, if you have not already heard, Pyramid Online has released a new Uncle Albert's Catalog with items useable for many types of scenarios. Second, after a four-year sabbatical, legendary Car Wars gaming group AVRO is making tsunamis on the dueltrack and in cyberspace. Third, Chris French, former member of NOVA, has returned to autodueling, and has presented a technical analysis of vehicles you often see in no-dueling areas. Welcome back to the arena, Chris, and thank you for the article. Fourth, , Jason Walters of the Kult of Speed has a new line-up vehicles you will want to shop when you are in the market for a new car. Fifth, James "J-Man" Barton has uploaded another version of Rogue Matter. Please download Rogue Matter, playtest the rules, and send your comments to James. The game has a lot of promise, but it will succeed only if you help write it. Other features this month are notices of three new Car Wars gaming groups, an Interstate '76 Web-based RPG, Fallout tabletop RPG rules, and a report about a movie remake.

Like the editor of this publication, WADA Manager Philip White has been busy repairing electrical systems damaged by the ARF attacks on the U.S. West Coast last month, therefore the WADA League Standings have been static for a while. You can expect a very large update to be published within two weeks. Philip wants to convey his thanks for your patience.

May all of your laser-guided rockets follow their targeting laser, and all of your bumper-triggered ATGs hit their target.

Michael P. Owen

---
THE DAEMON MECHANIC


Safe Zone Vehicle Designs
http://www.serv.net/~owenmp/daemon/safezone.html

Chris French
Beaverton Elite Armored Vehicle Extermination Regiment
csadn@ix.netcom.com

---
50 YEARS AGO TODAY


BIG FOOT SIGHTING!

CNN.com Picture of the Day
http://www.cnn.com
May 2000

It's big, hot pink, and a landmark that greets motorists as they exit Interstate 5 into Seattle. Soon, however, the "Toe Truck" of Lincoln Towing may have to hit the road. The company has been sold, the founders are retiring, and the city is evicting the towing operation from its location.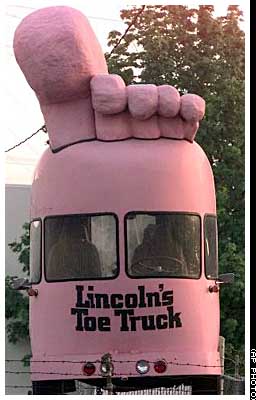 BODY ARMOR WEIGHS LESS, PROTECTS MORE
Popular Science
February 2000
A bullet-proof flak jacket for the U.S. Army and Marines, available now, will be 10 pounds lighter than the protective garment it replaces. Like the earlier protective clothing, the Interceptor is made from a Kevlar-type material called KM2; what's different are the boron carbide plates inserted into pockets for additional protection. The KM2 alone stops a 9mm handgun bullet. With both plates inserted, the jacket weighs 16 pounds and stops rifle or machine gun fire. The previous jacket weighed 25.5 pounds and could stop only handgun bullets. Price: $1,700.
Submitted by Tony "Manycubes" Kontes
Boneheadz of Idaho Webmaster
manycubes@uswest.net

GM CONCEPT VEHICLE GETS 108 MILES TO A GALLON
Detroit News and Bloomberg News
April 2000
The new Precept concept vehicle runs on hydrogen in a solid state.
DETROIT -- General Motors Corp. surprised the press Tuesday at the North American International Auto Show by driving out a new concept car which gets the equivalent 108 miles to the gallon.
The GM Precept FCEV, looks likes GM's original Precept concept, but instead of the 80 miles per gallon and diesel and electric power plant, the new concept substitutes a fuel cell for the diesel. The impressive car admits zero emissions. It will produce only water and heat. It runs on
hydrogen in a solid state.
It's extremely aerodynamic with no door handles, no outside antenna or outside mirrors. Instead the car uses television cameras to give the driver a view of the side and rear.
It has electronic controls to open the doors.
The Precept has mesh seats to lighten the load. The body is made out of aluminum and titanium to reduce weight.
The five-passenger car can travel 500 miles before its hydrogen tanks need to be refueled, accelerate from zero to 60 mph in nine seconds and
start in temperatures below zero Fahrenheit, GM said.
Automakers are under increasing pressure by government regulators to cut pollutant emissions and boost fuel economy. Fuel cells, which create heat and water as byproducts, burn cleaner than other types of power technology such as the internal combustion engine.
"Hydrogen will be the fuel of the future," said Larry Burns, GM's vice president of research and development.
Fuel cells now offer the most promise in meeting California's requirement that by 2003, at least 10 percent of each maker's vehicles sold in the U.S. state produce no air pollution. On Sunday, Ballard Power Systems Inc. of Vancouver, British Columbia, said it will build a $350 million plant
in two years to produce fuel cells for as many as 300,000 vehicles a year. GM has bought fuel-cell prototypes from Ballard, though it developed the cells used in the Precept FCEV on its own.
Submitted by Leonard Joosten
ljoosten@engagenet.com

7-YEAR-OLD BOY 'NOT PROUD' OF DRIVING CAR
http://www.seattle-times.com/news/local/html98/driv06m_20000406.html
Nancy Bartley and Dave Birkland
Seattle Times Staff Reporters
http://www.seattle-times.com
April 6, 2000
Web posted at 11:30 p.m. PST
With seven children, a passel of grandchildren and a night job as a Burger King supervisor, Jeanne King ranks high on the harried-mother stress-o-meter.
On Saturday, her stress level was cranked a notch higher when Perley, her youngest, slipped out of bed sometime after 8 a.m. and took his
sister's Honda Civic for a three-mile drive to a grocery store.
Perley is 7 years old.
Jeanne King and her husband, Dwayne, were asleep in their Tacoma home when the phone rang.
"Do you have a son named Perley?"
"Why, yes," the mystified mother replied.
"Do you know where he is?" a Pierce County deputy asked.
"In bed asleep," King answered.
When the officer asked if the family owned a Honda Civic, and King found both Perley and the car gone, the pieces of the story came together.
Perley, a precocious second-grader at Manitou Park Elementary School, had gotten out of bed and discovered there were no Cheerios, his favorite breakfast food.
He found the key to his sister's Honda, put his dog, Bear, on a leash and put him in the car "because I thought he'd like to go for a ride," Perley said later.
The car was parked across the street from the home in the 6400 block of Gove Street. Perley got in, turned the key and backed up, slightly denting his mother's blue Nissan truck and cracking a taillight of the Honda.
Then he was off in pursuit of his breakfast.
Too short to reach the gas pedal and steer at the same time, Perley had to scoot down to press the accelerator, then climb up on the seat to steer as he lurched along, said Pierce County sheriff's spokesman Ed Troyer.
Some motorists reported seeing no one in the car, while others saw a "little kid driving" or "an erratic driver," Troyer explained.
What route Perley took police don't know. The most direct route to where he ended up is a labyrinth of major intersections and heavily traveled
arterials.
On Pacific Highway Southwest in Lakewood, police caught up with Perley opposite McChord Air Force Base, about a block from Interstate 5. He took his foot off the brake and bumped a deputy's car.
Deputies were surprised when the 7-year-old got out of the car with his hands raised.
"He's the youngest driver I've ever heard of," Troyer said. "I have a 7-year-old, and I don't think he could unlock the door, let alone start the
car."
Perley's parents were "horrified" when police notified them, Troyer said.
In their small white house, which bustles with the noise of children, the dog and chirping parakeets, Perley spends hours playing computer games, his mother said. One gives players a view from behind the wheel of a car. Police believe that might be where he learned the rudiments of driving.
Now Perley is forbidden to play computer games, and if he gets out of bed before anyone else, he's to return to his room, his mother said.
"He knows he did something that was very dangerous and a stupid thing to do," she added.
Perley wasn't hurt, but when his mother picked him up he knew he had done something wrong. "He was traumatized," she said. "One more turn,
and he could have been on the interstate, and who knows what would have happened?"
Perley now has just two words to describe his feelings about the adventure: "Not proud."
Police are letting Perley's parents handle the boy's punishment. He's too young for any kind of legal penalty, Troyer said.
"It will be nine years before he can even get a traffic ticket," Troyer added.

NOTHING GETS BETWEEN THIS 7-YEAR-OLD AND HIS CHEERIOS
http://www.cnn.com/2000/US/04/12/fringe.cheerios.ap/index.html
The Associated Press and CNN.com
http://www.cnn.com
April 12, 2000
Web posted at: 1:27 PM EDT (1727 GMT)
TACOMA, Washington (AP) -- Seven-year-old Perley King got into big trouble for driving off in his sister's car in search of his favorite cereal. But he's getting his Cheerios.
Early on April 1, while other family members slept, Perley and his dog, Bear, climbed into the car. Relying on skills learned at a computer game, the boy drove three miles in search of a food store.
In his drive to fame, Perley navigated some of the city's busiest streets by alternately stepping on the gas pedal, then climbing on the seat to steer, chugging along toward the food store.
The spin landed Perley in hot water, but also earned him television appearances and buckets of newspaper ink. His single-minded devotion to his favorite breakfast cereal will also have material rewards.
Representatives from Minnesota-based General Mills planned to visit Perley, his parents, Dwayne and Jeanne King, and six brothers and sisters at their Tacoma home this week.
It means Perley can look forward to a year's supply of Cheerios and other surprises. He also may receive a new bicycle.
"So he'll never have to drive to the store again," said General Mills spokeswoman Liv Lane.

POKEMAN AND THE POPE
http://entertainment.msn.com/tv/gist/wkd04.asp
GIST TV news
MSN Entertainment Channel
http://entertainment.msn.com
April 21, 2000
The Vatican has announced that the trading-card and computer-game versions of Pokémon are "full of inventive imagination," have no "harmful moral side effects" and celebrate "ties of intense friendship." Whether that extends to the TV show, His Holiness didn't say. The New York Post, quoting a Thursday story in The Times of London, says The Vatican made its announcement on its satellite TV station, Sat2000, run by the Italian Bishops' Conference. Pokémon: The First Movie opened this week in Italy, where youngsters, like here, have shown a fanatical,
um, devotion to the cute monster critters . . . which do not at this point include "Popémon. -- Frank Lovece, Gist TV Staff

THROTTLE, KICK, GOAL?
CNN.com Picture of the Day
http://www.cnn.com
May 2000
Augustinas Sliauderis of Lithuania, right, struggles over the ball with Russian Andrei Pavlov during a match of the Motoball European Championships in Letter, northern Germany. Russia won the match 1-0.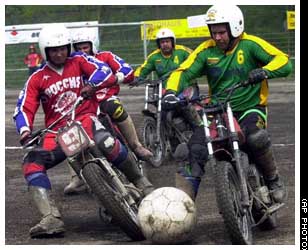 WATER BALLOON FIGHTS MUSHROOM INTO POLITICAL WAR IN ARIZONA
http://www.cnn.com/2000/US/04/24/wet.and.wild.ap/index.html
The Associated Press and CNN.com
http://www.cnn.com
April 24, 2000
Web posted at: 3:04 p.m. EDT (1904 GMT)
PRESCOTT, Arizona (AP) -- Water balloons are usually the stuff of childhood pranks, backyard skirmishes and summertime silliness.
But in this quaint Arizona mountain town, complaints that they have become serious weapons have led to local laws first restricting, then prohibiting water wars. An upcoming public vote may ultimately decide whether to permanently dry out what supporters say is a July Fourth tradition.
By most accounts, it didn't start out this ugly.
A decade or so ago, local kids launched what would become an annual all-out July Fourth water fight. They were just looking for a way to cool down, longtime residents say.
By the mid-1990s, hundreds of locals and visitors were cruising the town's picturesque courthouse square, chucking water balloons, unloading water cannons and sometimes just swinging buckets from the back of pickup trucks.
But then things started to change. Some locals complained it was spinning out of control. Reports of bleach-spiked, frozen and rock-loaded water balloons swirled.
The City Council stepped in.
First, the council offered a compromise: create a dry zone, use water but no balloons, police yourselves.
Prescott police say the rules seemed to have cooled things down last year, but new council members and a new mayor took office. They outlawed the water fights altogether in January.
"It's abysmal that they permitted them in the first place," said Mayor Sam Steiger, a former U.S. congressman. On his local daily television show, he called the participants "a mob of hoodlums."
That might have ended the soakfest, except for a local college student armed with a referendum petition.
Jeremy Hassen, a 21-year-old student at Yavapai College, collected enough signatures to get the issue on the ballot. Prescott will spend an estimated $15,000 so citizens can decide Sept. 12 whether the water can continue to fly.
Limited water fights will be allowed to continue this July while the election is still pending.
Some locals have criticized Hassen's referendum effort as a waste of time and money, but he said it's about tradition.
"I've been doing it for as long as I can remember," said Hassen, a lifelong Prescott resident. "You can't just get rid of a tradition."
He and his supporters say the water fights are fun and that participants only soak each other. When innocents get nailed, it's usually an accident or the fault of a couple of rogues, Hassen said.
"There's always a couple of people who don't follow the rules," he said.
Besides, he pointed out the town has never exactly been quiet around July Fourth.
Every year, tens of thousands of people descend on Prescott, about 100 miles northwest of Phoenix, to watch fireworks displays, attend the annual rodeo or sip a few drinks in the bars along Whiskey Row -- the town's original saloon street.
Assistant Police Chief Dave Benner estimates that during the July Fourth period, 20,000 to 30,000 people try to jam into the courthouse square, which covers a two-block area.
To add water to that crazy mix is just asking for trouble, said downtown jewelry
store owner Jim Lamerson.
"You get water running down the streets, so slippery that people can fall," he said.
And, he said, it establishes a bad precedent.
"If someone assaults you with a squirt gun, water gun or regular gun, it's assault," Lamerson said. "How can you legalize criminal behavior on public property?"
Others say they're surprised the water fights came to be such a big deal.
"It's kind of gotten ridiculous," said Linda Watson, the owner of Bashford Courts, a small boutique mall in downtown. "It's a very vocal few that raised the brouhaha."
John Steward, a downtown shoe store owner and recently appointed city councilman, said he doesn't know who's complaining.
He said he used to drive through the square with his kids as they participated in the water battles.
"It was fun. It was no big deal," he said. "We all like it. It's just that we don't think anybody should get hurt."

---
NANS TICKER


CAR WARS HQ
http://www.sjgames.com/car-wars

April 2, 2000: Central and Midwest Regional Championships

On March 25th and 26th, NOVA hosted the AADA 2050 Central Regional Dueling and Racing Championships at CyCon <http://www.stuorg.iastate.edu/asffa/cycon.html>. They also hosted another Car Wars event called Godzilla Takes Ames. Below are the results of all three events:

2050 AADA Central Dueling Regional
1st: Don Jacques
2nd: Allan Dudding
3rd (tie): Norman McMullen and Travis Taylor
4th (tie): Jason Meacham and Mike Garrity
5th: Chadd McCaw

2050 AADA Central Racing Regional
1st: Norman McMullen
2nd: Travis Taylor
3rd (tie): Don Jacques and Allan Dudding

Godzilla Takes Ames
1st: Mike Garrity
2nd: Travis Taylor
3rd: Don Jacques

In Upcoming AADA and Car Wars Events news, the AADA 2050 Midwest Regional Racing and Dueling Championships will be hosted by Jason Walters of the Kult of Speed at Anime Central on May 12th, 13th and 14th. The con will be at the Arlington Park Hilton in Arlington Heights, Illinois (a suburb of Chicago). Trophies to be provided by the AADA, thanks to Elizabeth Lindsay, AADA League Manager. For more information about the Midwest Regional Championships, contact Jason Walters <ckosacranoid@hotmail.com>. For more information about Anime Central <http://www.acen.org>, contact Mike Cox <a2editor@aol.com>.


April 9, 2000: ADQ 6/1 Now Available

ADQ 6/1 is now available online thanks to Michael P. Owen. He's been very busy lately helping kick start the ADQ HTML-ization Project. He recently finished off the conversion of ADQ 4/4 for us. In the spring issue of 2038, you will find:

Designer Notes to the Vehicle Guide 2
An Interview with Gold Cross
Parimutuel Wagering in Car Wars
Tournament Car Design

plus much more. Thanks again to Michael P. Owen.

Interest in the ADQ HTML-ization Project is starting to pick up again. I've received e-mails from volunteers and now I only have three issues that need to be re-assigned.

ADQ 6/4: Winter 2038
ADQ 9/3: Fall 2041
ADQ 10/1: Spring 2042

If you are interested in helping with the project, please send me a line.

Tim Gould
AADA Webmaster

Editor's Note: ADQ 6/4 has been converted to HTML format, and has been submitted to Tim Gould for publishing.


April 30, 2000: Uncle Albert is Back

You've heard all the rumors. You even started to believe them after a year or so went by with no new ideas coming out of the Uncle Al's Auto Stop and Gunnery Shop. We're here to tell you that none of the rumors are true. Uncle Al has not run out of ideas. In fact, he's back and eager for your business. Uncle Al sent the new product boys back to the lab with strict instructions not to come out until they had a hand full of new products that every duellist would fall in love with. It has been a year and half in the making, but Uncle Al has a new set of weapons and accessories available at over 3,000 independent dealers in the United States, Canada, Quebec, Texas, Oklahoma and Louisiana, plus he has over 50 showrooms coast-to-coast where duellists can see the latest technological advances. And, last, but not least, there is Uncle Albert Corporate Headquarters and Proving Grounds, located outside Boston. The corporate HQ is the hub of a multi-million dollar mail-order business.

To view all of Uncle Albert's latest accomplishments, all you need is a subscription to Pyramid. Uncle Albert's first advertisement in Pyramid Online, the Sonic Cannon Catalog, is now available to non-Pyramid subscribers.


CARMAGEDDON TDR 2000 ONLINE COMIC
http://www.carmageddon.com

Carmageddon.com
April 04, 2000
Web posted at 1800 GMT

SCi is planning to release an exclusive Carmageddon TDR 2000 online comic on this Web site. The comic will be exclusive to the site, updated on a regular basis, and launched prior to the release of Carmageddon TDR 2000! Keep an eye out for the Goodies section within the next few weeks for more info!

Carmageddon.com
May 05, 2000
Web posted at 1800 GMT

Well, here it is. We've got the very first issue of the Carmageddon TDR 2000 online comic!


FALLOUT PEN AND PAPER RULES
http://fallout.gamestats.com

No Mutants Allowed: Unwashed Villagers HQ
April 14, 2000
Web posted at 6:04 am

If you like playing "pen and paper" games, this set of rules might launch your game in new dimension. These are rules based on Fallout. If you think that it's worth a try (which certainly is), here's a link to get them.

http://fallout.gamestats.com/usr/pen&paper/pen_paper.zip

You'll need a MS Power Point Viewer if you have not installed Power Point from MS Office. Get it here.

http://download.microsoft.com/download/powerpoint2000/ppview97/2000/WIN98/EN-US/PPView97.exe


KLEIN MAY ROLE ON ROLLERBALL

Variety and MGM Studios Newsletter
Michael Flemming
http://www.mgm.com
May 2000

New York -- MGM is negotiating with Chris Klein to play the lead role in "Rollerball," the John McTiernan-directed remake of the futuristic action pic that will begin production this year.

Klein was considered a dark horse to carry an $80 million film, but the strapping young thesp will play the role originated by James Caan. Klein was most recently seen in comedies "American Pie" and "Election."

Something of a cult favorite, the original film, directed by Norman Jewison, concerns an ultraviolent form of roller derby that is used to pacify society in the 21st century.

The remake was scripted by John Pogue.


INTERSTATE '76 WEB-BASED RPG
http://angelfire.com/il2/enders/I76index.html


MID-SOUTH AUTODUELISTS AND HANDGUNNERS ATTACK TEAM (MADHAT)
http://www.geocities.com/TimesSquare/Hero/7612


MID-VALLEY DUELISTS

From: Rema Casprowiak <djtoes@home.com>
To: WADA <owenmp@hotmail.com>
Subject: New Active Car Wars Group
Date: Thu, 27 Apr 2000 11:34:00 -0700

My gaming group has just taken to playing Car Wars again, and I thought it would be nice to be added to your database. We call ourselves the Mid-Valley Duelists (MVD). Based in Corvallis, Oregon, MVD has four active and four occasional players. I suppose I am the active president and contact person for the group.


NORTH AMERICAN DUELIST ASSOCIATION (NADA)
http://php.iupui.edu/~bmayhugh
http://php.iupui.edu/~bmayhugh/NADA.htm


ROGUE MATTER RELEASE 0.20
http://www.sprint.net.au/~dgbarton/roguematter

Subject: General/Rogue Matter Release 0.20
Forum: Dueling Debate <http://www.delphi.com/carwars>
From: J-MAN (DRDEATH)
Date: May 06, 2000 6:01 am EST

Not strictly Car Wars, but hell, the board has been slow, and I've just put together the first real release of Rogue Matter. (For those who don't know -- and that's probably most of you) RM is a new vehicle movement system I'm putting together.) Well, here's a message saying
what's new and please have a look and tell me what y'all think -- it is starting to reach some playability (at least moving vehicles around). Contributions are also warmly recieved and summarily begged for :-).

Version 0.20, you waited -- well maybe you didn't, not much to say except it is out. Movement is fairly final, except for the bit on tyre slippage and a better crash table. Still the basics are there, still no vehicle designs -- sorry all -- come up with your own if you like.

There is still a lot to change, I have to hand in a draft on an essay by Tuesdayish and it's not finished to say the least. Thus it's either a little incomplete or nothing. Progress will be gradual chipping away for a little. Still, the new Web page is at <http://www.sprint.net.au/~dgbarton/roguematter/>. Sorry it's a paragraph, but I can't afford to register a domain name and all that crap.

Hope you like the logo, that's the official RM logo, 'till I come up with a better one -- I think I'll keep the main text as is and just change the lil' things. Anyway -- enjoy and I'll keep working on things.

James "J-Man" Barton

---
VEHICLE WATCH


NECROMANCER MOTORS' MAY 2050 CATALOG
http://www.serv.net/~owenmp/vehicles

Jason Walters
Kult of Speed President
ckosacranoid@hotmail.com

---
WADA NEWS


ASSOCIATED AUTODUELISTS OF THE INLAND EMPIRE

From: Edgar T Lincoln <lincolnis@juno.com>
To: SWAT / Michael P. Owen <owenmp@hotmail.com>, WADA / Philip White <fool@serv.net>
Subject: Month of Duel Reports
Date: Wed, 10 May 2000 09:54:16 -0700

Hey Duel Fans,

I've been a slug, and haven't reported anything for a bit so this will be a little long. On the plus side, I've forgotten many of the details so it might not be too bad. Off we go.

April 11th Weekly Rumble: We were joined by George Neal and his daughter Trina. Carol had a car with two Vulcans in the front and a ramplate, a design that cleaned up with three full kills.
Event: AAIE Weekly Rumble
Date: April 04, 2050
Division: 15
Location: Big B. Arena, Spokane, WA
Players: 6
Duelmaster: Edgar T. "Guru" Lincoln
Special Rules: Ramps and jumping

1. Carol Dougherty (AAIE, 36 points, 3 VKs)
2. Trina "Cat" Neal (Washington State Independent, 17 points,1 VK)
3. George Neal (AAIE, 10 points, 1 VK)
4. Norma J. "Who Needs a Ramplate" Lincoln (AAIE, 3 points, call-sign change by popular demand)
5. Edgar T. "Guru" Lincoln (AAIE, 2 points)
6. Trish Bridges (Washington State Independent, 1 point)
April 18th Weekly Rumble: I don't remember this one very well. I was killed early, and I was taking care of Ana. I do recall that Tom had a variant of his Gammorah design (a turtle with flame cloud gas streamers), and Lafe managed to take him out, quite an accomplishment. I remember I was setting up to get Norma with my spikes, and cavalierly drove over hers, a bad idea in Division 10 duel when you have radial HD tires. Imagine my surprise and dismay when I saw those five-point tires! Oops.
Event: AAIE Div 15 Weekly Rumble
Date: April 18, 2050
Location: Big B. Arena, Spokane, WA
Players: 5
Duelmaster: "Leaping" Tom Lentz

1. Lafe Dougherty (30 points, 1 VK)
2. Norma J. "WNARP" Barrett-Lincoln (14 points, 1 VK)
3. Carol Dougherty (3 points, 1 VK)
4. "Leaping" Tom Lentz (2 points)
5. Edgar T. "Guru" Lincoln (1 point)
April 25th Weekly Rumble: Very embarassing. I won third in this duel but noticed afterward that my car was a Div 30, not a Div 25. Oops again. I disqualified myself. Norma and Carol both turned in good performances, and it was a win for Norma due to kills.
Event: AAIE Div 25 Weekly Rumble
Date: April 25, 2050
Location: Devil's Cross, Spokane, WA
Players: 5
Duelmaster: Edgar T. "Guru" Lincoln

1. Norma J. "WNARP" Barrett-Lincoln (30 points, 1 VK)
2. Carol Dougherty (14 points)
3. "Leaping" Tom Lentz (3 points)
4. Lafe Dougherty (2 points)
5. Edgar T. "Guru" Lincoln (0 points; disqualified due to Div 30 design was in Div 25 folder in vehicle design program; oops)
Game Faire 2000: I ran three duels, a Division 20 Matchbox event Friday night that went well, a Division 25 Tonka fight I'll rant about later on Saturday, and Tom ran a Division 30 Matchbox match Saturday afternoon.

The Division 20 duel had six players, mostly newbies, on three 2 1/2' x 6' tables, bigger than I have run in Matchbox before but it worked out
well. Gabe Majeski and Justin Avey learned that a 120mph head-on collision is not necessarily a good idea. Both cars were killed and Justin died. Chris Kendall ran for Checkpoints, and was mostly out of the duel but got enough for second. Gregg Chennault was a full-blown convert, who drove like a maniac, got 1 1/2 kills and won the duel. After the game, Gregg went straight to Merlyn's tables to buy the Deluxe Box Set and their only copy of Uncle Albert's Catalog From Hell.
Event: Game Faire 2000 Div 20 Matchbox Duel
Date: April 29, 2050
Location: Modular Arena, Game Faire 2000, Spokane, WA
Players: 6
Duelmaster: Edgar T. "Guru" Lincoln

1. Gregg Chennault (WA Independent, 36 points, 1 VK)
2. Chris Kendall (WA Independent, 17 points)
3. Gabe Majeski (WA Independent, 10 points, 1 VK)
4. Justin Avey (WA Independent, 3 points, 1 VK)
5. Dave Parker (AAIE Tri-Cities Division, 2 points)
6. Josh Diemert (WA Independent, 1 point)
Saturday at noon we started a Division 25 Tonka duel with nine people. Four of the players suicided or just left. I stopped the game, and vowed to never run a Tonka scale event at Game Faire again. Part of the problem was that four of the players were in the Matchbox session the night before, and prefered that format. So, Matchbox is my traveling scale, the set I have had the most fun with so far, and it travels on one milk crate. Gotta like that.

Saturday after the Tonka fiasco, we moved inside and Tom ran a Division 30 duel so I could play. I had a '50 Thompson, a rework of an old design that ended up with four HMGs, two in the turret and two front. The weapons were only partly loaded, but the design was effective.
Gregg Chennault played again (he made all three games), and drove Ming the Mercedes, a sedan with a turreted RR linked to a BC front (we allow smart linking within weapon families), and spikes corner mounted back. Kelly Wilson was in a stretch pickup with a ATG spinal
mounted front, and Howard Laliker was in a luxury with a spinal mounted 75mm Tank Gun.

Gregg started by unloading into Howard's side. Howard did a bootlegger to get it away from him and set himself up for a cross arena shot on Kelly which he made, removing most of Kelly's right side. I put four rounds into Howard's side, and finished him while Gregg teleported away. (Oh yeah, we threw in teleporters.)

I turned my attention to Kelly, and hit him with all four HMGs, opening up the right side, damaging his engine, and taking out his gas tank. Kelly wasn't a kill yet because he was still operational for five more seconds. He tried (very well) to get away but I managed to put six more rounds into his open side, all but the last one going through his cargo spaces. Talk about a tough kill.

I took one of the jumps, and Gregg managed to put spikes right where I landed, taking out my tires. He then swung around 270 degrees in four phases to headon me at 120 mph to finish me off. Fun duel and good way to end Game Faire.
Event: Game Faire 2000 Div 30 Matchbox Duel
Location: Devil's Cross, Game Faire 2000, Spokane, WA
Players: 4
Duelmaster: "Leaping" Tom Lentz
Special Rules: Teleporters

1. Edgar T. "Guru" Lincoln (AAIE, 24 points, 2 VKs)
2. Gregg Chennault (WA Independent, 11 points, 1 VK)
3. Kelly Wilson (WA Independent, 2 points)
4. Howard Lalicker (SWAT Spokane Division, 1 point)
So, that's it. (Sorry Phillip!) Gotta run. I was supposed to meet a friend for breakfast 15 minutes ago!


AUTODUELISTS OF VANCOUVER REGIONAL ORGANIZATION
http://www.brucelam.com/carwars

Subject: Car Wars/AVRO Web Site
Date: Mon, 01 May 2000 06:05:54 GMT
From: Bruce Lam <brucel@unixg.ubc.ca>
Newsgroups: rec.games.board

Hi fellow Car Wars enthusiasts.This is a notice that the AVRO Car Wars Web site has been updated (finally), and is now located at <http://www.brucelam.com/carwars>. Also of interest is that AVRO will be doing its final championships on June 24, 2000. Details are available in the Final Events section on the Web site.

Bruce Lam
Loyal Lacky of AVRO


Subject: AADA Events and Tournaments / AVRO Final Event
From: BRUCELAM
Date: May 05, 2000 3:53 pm
Forum: Dueling Debate <http://www.delphi.com/carwars>

This is an invitation to all Car Wars enthusiasts:

AVRO (Autoduellists of the Vancouver Regional Organization) will soon be doing its final event before shutting down. Details are available at AVRO's new Web site <http://www.brucelam.com/carwars/>

The Final Event will be held on Saturday, June 24 from 10 AM to 4 PM in Vancouver, BC. The two main events are a Division 30 duel and a Division 40 race. There is no cost to compete.

If you are interested, please e-mail me directly or signup on the Web site's Final Event section.

Bruce Lam
President of AVRO


PAINTED TARGET
http://www.bus.bton.ac.uk/staff/fesg/games

April 25, 2000

Even less excuses I'm afraid, save that I'm currently involved in who knows how many other projects! Oh well. Nothing major either I'm afraid. The 2000 Formula One season is under way, so I'm updating the Formula One Combat racing section. A few new rules, some overhauls and some elaborations. I'm in the process of working out some extra rules for it, including a body wear section and some other stuff, but it's taking a while to sort out. I also want to desperatly get a system going for gaming a race a lot more quickly than it is now, so I'm also working into that too. Don't wait for it too eagerly though, for those that have tried know how difficult this is, and I'm not expecting to succeed where eagles fail, but I'm trying . . .

Okay, so I now have added a system based on TurboFire. It's not perfect, needs a lot of playtesting, but it's there. However I may be thinking about even now doing a simplier system with more glaring omissions . . .

Okay, so it's called aversion therapy. I'm obviously trying to avoid another project, so instead I've got my Car Wars cap on. 'Bout time if you ask me. Anyway, I did think of a simplier system for races (but haven't written it up yet), so instead I gave another couple of aqua mine types, and a couple of additional clarifications to the world of underwater combat. Hey, it's my baby, I can add all I like!


May 02, 2000

Okay, big change here. Huge change in fact, despite the fact that only one rule has actually been changed. See, I thought that I research things properly, but apparently I only spend hours finding out stuff that I then don't use properly.

The change is that visibility underwater isn't as generous as I thought it was. No, you won't get 400' of visibility. What you will get though, is 40-100', and then you start to buy lots of sonar. Poo. Sorry about that, can we have combat at closer ranges now please?

Anyway, I'm adding more things, some of which will need this, so sorry for muking people around, and catch you later with other things!


May 04, 2000

Something new here -- Pedestrian concepts. It's just a place for new rules for pedestrians, and I doubt that it shall get a huge amount of use. At the moment there are just two bits there -- additional hit locations (to supplement the ADQ 7/2 Ob-Racing rules), and damage bonus. Nothing major here, yet it will have some impact on future stuff (and no, I won't mention Cylons, Darleks, Cybermen and Vampires at the moment).


NEW OMAHA VEHICULAR ASSOCIATION (NOVA)
http://www.novia.net/~desslok/nova.htm

Arena Watch: Skyfire Aero Arena
Nightmessenger Archive: Vol. 10, No. 1


From: Don Jacques <drjake@novia.net>
To: AADA League Manager <AADAmgr@sjgames.com>, Michael Owen <owenmp@hotmail.com>, Tim Gould <timgould@email.com>
Subject: Central Regional Championship Reports
Date: Fri, 21 Apr 2000 21:41:29 -0500

Hi. Here are the Central Regional Championship write-ups. Sorry about the wait and the ties.

Take care,

Norman McMullen


2050 Central Regional Dueling Championship ("A knife fight in a phone booth")
Milford Arena
Battle, Nebraska
March 25, 2050

This year's RDC can be safely described as being odd at times. Mike Garrity, reigning World Dueling Champion, decided to join the competition instead of just watching. Division 10 trikes, the vehicles used in RDC, offered a freshing change of pace from cars. Then there was the Milford Arena, noted for its challenging confines. Competing in this year's event was Don Jacques, Allan Dudding, Norman McMullen, Travis Taylor, Jason Meacham, Mike Garrity and Chadd McCaw.

All the duelists entered the arena at 30 mph and accelerated. Norman's first recoilless shots hit Travis's left side, doing minor damage. Mike
started to lay spikes between the northeast obstacle and the outer wall, while Chadd placed flaming oil next to the south center obstacle's east
side. In respone to Norman's fire, Travis fired his hot smoke discharger and turned away, placing the smoke between himself and Norman. Still
laying spikes, Mike fired on Allan, doing very minor damage to the rear armor. Mike then turned off his spikes for the moment.

Don and Jason squared off, with Don doing medium damage with his light machine guns to Jason's armor. Jason's response was firing his ATG,
which missed. Mike continued his attack on Allan, but missed with his LMGs. He settled instead on following Allan around an obstacle. Chadd
rounded the large central obstacle and went west, still dropping flaming oil. Don hit Jason again, but only doing minor damage. Travis ranged on Don, firing but missing with his rocket launcher. Allan received a hit from Norman, his armor moderately damaged by RR fire.

Mike chased Allan around the NE obstacle, scoring light damage with his LMGs. While Don's fire missed Travis, Jason fired his ATG at Chadd,
scoring medium damage. Chadd returned fire at Jason, inflicting mediumdamage. Norman's next RR salvo missed Travis, who was thankful that this armor hadn't been breached . . . yet.

Allan slowed as he neared Mike's spikes. Likewise, Mike slowed and closed in on Allan, firing away with his LMGs on Allan's back armor, doing good damage. Meanwhile, Norman's RRs hit Travis' back armor, but the damage was only average. Travis turned south while Norman went north near the outer wall.

More spikes were dropped by Mike, intent on sealing off Allan's escape route. Travis came up against Chadd and rammed him, killing the driver.
Now with his front tire, armor, and RR destroyed, Travis skidded to a stop against the southwest obstacle. Chadd's wreck exploded, showering
the area with debris. Don and Jason went head-to-head, firing at each other at close range. Jason scored medium damage on Don's front armor,
while Don's return fire destroyed Jason's front armor and ATG. Both went around the east central obstacle, with Jason going north while Don went south. Norman went around the northwest obstacle.

Mike slowly closed on Allan, who had stopped near a gate in the corner. Jason charged into the corner, hitting a patch of Mike's spikes for
minor tire damage. Don avoided Chadd's trail of flaming oil and went between the obstacle and TV tower. Norman and Don traded shots
head-to-head, doing average damage to each other. Norman went east while Don headed towards the west.

Back to the corner, Jason accelerated and t-boned Allan, which in turn pushed Mike's vehicle (which had closed to point-blank range of Allan)
into the outer wall. Jason, sans front tire, armor and power plant, then slid to a stop in Mike's spikes. Mike pivoted to face Allan, who then
fired his RL into Mike's left side, doing average damage. Norman arrived, firing his RRs on Allan's left side to score some moderate damage.

Mike tried to get out of the corner, dropping some more spikes as he went, but Allan fired again. The RL round breached Mike's armor and
killed the driver, but not before firing one last LMG volley, breaching Allen's armor and destroying the power plant. Norman broke off his attack
and began to circle around to line up for another shot. Don began to circle the SW obstacle so he could get a shot at Travis' front. In response, Travis threw his trike into reverse. At a speed of 2.5 mph, Travis cleared the obstacle just enough so his left MFRP could be brought to bear on Don. He fired, but only two MFR rockets hit, doing minor damage. Don replied with his LMGs, peppering Travis's back armor with light damage. Chadd's debris field did some damage to Don's tires, but that didn't slow Don down as he continued to go around the obstacle.

Allan came to a stop next to Mike's trike. Unable to bring his weapons to bear on Norman, Allan counted himself fortunate when Norman decided to head towards Travis and Don. Still scrapping pavement, Travis fired his right MFRP in a final bid to damage Don before he was out of range. Only minor damage was done. Chadd's flaming oil had turned to smoke at this time, enabling Norman to pass through it without any harm. Don completed his circle of the SW obstacle and fired on Travis' front, killing the driver. The officals called the game as this point,
declaring Don the winner.

Time: 19 seconds

Finishing Positions
1st: Don Jacques (firepower kill on Jason, full kill on Travis, 3 points)
2nd: Allan Dudding (full kill on Mike, maneuverability killed by Mike, 1 point)
3rd (tie): Norman McMullen (no kills, 0 points)
3rd (tie): Travis Taylor (full kill on Chadd, killed by Don, 0 points)
4th (tie): Jason Meacham (firepower killed by Don, -1 point)
4th (tie): Mike Garrity (maneuverability kill on Allan, fully killed by Allan, -1 point)
5th: Chadd McCaw (fully killed by Travis, -2 points)

Vehicles

Don Jacques's Forearms -- Light trike, x-hvy. chassis, medium cycle PP with SuperCons, hvy. suspension, 3 PR tires, cyclist, 4 LMGs (2 linked R, 2 linked L), link between both sets of LMGs. Sloped plastic armor: F28, R32, L32, B27, T4, U6. Accel. 5, Top speed 92.5, HC 2; 1,920 lbs., $9,811.

Allan Dudding's Whoopass -- Heavy trike, hvy. chassis, super cycle PP with PlatCats, hvy. suspension, 3 SB PR tires, cyclist, RL front, 2 linked MFRPs (1R, 1L). Plastic armor: F50, R35, L35, B34, T5, U10, 10 points CA around cyclist, 10 points of CA around PP. Accel. 5, Top
speed 92.5, HC 2; 3,076 lbs, $9,066.

Norman McMullen's Quicksilver -- Medium trike, x-hvy. chassis, large cycle PP hvy. suspension, 3 PR tires, cyclist, 2 linked RRs (1R, 1L), SD (with explosive-tipped spikes) back, TC, link between both RRs and SD. Sloped plastic armor: F23, R22, L22, B23, T3, U4. Accel. 5, Top speed 92.5, HC 2; 2,307 lbs., $9,980.

Travis Taylor's Wham Bam -- Medium trike, x-hvy. chassis, large cycle PP, with PlatCats, hvy. suspension, 3 PR tires, cyclist, RR (with HESH ammo) front, 2 linked AP MFRPs (1R, 1L), HSkD back, TC. Plastic armor: F30, R26, L26, B25, T21, U10. Accel. 5, Top speed 95, HC 2; 2,283 lbs, $9,746. Designed by Geoff Hatten.

Jason Meacham's Nighthawk -- Heavy trike, std. chassis, hvy. suspension, super trike PP, 3 PR tires, cyclist, ATG (with HESH ammo) front, HSkD back, SWC. Sloped plastic rmor: F25, R17, L17, B20, T16, U11, 10 points CA around cyclist, 10 points CA around PP. Accel. 5, Top speed 110, HC 2; 2,722 lbs., $9,997. Designed by Geoff Hatten.

Mike Garrity's Death Scarab -- Medium trike, x-hvy. chassis, large cycle PP with PlatCats, hvy suspension, 3 PR tires, cyclist, 2 LMGs (1R, 1L), SD right, SD back, link between both SDs, SWC (used when LMGs are fired in trike's front arc). Sloped plastic rmor: F45, R30, L30, B40, T7, U10, 10-point cycle WG front, two 10-point WGs back. Accel. 5, Top speed 80, HC 2; 2,510 lbs., $9,912.

Chadd McCaw's Saber -- Light trike, x-hvy. chassis, medium cycle PP, hvy. suspension, 3 radial PR tires, cyclist, RL right, FOJ back, SWC. Sloped plastic rmor: F30, R20, L20, B25, T13, U10. Accel. 5, Top speed 100, HC 2; 1,597 lbs., $8,653. Designed by Mike Garrity.


2050 Central Racing Regional ("A corner too far")
Iowa City Speedway
Iowa City, Iowa
March 25, 2050

The participants for this year's RRC were Travis Taylor (IU), Don Jacques (NOVA), Allan Dudding (IU) and Norman McMullen (NOVA). Vehicles used were Division 10 trikes. It was a rolling start, and depending on acceleration, starting speeds were between 110 and 115 mph.

Travis got the pole position, while Don had the outside pole. Allan started on the inside of row two and Norman had the outside. Everyone made it pass the first turn on the track, but Travis and Allan skidded severely going into the 120-degree second turn. Travis skidded in to the outer wall, and Norman bumped into Allan, who in turn was pushed into Don.

Accelerating, the racers went up to 130 mph down the east straightaway. Travis lost control in the middle of the third (115-degree) turn, and
skidded into the outer wall again. Armor was breached, and the driver was injured. Allan t-boned Don at the apex of the turn. With a speed of 135 mph, the collision was violent enough that both trikes confettied, littering the track with debris. Norman went to the outside wall to prepare for his turn. Travis meanwhile moved to the inner wall of the west straightaway, losing his tires to debris damage. Skidding now, Travis impacted against the inner wall, killing the driver. Norman made the turn, taking minor debris damage to his tires. Making his control roll,
Norman was then able to avoid Travis's wreck and head for the finish line.

Laps Completed: 2/3 of a lap

Time: 4 seconds

Finishing Positions
1st: Norman McMullen
2nd: Travis Taylor
3rd (tie): Don Jacques
3rd (tie): Allan Dudding

Vehicles

Wedge I-E by Norman McMullen -- Streamlined reversed light trike, lt. chassis, super trike PP (with PlatCats, SuperCons and overdrive), hvy. suspension, 3 RS PR tires, cyclist, spoiler, airdam. Sloped plastic rmor: F10, R10, L10, B10, T2, U8. Accel. 15 (10 with overdrive), Top speed 210 (230 with overdrive), HC 5 (6 at 60 mph +): 1,200 lbs., $9,648.

Travis Taylor's Spider -- Light trike, std. chassis, super trike PP (with PlatCats, SuperCons and overdrive), hvy. suspension, 3 RS HD tires, cyclist, spoiler. Plastic rmor: F4, R3, L3, B4, T4, U1. Accel. 15 (10 with overdrive), Top speed 220 (240 with overdrive), HC 4 (5 at 60 mph +); 870 lbs., $7,695.

Don Jacques's Amex Windshift -- Streamlined reversed light trike, std. chassis, super cycle PP (with PlatCats, SuperCons and overdrive), hvy. suspension, 3 RS PR tires, cyclist, LMG right, spoiler, airdam. Sloped plastic rmor: F12, R14, L14, B16, T2, U2. Accel. 10 (5 with overdrive), Top speed 180 (200 with overdrive), HC 5 (6 at 60 mph +); 1,350 lbs., $9,751.

Allan Dudding's Speedbugger -- Streamlined reversed light trike, std. chassis, super trike PP (with PlatCats, SuperCons and overdrive), hvy. suspension, 3 RS HD tires, cyclist, spoiler, airdam, HD brakes. Sloped plastic armor: F15, R8, L8, B15, T5, U5. Accel. 15 (10 with overdrive), Top speed 210 (230 with overdrive), HC 5 (6 at 60 mph +); 1,200 lbs, $9,062. Designed by Mike Garrity.


ROCKY MOUNTAIN AUTODUELING ASSOCIATION (RMADA)

Division Unlimited 10-Space Vehicle Duel
http://www.io.com/~rdeis/RMADA/Events/10_Space_Unlimited.html

Subject: General/RMADA Unlimited Event
Forum: Dueling Debate <http://www.delphi.com/carwars>
From: MiB3347 (RDEIS)
Date: April 15, 2000 7:58 pm

ASPEN, COLORADO -- Joe "Pale Horse" Jackson outdid himself again in Aspen's big Octagon this weekend, as one of the widest varieties of vehicle types ever seen in a single AADA arena competed for the Unlimited Compact Prize. Rather than traditional division limits, the limit in this event was vehicle size. As long as it was small enough, any vehicle type was allowed.

The eight entries included a small, imperviously armored, weaponless AFV guided by Arthur Samuels; a small microplane monting three HMGs piloted by James French, A mid-size car cleverly mounting a tiny turret to slip in under the space requirement and a couple of GGs under the direction of Shane Brinkman-Davis; two relatively traditional -- if high priced -- compacts driven by Tom and Jeff Arend; a reversed trike
controlled by Mike Fal and a compact controlled by Ryan Wendling, both sporting XLs; and a one-man hovercraft sporting laser-guided rockets both internal and on EWPs under the direction of David Melancon.

French and his microplane had the misfortune to start in a gate in between the two XLs, and he was greeted by hot fire from both as he entered the arena. His left and right sided were breeched instantly. He rolled right to turn and bring guns to bear on Fal's trike, and the two exchanged fire with Wendling following behind. Wendlings next few shots missed French's back armor, and the trio approached Samuel's tank.

Fal paid too much attention to the plane, and not enough to the tank, and narrowly missed getting squashed under Arthuir's tracks. Instead, the collision breeched his rear armor, opening the way for HMG fire from the microplane, which made quick work of the trike's sparse interior. Score one kill for French.

It was a short-lived victory, though, because Wendling's laser soon found its mark and knocked out French's engine. French's highly maneuverable, forward swept machine spun out of control to the ground, and suffered major damage to the landing gear upon impact. He was able to taxi on for a few more seconds before the laser hit home again and roasted the pilot and making the second score of the match.

Meanwhile, Shane had hit several targets of opportunity, nearly removing tires from two opponents, but the engagements were too short to allow a second shot and score. He dropped in behind Tom Arend, chewing up his thick rear armor as fire from Tom's turreted HMG bounced harmlessesly off his metal armored front. Shane soon broke off the attack and intead began a series of runs in an effort to cause Samuel's tank to throw a track.

Melancon was having trouble piloting his hovercraft, and inadvertantly smacked the arena wall right in front of Tom Arend's ramplate equipped compact. The characteristic "CRACK" of carbon-aluminum meeting concrete was all the encouragement Tom needed to plant
his ram plate squarely in Melancon's side and smash the tiny hover.

After making short work of French's flying machine, Ryan had turned his sights and laser fire toward Jeff Arend. Unfortunately for both of them, Arend lost control while turning to engage him and skidded across his path. Both compacts were carbon-aluminum. They smashed into each other, then the arena wall, both ending up as useless heaps of debris.

On his first pass at Arthur's Tank, one of the tracks rattled loose in response to his weapons fire, but didn't quite come off. During his second and third passes, he was unable to bring the GG to bear. Finally, he misjudged a turn slightly and crossed too closely in front of Samuel's tank and ram plate, and was summarily crushed.

Tom Arend then began a similar duel with the tank, but met with similar results after only two passes. Arthur slowed down to improve his chances of hanging onto his tracks, but even at a mere 40 miles per hour, the tank's 9 tons of mass easily squashed Tom's compact.

When asked about the event overall, Joe said, "I am extremely pleased with the large variety of vehicles and tactics that we saw today -- and the crowd absolutely ate it up! I was a bit worried when I was first informed that an AFV had entered the match, but he didn't dominate as I feared he might. It was really a very close and exciting match! You can definitely count on seeing more events like this in Aspen in the future."

Rob "Saturday Knight" Deis
RMADA Webmaster
rdeis@io.com


SOUTHERN CALIFORNIA AUTODUELING BROTHERHOOD (SCAB)

From: Eric Freeman <efreeman@physics.ucsd.edu>
To: WADA Car Wars League <fool@serv.net>, owenmp@hotmail.com, AADA Webmaster <AADAweb@sjgames.com>
Subject: SCAB Club Dueling Championship Duel Report
Date: Sat, 8 Apr 2000 13:33:50 -0700 (PDT)

The first annual 2050 SCAB CDC was held on April 2nd. The duel was Division 10 and held in the Aspen Octogon. The duel featured the following duelists and designs. Going clockwise from the West-North gate:
West-North: Jeremy Willis had a front mounted HMG and rear mines

North-West: Dean Gibson coming off his win in the Div 30 Orccon duel came in with a burnin' with hot love compact with a HD flamethrower

North-East: Rob Hagmaier came in with a light trike armed with a right mounted VMG

East-North: Stan Wells sported a compact with a front mounted incendiary RL

East-South: Ted Carson was a newcomer to the SCAB ranks. His car featured a front-mounted RR and side-mounted MG

South-East: Tom LaLonde came in with a compact with an ATG with HEAT ammo

South-West: Eric Freeman in his first duel in a few months came in with a compact and side-mounted OG loaded with (mostly) HT FO shots

East-South: empty
All cars were electric except for Rob and Tom.

Tom and Eric started in parallel gates. Tom found Eric an unappetizing target so turned his car towards Ted. Eric's wall hugging design wasn't
fit to pursue Tom, so he started off the action with a parting FOG shot at Tom. The shot scattered too far to be effective. Tom fired a couple ATG shots at Ted but couldn't connect and then he turned his car towards the center of the arena.

Jeremy and Dean charged straight out of their adjacent perpendicular gates. Jeremy's superior acceleration meant that he raced to the middle
first. He fired across the arena at while putting his MD on auto.This laid out a strip of mines right in front of Dean. Seeing possible death by mines, Dean pulled a 90 degree turn to avoid hitting them.

Rob and Stan turned their vehicle towards each other. Rob shot at Stan's tire, but couldn't finish one off. Stan retaliated but to little effect.

Rob then came upon Ted and fired shot after shot at Teds wheels and succeeded in taking one wheel off that put Ted in a spin. Rob's small
size and speed made him too tough a target for Ted to get a bead on.

After passing Rob, Stan turned towards the middle of the arena while Tom did the same. They met in a titanic joust. Tom scored a hit with his ATG and rolled triple sixes on damage to pummel Stan's front with 21 points of damage and take out his RL. In the same phase, Stan hit Tom with his RL and the subsequent hazard coused him to miss his control roll. A couple high Crash Table results put Tom into a roll, ended with his car on the side by a column giving Stan a mobility kill (+10 points for Stan, -10 for Tom).

Dean and Eric faced off on the West side of the arena with big three space weapons mounted on opposite sides. Dean scored a hit on Eric's side with a HDFT shot. His damage was high enough to penetrate the metal and put fire mods on Eric, who fired a well placed shot in the front of Dean to inflict damage on Dean's underbody and tires. Dean's subsequent manuever on the flaming oil caused him to skid. Eric passed in front of Dean, putting him outside of Dean's firing arc and fired a shot in front of Dean. This shot missed and scattered to a useless spot.

On the next turn, Dean was able to turn his car into a position to get a bead on Eric and fired away. He hit and again succeeded in doing enough damage to bypass the metal and inflict those precious fire mods. Eric feared the fire so much that instead of taking a retaliatory shot, he attempted to use his PFE to extinguish the burn mods. This atttempt failed and Dean sucessfully put Eric on fire. He didn't succeed on his roll to explode him though.

During all this action, Jeremy had passed through the center where no one was (everyone had a dance partner, but him!) and headed to the North wall. He then turned West hugging the wall and soon found Eric bearing down on him. Eric (on fire) also edged up close to the wall in a game of chicken. At the end of the next turn, Eric successfully put out the fire with his PFE. (Whew!) Jeremy and Eric were on a collision course and neither fliched. They collided head on at 110mph. The collision cored Jeremy's car such that it did damage to his rear mounted MD. Eric's metal armored front absorbed much of the 61 points of damage and no internals went through his plastic underneath. This massive collision earned Eric the full kill points (+20 for Eric, -20 for Jeremy).

With Tom a sitting duck on his side, everyone and their mother tried to pick up the cheapy 10 points...First Rob took a shot through his top. It connected, but passed through Tom's PP and underbody to hit the pillar underneath. Ted followed with a shot through the top and it to passed though the PP slot and through the car to hit the helpless pillar underneath. By the end of the turn Dean was able to draw a bead on Tom
and connected on Tom's driver (Dean +10 points, Tom -20 points).

Dean and Rob then traded fire back and forth for a couple turns. Dean succeeded in putting Rob on fire and his lack of a FE meant that he would die eventually, but Rob had extensive component armor, so he wasn't close to fully dead . . .

Stan was still hobbling due to the monster damage Tom inflicted before dying. Stan was pretty much a bystander as everyone around him focused on finishing Tom and since he had no weapon, Dean and Rob focused on each other . . . Eric fired a misplaced shot at Stan but the scatter fell in Rob'spath and forced him away from the heart of the action.

Ted was hobbling around slowly due to the spinout and lack of a wheel. Dean was now approaching his car. Eric placed a shot in Dean's path.
Dean had to manuever on the still unflamed oil to avoid it. The manuever caused Dean to roll. Full kill for Eric right? Not so fast. Dean rolled
right towards Ted who fired a RR shot through the roof to take out Dean's power plant (Ted +10 points, Dean 0 points). Dean finished his roll
smashing the wall on his roof giving his last 10 points to Eric (Eric +30 points, Dean -10 points). While Dean was rolling, Rob took a couple
shots at Eric's back tire and missed both.

As Eric passed Ted, he planted a HT FOJ shot under Ted's tires. The fire popped Teds tires (Eric +40 points, Ted 0 points), but Ted was able to get a couple MG shots on Eric's side. At this point Rob's tires were close to gone so he rammed Ted to try to get some points. (Eric's OG shot at Rob right before missed.) His measly light trike bounced off of Ted, but both survived. Rob eventually succumbed to the fire (Dean +10, Rob -20).

With no one mobile except for Stan (who couldn't fire), Eric could easily last the 5 full turns for the victory condition, so the duel was called so the first SCAB CDC went to Eric Freeman.

Final Results
1st Eric Freeman, +40 points, mobility kill on Ted, completed kill on Dean, full kill on Jeremy)
2nd (tie): Dean Gibson, +10 points (fullly killed, full kill of Rob, completed kill of Tom)
2nd (tie): Stan Wells, +10 points (mobility kill of Tom)
4th: Ted Carson, 0 points (mobility killed, mobility kill on Dean)
5th (tie) Jeremy Willis, Tom LaLonde, Rob Hagmaier -20 points (fully killed)

---