---
 Stephen's Guitar Online Catalog
As we have pages available, we will post thumbnails of them here. You can link to full-size images by clicking on the picture or the model name. Please check back later for more pages!
Each page will contain a picture and specification sheet. General specification notes are available to help you understand currently available options. Remember, you can order completely custom instruments as well; just fill out an order spec sheet and we will give you a quote!
Acoustic Guitars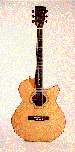 Model D-30 This acoustic guitar is available in two body depths
Electric Guitars
  Model T

T-3211.NAM - This hollow-bodied beauty is available with or without an F-hole in a variety of woods.

T3111.VAM1 - This classic was a big winner in the "Guitar Player Tele Shootout".

T-3115.CUE - The best sparkle finish to be found anywhere! This bound swamp-ash body will get you noticed.

T-9111.HBM - A striking flamed-maple top & gorgeous honey burst.

T-9771.TBE - A bound maple ten-top with gold hardware. Yum, yum!
Model S


S-2122.BKM - A light Alder body with a vintage trem.

S-9136.CBR- Stunning flamed Maple on Alder body, with a Floyd Rose bridge.
Model VS


NEW! Model VS - Vintage styling in a full-size body.
---
Copyright 1996 Stephens Stringed Instruments, Inc.
web design by jsd. Contact our webmaster at jsd@jsd.seanet.com
All trademarks are the property of their respective owners