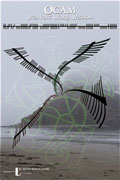 Ogam: Weaving Word Wisdom is a breakthrough in ogam divination and magical studies. Rather than working from the commonly known tree alphabet paradigm, Erynn Rowan Laurie takes us back to the roots of each letter's name, exploring its meanings in the context of Gaelic language and culture. Like the Norse runes, each letter is associated with an object or a concept -- "sulfur", "a bar of metal", "terror". These letters are deeply enmeshed in a web of meaning both cultural and spiritual, lending power and weight to their symbolism. With two decades of experience with the ogam and over thirty years of working with divination, Erynn offers insights into the many profound meanings hidden in the ogam letters and their lore. She explains each letter in context and shows how to expand the system in new and innovative ways while acknowledging and maintaining respect for ogam's traditional language and culture. In this book, you will find ways to use the ogam for divination, ideas on incorporating ogam into ritual, discussions of how ogam relates to Celtic Reconstructionist Paxganism, and instructions for creating your own set of ogam feda or letters for your personal use.
Support small business! Boycott Amazon.com!
Go directly to Immanion Press to purchase Erynn's book! This book is also available in an ebook edition.
After many years out of print and only available at high prices from used book dealers, A Circle of Stones: Journeys & Meditations for Modern Celts is again available, this time as a downloadable PDF file. This is a scan from the published book, and so it is presented with all its old viewpoints, bits of factual error, and every wart it ever had. Consider it an historical curiosity rather than a reflection of my current beliefs and practices, but it has a lot of nice ideas for exercises and can be modified to suit your own CR type practice.
$10.00
Not Your Mama's Tree Ogam: The prelude to Erynn's new book features 42 pages on Ogam divination including descriptions, layouts, and glossary. If you're interested in ogam divination or ogam for magical and spiritual work that goes beyond the more easily found tree ogam materials, this booklet will help you get started.

This is the booklet that Erynn published for her PantheaCon 2006 workshop. Available in PDF file for $5.00 (via PayPal) (Click on image to order)