Erynn lives in Everett, Washington and has been involved in the Pagan communities of the Pacific Northwest since 1984. An independent Pagan Scholar and one of the founders of the Celtic Reconstruction movement, she writes and teaches on many aspects of Celtic Paganism, Druidism and Filidecht. She offers readings, consultations and other services by appointment.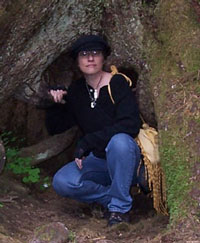 She has been a respected priestess, scholar, and elder in the Seattle Pagan community for many years. She has been a Tarot reader, a ritualist, a teacher and mentor, and a ritual drummer, and has researched and taught about aspects of Celtic Paganism since 1986.
Erynn studied some of the techniques and rituals of Siberian Shamanism from 1995 to 2001. Her healing work includes hands-on healing, energy work, Shamanic techniques based on Siberian methods, dream and vision seeking, work with land spirits, Three Cauldrons work, adaptations of early Irish and Scottish methods, and the use of Ogam for healing guidance.
Her specialty is the sacred ritual art of Filidecht, or poetcraft. The word fili is Old Irish and translates as "poet," but this English word does no justice to the rich and varied traditions attached to Filidecht in its native tongue. The fili is a vision seeker, nature mystic, diviner, speaker to spirits, and traveler through Otherworlds. The original filidh did rituals of divination, worked with the tigh 'n alluis or sweat house of Irish tradition, and studied meditation, breath control, sacred symbolism, and the tales of the early Irish, among many other arts. They carried the spiritual wisdom of pre-Christian Irish and Scottish religions.
We cannot know the exact methods used by the original filidh, but Erynn has worked for many years to discover, reconstruct, and adapt early Celtic cosmologies and ritual techniques to suit our modern world. Inspired by early Irish sources, she has looked to other cultures and sources for additional ideas. With her Shamanic training and practical experience, Erynn brings together global techniques and grounds them in an early Celtic worldview to create a modern practice of Filidecht in the Pacific Northwest.
Erynn's work includes the book A Circle of Stones: Journeys and Meditations for Modern Celts, an essay in the anthology The Druid Renaissance -- now available in a new, revised edition entitled The Rebirth Druidry: Ancient Earth Wisdom for Today, and articles in Shaman's Drum, SageWoman, The Beltane Papers, FireHeart, Obsidian, Touchstone, Tarot Network News, Circle Network News, and others.
Her self-published works (now out of print) include The Cauldron of Poesy lectures and a short book on Ogam and Tree-Lore. Her studies of Tarot and Astrology began when she was 12, she became Pagan in 1984, and began studying Ogam in 1988. She has studied Old Irish, and has done translation work on texts including the Cauldron of Poesy poem, which describes aspects of the training of the fili.
Erynn is an Alexandrian Wiccan initiate, and carries other Pagan initiations as well. She was an Eclectic Wiccan priestess for many years before finding her heart in the creation of a modern path of Filidecht. She has helped organize festivals and worked in Pagan community organizations in the Seattle area since 1988.