---
Formerly a horse-racing track, Arksarben (Nebraska spelt backwards) is New Omaha's most popular combat arena and speedway. Arksarben was the first AADA facility to offer parimutuel betting and live telecast betting from other areas (via satellite hookups).
---
Arena Notes:

All of Arksarben's walls and obstacles are indestructible. This was done in an attempt to cut down on repair bills. All of the walls and obstacles are 30' high. The arena defenses consist of six four-space universal turrets either holding heavy lasers or twin VMGs. Uninvited guests and rules violators are often the targets.

This is not an easy arena to master. High speed must be handled with care, for there are few open areas to speed up or slow down. Handling and manoeuverability are very important in Arksarben, and it will take both to get a good, clean shot off. Dropped weapons work well here. It would be a crime not to use them. Also note that the arena obstacles were designed to block line-of-sight between the various gates; for the first few turns no duellist will be able to spot his/her competitors.
---
Arena Map: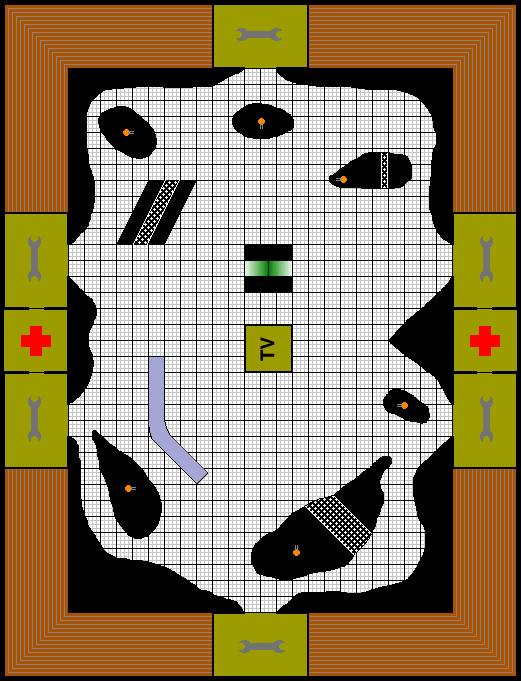 ---
Arena Schedule:
| | |
| --- | --- |
| Monday | Closed |
| Tuesday | Amatuer Night |
| Wednesday | Team Events |
| Thursday | Amateur Night |
| Friday | AADA Divisionals |
| Saturday | Special Events / Challenges |
| Sunday | Cycles and Trikes |
---
Arena Special Events:

Slalom: Racers must slalom around the outer obstacles twice, then come back to their original gate. Dropped weapons are not allowed. Some versions of the slalom require that each racer must go at a speed no lower than 100 mph after their first lap while other versions have random debris and obstacles "thrown" literally into the arena to keep the racers on their toes.