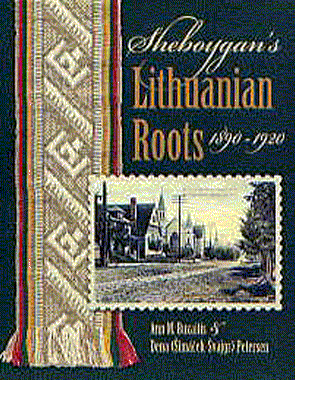 Sheboygan's Lithuanian Roots: 1890-1920
Published in 2003 by Balto-Slavic Associates of Seattle, Washington, in conjunction with the centennial celebration of Immaculate Conception Church's founding by Sheboygan, Wisconsin's Lithuanian community in 1903. Balto-Slavic founders, Ann M. Buzaitis and Dena (Simacek-Svajgr) Petersen, have gathered and correlated data from many sources into a 256-page book which provides a focused starting point for researching Lithuanian ancestors from that era. Short narratives of Lithuanian history, reasons for emigration, factors which made Sheboygan attractive to the immigrants, a description of early Lithuanian arrivals and the founding of the Church, and Ms. Buzaitis' personal journey of discovery supplement the data, which is presented graphically in easy-to-read charts, maps and photos. Included are: A 150-page cross-index of the censuses of 1900, 1910 and 1920 with records of the three primary churches serving the Lithuanian community from 1890-1920. The cross-index contains more than 3,000 name entries, includes alternative spellings as found in the various records, maiden names and name changes, family groupings, and years of birth, marriage, death and immigration when known.
8th Ward: South to North: from Ontario Avenue to city limits (~North Ave.) East to West: from N. 8th Street to N. 13th Street

1900

1910

1920

1216 Ontario Avenue

O/R
Wk
O/R
Wk
O/R
Wk
Bielis, Joseph
R
Ch
Bukizkis, Gust
Ch
Bielis, Charles
Ch
Baioras, Joseph
Ch
Baltruzaitis, Theodor
Ch

929 Erie Avenue

Balinskas, Anton
R
Pr
Maliauskas, Anton
R
Pr
Kudirka, Joseph
Or

931 Erie Avenue - IMMACULATE CONCEPTION CHURCH

916 St. Clair Avenue

Matulaitis, John
R
Gl

1201 St. Clair Avenue

Strasins, Andrew
R
Fo
Strazis, Bernard
O
Vn
Matulitis, Anton
Fu
Strazis, Justin
Ch
Yaudegis, Margarit
Ch

1000-1002 Michigan Avenue - American Leather Supply

1020 Michigan Avenue

Galginaitis, Joseph
R
Ch

1111 Michigan Avenue

Strasins, Charles
R
Ch
Labutis, Pauline
Ch

1131 Michigan Avenue

Cinkanich, George
R
Ch
Bell, Frank
R
Ch
&nbsp
Sample Entry:
Above is a sample entry showing following several families as they appear in the Immaculate Conception church records and the 1900, 1910 and 1920 censuses.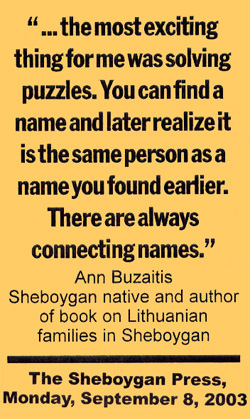 Sample Entry:
At left is a sample entry showing the neighborhood surrounding Immaculate Conception Church and Lithuanians living in the vicinity at the time of the 1900, 1910 and 1920 censuses.