Bodypainting Photos from public events
These are links to photo galleries of events I've participated in; most of the time, the bodypainting was just one small part of the event. Though the Painted Cyclists have become a highly anticipated part of the Fremont Solstice (Seattle) parade every june.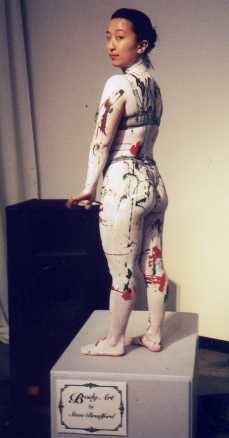 This event, an art auction for the Northwest Aids Foundation, was held in the exhibit hall at Seattle Center (Where the Space Needle is). The concept was to have four models on pedestals painted in different art styles. I used spray acrylics, and though most of the painting was completed before the show, part of the concept was to be painting the models during the opening of the show, so we left some work to be done while the first guests were arriving.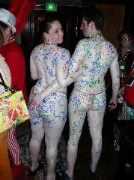 I painted two brave souls for this party. It was quite the event, at the top of the Columbia Tower, a 77 story skyscraper. My contribution, the living Guest Books, were just one small part of a great charity benefit evening.
The paint was white Liquid Latex mixed with some pearlescent white airbrush acrylic, and sprayed on. This coating was dusted with transparent makeup setting powder to keep the latex from sticking back on itself. The guest books were a big hit, as you can see.
Again, Guestbooks. Repetitive I know, but it was such a hit the first time. And I actually did two events that year, again at the Columbia Tower, but also at a less tony event in the old Rainier Brewery bldg. Great space for a party. At both, one of the models dropped out, so I we just had one guest book at each. And in my rush from one event to the other, I forgot to get pictures at the Tower event. So here are the pix from the other one.

Again, I used Liquid Latex for both, but without the pearlescent paint. The pearlescent paint looked better though, I highly recommend it.
I was asked to help out with a crew putting together a fantasy fashion show performance at the NorWesCon in Seattle in 2003

I created a green insect guy, using airbrush acrylic pearlescent Createx brand paint, and also some peeling skin over metal effects on a head using latex and silver makeup powder.