The Old Snohomish Bike Show web has moved to: www.snohomishbikeshow.org
[

Back to 1999 Bike Show Flyer]
Sponsor Information
1999 Old Snohomish
Antique & Classic Motorcycle Show
Sky Valley Chapter, ABATE of Washington, would like to thank each of the show's sponsors. We appreciate the time and financial donations that make the 1999 show possible.

If you visit any of these businesses, say "hello" from the Bike Show Committee.
Thanks!
Sponsors from T-shirt back: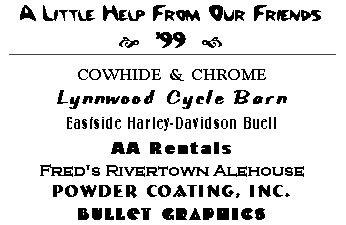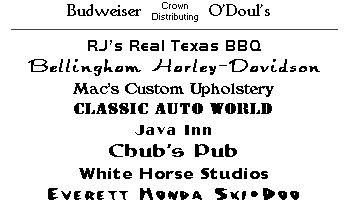 1999 Bike Show Sponsors
Cowhide & Chrome
Monroe, WA

Lynnwood Cycle Barn
Lynnwood, WA

Eastside Harley-Davidson Buell
Bellevue, WA

AA Rentals
Snohomish, WA

Fred's Rivertown Alehouse
Snohomish, WA

Powder Coating Inc.
Mukilteo, WA

Bullet Graphics
Snohomish, WA

Budweiser & O'Doul's
(Crown Distributing, Everett, WA)

RJs Real Texas BBQ
Snohomish, WA

Bellingham Harley-Davidson
Bellingham, WA

Mac's Custom Upholstery
Seattle, WA

Classic Auto World
Snohomish, WA

Java Inn Bed & Breakfast / Snohomish Coffee Roaster
Snohomish, WA

Chub's Pub
Snohomish, WA

White Horse Studios, Ltd. Fine Art Digital Images and Portraits
Official Photographer for 1999 Bike Show
Snohomish, WA

Everett Honda Ski-Doo
Everett, WA

Northwest Motorcycle Rider Magazine
Edmonds, WA

Sky Valley Chapter ABATE of Washington

T-shirt design by Denise St. John, Barb Wire, and PinkGirl Productions.
Thanks from the 1999 Bike Show Committee.

Click here for sponsorship information for next year.





Webmaster: PinkGirl Productions
http://www.premier1.net/~beno3/pinkgirl/bikeshow/99spons.htm-- Revised: 9 MAY 1999

[Client Samples] [1999 Bike Show Flyer] [1998 Bike Show]