The "Valley Of The Moon Poet Society"

This is a group of men and women that enjoy the art of poetry. They meet at the Garden
and Sunspaces Main Street Gallery in Duvall, Wa. every equinox. This year 1997 is their
10th equinox reading. Every year seems to get better. This group draws poets from as far
as San Franciso, and Spokane Washington. Prose, poetry and music are the shared arts.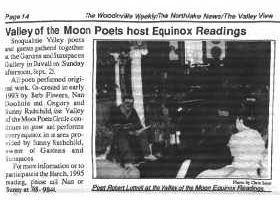 Click icon for larger picture.



Sample from Garden and Sunspaces Main Street Gallery, LTD
15611 Main Street NE, P.O. Box 598, Duvall, Wa. 98019 . 425-788-9844
Please join us for an evening: Artists' Reception Thursday, Sept. 25th, 1977
Featuring:
Ralph Bennett: Haida Art
Jean Ferrier: Coast Formline Art
David Horsley: Snoqualmie Art
Frank Joachimshackler: Western Art
Darrel Gabel: Cherokee Art
Shadu' Claw: Tlingit Art and Storytelling
Showing through October 31, 1997.
Say Hi to Sunny and tell her you saw her advertisement on the web..
Thanks Sunny from the members of the Valley of The Moons Poet Society.



cactusb@seanet.com

TOP